Winning Carabao Cup will save Sarri's job for "at least as long as We Are The Champions is playing"
Victory on Sunday will give Sarri just under three minutes of breathing space, Back of the Net reports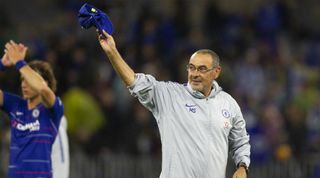 Maurizio Sarri has been told that if he can defeat Manchester City and lift the Carabao Cup his job will be safe for more or less all of the presentation ceremony, FourFourTwo understands.
The Italian tactician has been under fire after recent performances, but this latest vote of confidence will come as a boost to Sarri who may be able to plan all the way through to late Sunday evening without fear of being dismissed, as long as he can mastermind a victory over a team who beat his 6-0 under a fortnight ago.
Save me
"Roman Abramovich is a fair man and he understands that Sarri needs some time to mould the club in his image," an insider at Chelsea told FourFourTwo.
"As long as Chelsea win on Sunday, he won't be looking for a new manager, at least not while We Are The Champions is playing, unless they play the album version and not the single – we're not making any guarantees in the event of Brian May's self-indulgent solos.
"But I have no doubt that Sarri will still be in charge long into Sunday afternoon / early evening, at least until the ticker tape is cleared off the pitch."
Another one bites the dust
However, other voices inside the club suggest that Sarri's fate is already decided and that Abramovich will axe him, even if that means firing him midway through his being ceremonially thrown in the air by jubilant players.
"The players are ready for the signal at any time," an anonymous source told FourFourTwo.
"It could come halfway through the game, it could come as they line up to take penalties, it could come as the players prepare to hoist the trophy into the air.
"As soon as it happens, Sarri is dead to them, and the players are clear that they will cease to acknowledge him, even if that means allowing a 60-year-old man to crash to the floor from on top of their shoulders."
Reports suggest that Abramovich has already filled out all the sections of Sarri's P45 and is simply waiting to enter the date of his termination while the club's brightest media minds have already pulled together a statement in which they thank the Neapolitan for 'all his hard work' while carefully making sure they don't have to explain what exactly that hard work entailed.
NOW TRY… Quiz! Can you name every club to have played in a League Cup final since 1990?
Quizzes, features and footballing fun
Get the best features, fun and footballing frolics straight to your inbox every week.
Thank you for signing up to Four Four Two. You will receive a verification email shortly.
There was a problem. Please refresh the page and try again.