World Cup 2022: Who are the FOX Sports hosts, analysts and commentators?
FOX Sports' World Cup 2022 hosting, analysis and commentary line-ups feature plenty of big names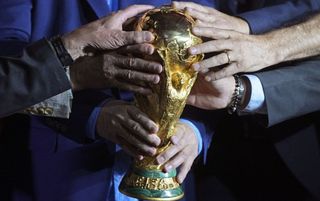 (Image credit: Getty Images)
FOX Sports have exclusive rights to World Cup 2022 coverage in the USA, and the network has assembled a suitably all-star line-up for the tournament in Qatar.
Those watching the World Cup 2022 in the United States are in for a treat: from veteran sportscasters to legendary ex-pros, it's a team fit to cover the most spectacular show in world soccer. The action gets underway on Sunday November 20 as hosts Qatar face Ecuador, with the United States kicking off their campaign against Wales the following day.
Here's who will be presenting, analysing, commentating and reporting for FOX at Qatar 2022...
FOX Sports World Cup studio hosts
Rob Stone
Rob Stone is a veteran sportscaster with experience of covering soccer, football, horse racing, darts and ten-pin bowling.
An esteemed college soccer player, Stone was inducted into the Connecticut Soccer Hall of Game in 2018. He's also a WWE champions of sorts (as you do), having briefly won the 24/7 Championship in 2019.
Kate Abdo
English broadcaster Kate Abdo has worked extensively across soccer and boxing coverage on both sides of the Atlantic. Fluent in French, German and Spanish, she was an anchor for Sky Sport News in Germany before joining the equivalent channel in the UK.
Abdo previously fronted much of FOX's European soccer coverage and has hosted several Europa League draws. Born in Manchester, she is a Manchester United fan.
FOX Sports World Cup studio analysts
Alexi Lalas
His instantly recognisable ginger locks and beard combo may be gone (ok, he's still ginger), but Alexi Lalas remains an all-time icon of American soccer. The former defender won 96 caps for the United States men's national team, featuring at the 1994 World Cup and making the squad for France 98.
Carli Lloyd
An absolute legend of the game, Carli Lloyd sits second on the United States women's national team's list of all-time appearance makers of with a remarkable 316 caps (she's also their fourth-highest scorer with 134 goals). She retired last year after a glittering 22-year career which saw her win the Women's World Cup and Olympic gold twice apiece.
Chad Johnson
Chad Johnson made his name in another sport: football – where he starred as a wide receiver for the NFL's Cincinnati Bengals. But he also dabbled in soccer, briefly playing for semi-professional team Boca Raton FC (that's in addition to trying his hand at *checks notes* bull-riding).
Clint Dempsey
Arguably the States' greatest-ever men's soccer player, Clint Dempsey spent much of his career in the Premier League – where he became a club legend at Fulham before a short spell with Tottenham. A goalscoring midfielder, Dempsey earned 141 caps for his country and played at three World Cups.
Eni Aluko
A regular on international football coverage in the UK, Eni Aluko is currently sporting director at Los Angeles-based NWSL club Angel City. A forward in her playing days, she turned out for Chelsea and Juventus – and won 102 caps for England, as well as representing Great Britain at the London 2012 Olympics.
Kelly Smith
An England legend, Kelly Smith spent much of her club career in the States – but it was with Arsenal that she enjoyed great success, winning five top-flight titles, five FA Cups and the Champions League. She's worked on FOX since 2014, commentating at the 2018 World Cup.
Maurice Edu
Maurice Edu earned 46 caps for the United States, featuring at the 2010 World Cup in South Africa. The first overall pick in the 2007 MLS SuperDraft, he actually spent most of his career with Rangers in Europe – where he also had spells with Premier League Stoke and Turkish club Bursaspor.
FOX Sports World Cup commentary pairings
John Strong and Stu Holden
Familiar voices to soccer fans, John Strong and Stu Holden are FOX's lead commentary duo for the 2022 World Cup – just as they were in 2018. Strong has also called games in the Premier League, while Aberdeen-born Holden played as a midfielder for Sunderland, Bolton, Sheffield Wednesday and Houston Dynamo. Expect to hear them whenever the United States are in action in Qatar.
JP Dellacamera and Cobi Jones
A stalwart of the scene, JP Dellacemera first commentated on a World Cup way back in 1986; he's been on the mic at every tournament since with the exception of 1994. Cobi Jones, meanwhile, is a bona fide icon of American soccer, having a massed a record 164 caps for the USMNT – who played for at the 1994, 1998 and 2002 World Cups.
Derek Rae and Aly Wagner
Derek Rae and Aly Wagner are back for their second World Cup with FOX, having commentated together four years ago in Russia. When not on international duty, Rae primarily calls Bundesliga games – while Wagner was the first woman to commentate on a World Cup on American TV.
Warren Barton and Jacqui Oatley
Regular FOX pundit Warren Barton joined the network back in 2005, after a playing career which saw him make over 300 Premier League appearances and earn three England caps. He'll be partnered in the booth by compatriot Jacqui Oatley, who was the first female commentator on the BBC's iconic Match of the Day and has presented Euros and World Cup coverage for major British outlet ITV.
Ian Darke and Landon Donovan
A heavyweight duo, Ian Darke and Landon Donovan's paths have crossed at the World Cup before (sort of): commentating for ESPN at the time, Darke called Donovan's winning goal against Algeria in 2010, which saw the USMNT pip England top spot in the group. Darke has called games in the Premier League and FA Cup in his native UK – as well as the Champions League – while ex-LA Galaxy, Bayer Leverkusen and Everton forward Donovan is regarded by many as the finest American soccer player ever.
FOX Sports World Cup rules analysts
Dr. Joe Machnik
Ex-goalkeeper Joe Machnik was assistant coach for the USMNT at the 1990 World Cup in Italy. Inducted into the National Soccer Hall of Fame in 2017, he's been with FOX since 2013 and has covered the World Cup, Copa America and Champions League.
Mark Clattenburg
In a 22-year refereeing career, Mark Clattenburg took charge of over 450 Premier League games, the 2016 Champions League final between Real Madrid and Atletico Madrid, and the Euro 2016 final between Portugal and France. He provided rules analysis for ITV at the last World Cup.
FOX Sports World Cup reporters
Jenny Taft
Taft will be FOX's lead reporter at the 2022 World Cup – which will be her fourth – having received critical acclaim for her reporting at Russia 2018.
Rodolfo Landeros
Bilingual broadcaster Rodolfo Landeros provided Spanish-language commentary for FOX Deportes and made his World Cup debut four years ago.
Geoff Shreeves
Known for his work as Sky Sports' Premier League sideline reporter in his native UK, Geoff Shreeves will be in Qatar for his second World Cup with FOX.
FOX Sports World Cup feature correspondents
Tom Rinaldi
Seventeen-time Emmy Award-winning journalist Tom Rinaldi joined FOX last year and will be reporting from a World Cup for the first time in his career.
Thank you for reading 5 articles this month* Join now for unlimited access
Enjoy your first month for just £1 / $1 / €1
*Read 5 free articles per month without a subscription
Join now for unlimited access
Try first month for just £1 / $1 / €1