'Ben Chilwell said you're going to Manchester United': Mason Mount's future revealed by Chelsea team-mate
The pair spoke to Sky Sports F1 on Sunday before the start of the Spanish Grand Prix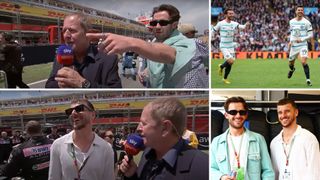 (Image credit: Sky Sports/Getty Images)
Mason Mount is reportedly on the cusp of joining Manchester United in the upcoming summer transfer window, and his Chelsea and England team-mate Ben Chilwell was suggested to have said that a deal is nearly done.
While conducting his usual pre-race gridwalk at the Spanish Grand Prix on Sunday, Sky Sports F1's Martin Brundle stirred the pot when talking to Mount, claiming Chilwell offered insight into rumours of Mount's impending exit to the Red Devils.
However, Ben Chilwell didn't actually offer any updates on the future of his team-mate, though this didn't deter Brundle from attempting to garner an exclusive of his own.
"He said you're going to Manchester United," Brundle told Mount.
Mount didn't answer the question, though, instead just laughing at Brundle's forthright comment before offering a few thoughts ahead of the race Red Bull Racing driver Max Verstappen eventually won.
"I'm just here to enjoy this race today," Mount answered. "It's an amazing day and I can't wait to watch it."
Speculation over a Mount transfer to Manchester United has intensified in recent weeks, with Erik ten Hag's side has emerged as the frontrunners in the race for his signature.
With just a year remaining on his contract at Chelsea, the Stamford Bridge hierarchy are reportedly willing to sell the 24-year-old for around £50 million this summer if they're unable to agree terms on a longer deal.
A sale would benefit Chelsea in their need to adhere to financial fair play regulations (FFP) for this season, too, with any fee acquired from a Mount transfer counting as pure profit due to the fact he came through the club's academy.
Having spent over £600 million on the past two transfer windows alone, it is essential Todd Boehly and Co. sell some players before the June 30 deadline. Mauricio Pochettino is set to takeover as the club's new manager the day after, but is said to be keen on working with Mount due to his tenacious pressing.
Thank you for reading 5 articles this month* Join now for unlimited access
Enjoy your first month for just £1 / $1 / €1
*Read 5 free articles per month without a subscription
Join now for unlimited access
Try first month for just £1 / $1 / €1