David Raya starts third match in a row for Arsenal as Aaron Ramsdale is benched again
The summer signing has been kept in the line-up for the North London derby at home to Tottenham by manager Mikel Arteta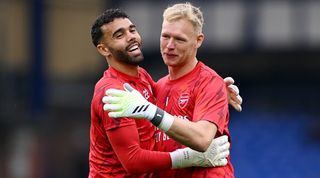 (Image credit: Getty Images)
David Raya has been preferred to Aaron Ramsdale in goal by Arsenal manager Mikel Arteta for Sunday's north London derby against Tottenham at the Emirates Stadium.
The Spanish shot-stopper, who signed initially on loan from Brentford in the summer, made his first start last weekend against Everton and was kept in the team for the 4-0 win over PSV Eindhoven in the Champions League.
Many had expected Ramsdale to return for the derby, but Raya starts against Spurs and has now been picked for the past three fixtures.
Speaking in a press conference ahead of the game, Arteta said that deciding between the two was "one of the hardest things" for him.
"When you have players sitting and you have to announce the line-up, it is one of the hardest things," he said.
"Players feel valued and happy when they play. And when they don't it is very difficult. You want them to feel loved and trusted and the way to do it is to play them. But everybody understands it is a team sport and it is always 11 players starting.
And in an interview with Sky Sports on Sunday just before the match, the Spaniard said he makes the call on a game-by-game basis.
However, former Arsenal striker Alan Smith did not fully believe that explanation.
"David Raya at the moment is obviously the number one, he prefers him," Smith said.
Raya has yet to concede a goal after keeping clean sheets in his first two appearances for the Gunners.
More Arsenal stories
Mikel Arteta has revealed the strange marriage metaphor he's used to motivate Kai Havertz. The Basque boss used another bizarre analogy recently to explain his tactics against Manchester City.
The Arsenal manager has had to defend Havertz already this season, notably after the 2-2 draw against Fulham.
Meanwhile, Brentford striker Ivan Toney has revealed he would be interested in a move to Arsenal in future.
Thank you for reading 5 articles this month* Join now for unlimited access
Enjoy your first month for just £1 / $1 / €1
*Read 5 free articles per month without a subscription
Join now for unlimited access
Try first month for just £1 / $1 / €1