Gary Neville grilled for Qatar World Cup role by Ian Hislop on Have I Got News for You
Gary Neville hosted Have I Got News For You on Friday night and was given a grilling for his commentary role at Qatar 2022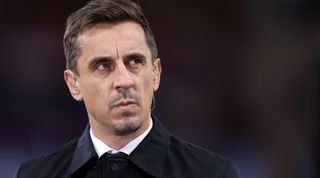 (Image credit: Getty Images)
Former Manchester United and England right-back Gary Neville was given a grilling for accepting a commentary role at the forthcoming World Cup in Qatar as he hosted BBC satirical show Have I Got News For You on Friday night.
Neville, who was presenting the comedy quiz for the first time, appeared extremely uncomfortable as the topic of Qatar was raised amid controversy over the nation's human rights record, treatment of LGBTQIA+ fans and the deaths of thousands of migrant workers during the contstruction of the stadiums.
"You know David Beckham, don't you? He's going, isn't he? How much is he being paid?" Neville was asked by comedian Paul Merton.
"I don't know," the former footballer replied. "More than me!"
Neville, who will work as a pundit for state broadcaster beIN SPORTS at the World Cup, was already squirming and worse was to come for the 47-year-old.
"The elephant in the room is you're commentating there. What's the defence?" Private Eye editor Ian Hislop asked Neville.
Gary Neville getting called out for his Qatari hypocrisy is a great watch. pic.twitter.com/exrOgBoJFmNovember 4, 2022
"Yeah, I'm commentating," the former United defender replied. "You've got a choice, haven't you? My view always has been that you either highlight the issues and challenges in these countries and speak about them, or you basically don't say anything and stay back home and don't go. And I think we should challenge them."
But Hislop was not impressed. "The other option is you stay at home and highlight the abuses. You don't have to take the Qataris' money. It's just not a very good defence," he said.
That drew applause from the audience, as did further comments from guest Richard Madeley and Hislop again, with Neville clearly uncomfortable and also visibly upset by the criticism.
"You've got people like Robbie [Williams] going out there to sing, which I must say I'm very surprised about given all the comments that Robbie Williams has made in the past about gay rights," Madeley said.
"The fact that he's going out there to sing is extraordinary."
Thank you for reading 5 articles this month* Join now for unlimited access
Enjoy your first month for just £1 / $1 / €1
*Read 5 free articles per month without a subscription
Join now for unlimited access
Try first month for just £1 / $1 / €1
Ben Hayward is Weekend Editor for FourFourTwo. A European football writer with over 15 years' experience, he has covered games all over the world - including three World Cups, several Champions League finals, Euros, Copa América - and has spent much of that time in Spain. He currently divides his time between Barcelona and London.