Glazer bank balance swells by £400 million
Manchester United owner Malcolm Glazer has seen his bank balance swell by £400 million over the past 10 months.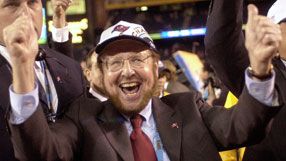 FourFourTwo.com's Football Rich List 2009/10, revealed today, shows that the American has wealth estimated to be in the region of £1.5 billion, up from £1.1 billion at the start of the year – figures that see him placed seventh place in the list.
The 81-year-old bought out the Premier League giants between 2003 and 2005, although the takeover was opposed by a large number of United fans, who were unhappy with the debt being burdened upon the club and felt the club should remain in the hands of the fans, rather than overseas investors.
Glazer is certainly more popular with fans of his other team, NFL side Tampa Bay Buccaneers, than those of United.
The Floridian side have enjoyed a marked improvement in fortunes since Glazer's arrival in 1995 – with the New Yorker campaigning for the local government to build the team a state-of-the-art stadium, and seeing the team win their first ever Super Bowl against the Oakland Raiders in 2003.
The franchise was valued at $963 million by Forbes Magazine in 2007.
The hefty profit has come from his investments in food, marine protein, broadcasting, health care, property, banking, natural gas and oil and the Internet, rather than his sporting endeavours – although recouping £80 million from the sale of Cristiano Ronaldo to Real Madrid this summer wouldn't have done the balance sheet any harm.
Despite that record-breaking sale, United spent just £19 million on new players this summer.
But with Glazer making big profits over the past 12 months, it could well be that he hands Sir Alex Ferguson further funds in the January transfer window.
Thank you for reading 5 articles this month* Join now for unlimited access
Enjoy your first month for just £1 / $1 / €1
*Read 5 free articles per month without a subscription
Join now for unlimited access
Try first month for just £1 / $1 / €1