Happy Days! Spurs' Ange Postecoglou gets shoutout from the Fonz after Liverpool win
The Australian revealed in his pre-match press conference that he had posters of the popular character on his wall as a teenager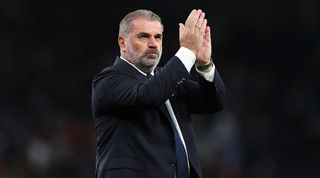 (Image credit: Getty Images)
Tottenham manager Ange Postecoglou got a surprise shoutout from Happy Days actor Henry Winkler after Saturday's Premier League win at home to Liverpool.
In the build-up to the game against the Reds, Postecoglou was asked about how he supported the Anfield club when he was growing up in the 1970s and if that meant anything ahead of this match.
The Australian gave a blunt response, quipping that he had taken the posters down now, and adding that he was also a fan of Happy Days at that time.
Word obviously made its way back to Winkler, who sent the 58-year-old a special message after Spurs' controversial victory over Liverpool on Saturday.
"Big Ange, hello from LA, California. Congratulations on your win today," the American actor said in a video posted on Twitter.
Winkler then offered Postecoglou a signed poster to put back on his wall.
"Henry Winkler here, aka The Fonz," he said. "So if I signed a poster for you right now, would you put it back up on your wall? That is the question. Fair dinkum, aaaaay."
Postecoglou is already hugely popular with the Tottenham fans for his attacking football and an excellent set of results so far, which sees Spurs just a point off the top of the Premier League and unbeaten in the competition after seven games.
Last month, a song created by Spurs fan James Black to the tune of Robbie Williams' Angels and dedicated to the Australian was recreated by the singer himself on social media.
"Guess I'm a Spurs fan now!" the former Take That star joked.
More Tottenham stories
Tottenham's epic victory over Sheffield United last month was the latest comeback win in Premier League history.
Ange Postecoglou's side followed up that win with a spirited 2-2 draw at Arsenal in the North London derby and James Maddison believes the club are shaking off their 'Spursy' image this season.
Maddison has been at the heart of Tottenham's success this season and the England midfielder was named as the signing of the summer by football agents.
Thank you for reading 5 articles this month* Join now for unlimited access
Enjoy your first month for just £1 / $1 / €1
*Read 5 free articles per month without a subscription
Join now for unlimited access
Try first month for just £1 / $1 / €1