Jadon Sancho: Manchester United reintegration a "distant dream" with January exit likely: report
Manchester United star Jadon Sancho has been frozen out of the first team after a fall-out with manager Erik ten Hag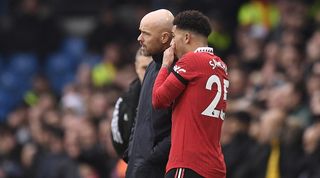 (Image credit: Getty Images)
Hopes of Jadon Sancho being reintegrated at Manchester United are a "distant dream" and a January move looks likely, according to reports.
The winger was frozen out of the Red Devils squad by manager Erik ten Hag and has been training alone for the last two weeks.
The situation has plunged the former Borussia Dortmund star's future into doubt, and an insider told the i Paper that a resolution doesn't look likely.
"He is a great player, that doesn't go away, so he will have offers in January if we are where we are now – with first-team football at United a distant dream," the source said.
"But clubs need to see something that would encourage them to bring him to their club. Talent alone won't get him a move to another top team.
"We are aware of how this all looks for him, and the longer United leave him in the cold, the lower his appeal drops."
United signed Sancho for £73 million in July 2021 after an impressive spell in Germany, but he has struggled to make an impact at Old Trafford.
The 23-year-old, who has a contract to 2026, has scored 12 goals in 82 games for the Manchester club.
He came off the bench in the first three Premier League games of this season, before being dropped by Ten Hag amid reported disciplinary issues.
The i Paper's report says that Sancho believes he was singled out and should be able to make his feelings heard, and that he is reluctant to back down and apologise.
Punctuality and attitude are said to be two of the main issues and senior players have encouraged Sancho to make peace with Ten Hag as they feel the situation has been blown out of proportion.
Sancho is valued at £39m by Transfermarkt and was linked with a move to Saudi Arabia during the summer transfer window.
More Manchester United stories
Manchester United face competition from Newcastle in the race to sign a young La Liga starlet, reports say.
The takeover saga at Old Trafford continues to drag on - here's one factor that could be decisive in determining the outcome.
And Erik ten Hag has opened up on the club's decision to re-sign Jonny Evans on a free transfer.
Thank you for reading 5 articles this month* Join now for unlimited access
Enjoy your first month for just £1 / $1 / €1
*Read 5 free articles per month without a subscription
Join now for unlimited access
Try first month for just £1 / $1 / €1