Remember this guy? 'Roly-poly throw-in' legend Milad Mohammadi to return today at World Cup 2022 against England
World Cup 2022 welcomes Milad Mohammadi, the roly-poly throw-in exponent of Russia four years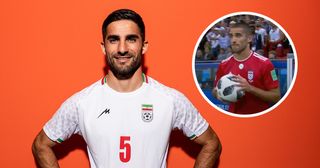 (Image credit: Shaun Botterill - FIFA/FIFA via Getty Images)
Roly-poly throw-in legend Milad Mohammadi could be playing at World Cup 2022 today, as potentially the first tournament cult hero appears.
Yesterday, Enner Valencia wrote his name in Ecuadorian history as his nation's greatest-ever World Cup scorer but for pure meme potential, AEK Athens left-back Mohammadi perhaps has more of a legacy. You may not know his name – but you know what he's famous for.
With Iran in action today against England, there's a good chance that Mohammadi, now 29, will be starting for Team Melli and tasked with marking Bukayo Saka. But it's when the ball goes out of play that you need to keep an eye on him…
Milad Mohammadi returns to World Cup 2022, four years after his 'roly-poly throw-in'
Picture the scene. Spain are beating your nation at the World Cup and you're just minutes away from heading out of the 2018 tournament when the ball goes out of play towards the corner flag. You're tasked with one last throw of the dice and the chance to chuck the ball back into the melee.
But instead of doing that, you do this.
Mohammadi made headlines across the globe in Russia when he opted for a roly-poly before taking a throw-in. The funny thing is, he didn't even take the throw after the roll, opting to go back and take it normally. He just wasted a few seconds, with the world's cameras fixated on him.
The defender has become a cult legend for the act, which went viral four years ago and has become a source of meme potential. Will he do it again? We wait with baited breath.
Thank you for reading 5 articles this month* Join now for unlimited access
Enjoy your first month for just £1 / $1 / €1
*Read 5 free articles per month without a subscription
Join now for unlimited access
Try first month for just £1 / $1 / €1