"Take your medicine" – Roy Keane's message to Kane and Bale over rainbow armbands
ITV pundit Roy Keane gave a withering assessment of the nations' decisions to kowtow to pressure over captains' armbands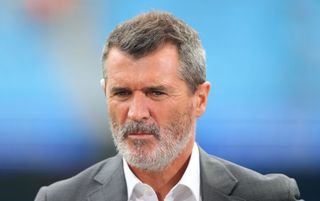 (Image credit: Getty)
ITV pundit Roy Keane has criticised England captain Harry Kane and his Wales counterpart Gareth Bale over their decisions not to wear rainbow armbands in their sides' opening World Cup 2022 fixtures.
Both players had initially planned on wearing rainbow-themed captains armbands, sporting the phrase 'One Love', only to back down after organisers threatened them with bookings if they wore them onto their respective pitches for their Group B openers.
"I think the players could have done it for the first game," Keane said ahead of USA vs Wales on Monday evening. "They should have taken the punishment – whatever that might be. Kane might have been risking getting a yellow card, if that was the punishment. But that would have been a great statement.
"Do it for the first game. If you get your yellow card, what a message that would have been from Kane or Bale. Take your medicine, and in the next game you move on. You don't wear it [again] as you don't want to be getting suspended.
"But I think [not wearing the armband] was a big mistake. I think both players, and we're talking about Wales and England here, should have stuck to their guns and done it – whatever pressure from outside or from your own associations. Have the belief, If that's what you believe, then go with it."
Roy Keane has his say on the #onelovearmband debate...pic.twitter.com/wNtzaICIc5November 21, 2022
Kane and Bale weren't the only national team captains initially planning on wearing the armbands, with many others from around Europe also planning the show support. Whether or not the others will go through with it remains to be seen.
Thank you for reading 5 articles this month* Join now for unlimited access
Enjoy your first month for just £1 / $1 / €1
*Read 5 free articles per month without a subscription
Join now for unlimited access
Try first month for just £1 / $1 / €1