WATCH: "That was for you, Finlay" – Jack Grealish confirms celebration at World Cup 2022 was for young fan
England defeated Iran 6-2 at the World Cup 2022, with Jack Grealish performing a special goal celebration for a young pal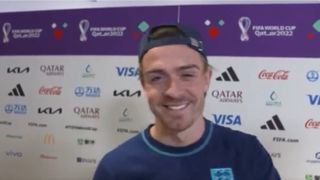 (Image credit: Future)
Jack Grealish has confirmed that his goal celebration against Iran at at World Cup 2022 was for a young fan called Finlay.
Many suspected Grealish's dance moves were a throwback to a recent meeting with Finlay, a Manchester City fan with Cerebral Palsy who met his idol in a video that then went viral.
Grealish's sister also lives with the condition and Finlay wrote to the City star to tell him that he was his favourite player and a good brother to his sister. In turn, Grealish went to meet Finlay and thank him for his letter. In the video, which you can watch below, Finlay asks his hero to perform the worm the next time he scores, to which the England star laughs and admits he couldn't do that. In the end, the pair settle on the celebration that Grealish appeared to perform in Qatar.
Grealish delighted England fans in a post-match interview with the BBC, confirming that the promise to Finlay was behind his show-stopping moves.
"I met young Finally about a month ago," Grealish told the BBC after the Iran win. "Obviously, I got on really well with him . He has Cerebral Palsy, like my little sister as well. He asked me to do a celebration for him and luckily it came at the World Cup.
"For me, it's just doing a celebration, but that will mean the world to him, I'm sure. Finlay this one's for you!" He concluded, before blowing a kiss down the camera.
"Finlay, that ones for you" 🥹Jack Grealish speaking to me about his celebration after his goal against Iran. What a feel good moment today! #FIFAWorldCup pic.twitter.com/SKuOLVwRAVNovember 21, 2022
We're not tearing up, you are...
Thank you for reading 5 articles this month* Join now for unlimited access
Enjoy your first month for just £1 / $1 / €1
*Read 5 free articles per month without a subscription
Join now for unlimited access
Try first month for just £1 / $1 / €1