"We are under pressure": Germany coach Hansi Flick laments World Cup 2022 defeat to Japan
Germany succumbed to a Japan comeback at World Cup 2022, with Hansi Flick pulling no punches over his sides' mistakes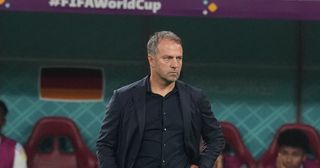 (Image credit: Serhat Cagdas/Anadolu Agency via Getty Images)
Hansi Flick admitted that Germany have put themselves "under pressure" after their shock loss to Japan in their opening game of the World Cup.
Germany had looked on course for victory at the Khalifa International Stadium, leading 1-0 through an Ilkay Gundogan penalty, but goals from Ritsu Doan and Takuma Asano turned the match on its head in the final 15 minutes – giving Japan arguably the greatest result in their history.
Defeat left the German fans stunned, and left them with real work to do to progress from the group – their next fixture is against 2010 champions Spain.
"Of course with this defeat and zero points, we are under pressure, there's no question about that," Germany boss Flick said post-match.
"We can only blame ourselves – we have to make sure we can come out of this, we have to be courageous, we need the aggression in the game that's necessary at a World Cup.
"It's a great disappointment. We were on the right path in the first half, we had 78 per cent possession and were ahead, then we had good opportunities in the second half and didn't take advantage of them.
𝐎𝐇. 𝐌𝐘. 𝐖𝐎𝐑𝐃.The touch 👌The finish 🚀Japan are BEATING Germany thanks to Takuma Asano 😱 pic.twitter.com/9emat3vyB2November 23, 2022
"Japan were simply more efficient today – we made mistakes we should never make, especially at a World Cup. I'm pretty sure we can do better – we have to do better. We have the quality, but we have to keep it up for 90 minutes. It's a missed opportunity and a bad start for us."
Both of Japan's goalscorers came on as substitutes, and both play their club football in Germany, as did six of the Asian side's starting line-up.
"Our players fought really well," said Japan boss Hajime Moriyasu. "In the last part of the game, they came with the full power – maybe if it was Japan before, we would have lost in that situation. But many of our players went to Germany and every day they grew in that league.
"This was not only down to the players and the staff, but also the Japanese people and the supporters. Everyone contributed to this win, so thank you very much.
"This is a big win, but it's not the end. We will reflect on it and prepare for the next game against Costa Rica."
Thank you for reading 5 articles this month* Join now for unlimited access
Enjoy your first month for just £1 / $1 / €1
*Read 5 free articles per month without a subscription
Join now for unlimited access
Try first month for just £1 / $1 / €1