Young Gunner Kyle to be better than brother Ashley?
By Gregg Davies
Aston Villa livewire winger Ashley Young may have set English football alight this season, with a string of effervescent displays set to reward him with a nomination for Young Player of the Year.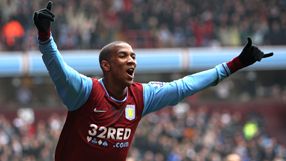 However, the former Watford man is one of three Young brothers attempting to establish themselves as stars of the future.
The 23-year-old has bagged 16 Premier League goals and a plethora of assists for the Villans since his £9.65 million move from Vicarage Road in January 2007.
However, 19-year-old brother Lewis - still at Watford - is beginning to work his way into the Hornets' first-team plans, making three League Cup appearances prior to his Championship debut in the 4-2 home defeat to Bristol City in December.
And the third brother of the Young clan - 12-year-old Kyle - is already making a name for himself in Arsenal's academy.

"He's in the Arsenal academy system and everyone keeps telling us he's the next one off the production line," says Lewis in the April edition of Sky Sports magazine.
"He's turning a lot of heads. We've high hopes for him, but he has high hopes for himself. He's probably the cockiest out of the lot of us.

"He's 12, he started young. He could have started younger but Mum said 'No, not yet'."
Lewis goes on to reveal his admiration for his older sibling's achievements in the top flight – especially as at the age of 16, Ashley failed to earn a full-time scholarship with Watford, but was permitted to train with the squad twice a week while he completed his A-Levels.

"Ashley had little disappointments along the way and he's still made it big," he says. "That is something I can strive towards too. Seeing not just Ashley but other lads who haven't been able to get a scholarship at 16 but have come back to achieve so much, it's great for young players.

"He treats every game like it's just another game and that's what I've always admired. He plays football in the Premier League like he's still playing it in the park with me. He's just enjoying it."
The full interview with both Lewis and Ashley Young is available in the April issue of Sky Sports magazine.
ARSENAL FANS! Check FourFourTwo.com's ever-expanding interviews archive for more stuff to read:
Web Exclusives Patrick Vieira, Cesc Fabregas
Q&A Theo Walcott, Cesc Fabregas
One on One Arsene Wenger, Thierry Henry, Ian Wright
Boy's A Bit Special Theo Walcott, Armand Traore
Perfect XI Ian Wright
What Happened Next? Gus Caesar, Peter Marinello
And Another Thing Being a Big Four fan
Plus! Rate Arsenal players (and others) on Talentspotter

VILLA FANS! Check FourFourTwo.com's ever-expandinginterviews archivefor more stuff to read:
Boy's A Bit Special Gabriel Agbonlahor, Isiah Osbourne
Ask A Silly Question Peter Crouch

Quizzes, features and footballing fun
Get the best features, fun and footballing frolics straight to your inbox every week.
Thank you for signing up to Four Four Two. You will receive a verification email shortly.
There was a problem. Please refresh the page and try again.