The 13 best FIFA 17 free transfers you need to snap up
Bargain-hunter Ben Wilson selects a prime selection of stars who you can nab for nothing after a season of career mode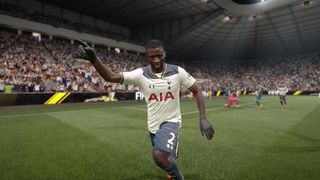 Welcome to the summer scramble for elite free transfers. And we don't only mean in real life: in the digital boardrooms of FIFA 17, there's a hugely competitive market for the best freebies as career mode's 2016/17 season comes to a close.
To this end, the in-game 'Global Transfer Network' does a great job of finding suitable players, but it requires time and energy to get the best results. Want to recruit the best additions without doing the homework? Then use our list below. Mixing youth and experience, and attacking flair with defensive solidity, any (or all) of these will immediately bolster your 2017/18 line-up.
1. Rene Adler (GK)
Potential wage: £50,000
Need to know: FIFA 17 features a plethora of strapping, reliable German keepers, with Adler among the best – and at 32, he has at least four more strong seasons in him. He's 6ft 3in with ratings of 80 for Reflexes, 80 for Reactions, 79 for Handling and 78 for Diving. In other words, he's the prototype netminder for a team threatening European qualification.
2. Jakob Busk (GK)
Potential wage: £12,000
Need to know: Union Berlin's young custodian has been capped by Denmark at all levels from U18 to U21, and even at 23 has an Overall rating of 71. Install him as your new No.1 and over time it'll rise to 77, making that salary a steal. It's even affordable to newly promoted clubs with sensible budgets. Take note and act appropriately, digital Chris Hughtons.
3. Charlie Taylor (LB)
Potential wage: £30,000
Need to know: Leeds' young full-back is currently in the club's real-life naughty books for refusing to play in the season finale against Wigan; in FIFA, you needn't worry about such attitude concerns. At just 23 years old he has an Overall rating of 74, but that can rise to 81 with game time and training – meaning he'll be pressing for England caps within three seasons.
4. Pepe (CB)
Potential wage: £207,000
Need to know: The deal most likely to have your bank manager waking in cold sweats, and therefore also the most exciting. Portugal's one-man defensive wall commands an incredible wage, but with 87 ratings for Marking and Slide Tackles, he has the ability to match. If you're managing a Champions League-calibre side, take the plunge and enjoy two years of imperious stopping.
5. Marco Andreolli (CB)
Potential wage: £59,000
Need to know: Just as in real life, digital managers baulk at paying big bucks for anyone over 30. But Inter's Italian centre-back has only just passed that milestone, making him fairly regression-proof - for now at least. His wage is hefty, but for defenders with similar attributes (85 Jumping, 82 Stand Tackle, 81 Strength) a fee well into the millions would need agreeing upon before you even reach the negotiating table.
6. Alvaro Arbeloa (RB)
Potential wage: £50,000
Need to know: The experienced West Ham man isn't an option if you're challenging for title honours, but well worth consideration for mid-table squads in need of depth. His important defensive stats all rank in the high 70s, and a two-year deal on £50K shouldn't break the bank. He's especially useful to throw on as a late sub and lock down the opposition's left side.
7. Eric Maxim Choupo-Moting (LM)
Potential wage: £39,500
Need to know: Choupo-Moting is one of FIFA's most underrated wide men due to his 78 Pace stat. Other strengths make up for that apparent deficiency: 86 Dribbling, 82 Ball Control, and high 70s for key passing, shooting and physical attributes. For those whose chief tactic is more nuanced than 'knock it down the right wing and hold sprint', Choupo-Moting is an absurdly cheap flank option.
8. Xabi Alonso (CM)
Potential wage: £60,000
Need to know: Bayern's beloved Basque may be retiring in real life, but he's good to go for at least another season in FIFA-land. The midfielder is surprisingly affordable too, given there's no fee involved and you can eliminate any risk by signing him to a one-year deal. 89 Passing, 86 Vision, 84 Free Kick Accuracy, 81 Ball Control: even at 35, he's a luxury you can – make that must – afford.
9. Yaya Toure (CM)
Potential wage: £130,000
Need to know: £130,000 a week for a 33-year-old midfielder sounds like madness. Indeed, it is madness. But we're talking about Yaya Toure here. Sometimes in FIFA you have to make a move for the pure fun of it, and two years of the Ivorian bossing your midfield and pinging home the odd 35-yarder never stops being enjoyable.
10. Axel Witsel (CM)
Potential wage: £42,000
Need to know: In FIFA terms, Witsel's requested wage is staggeringly low for a box-to-box midfielder rated 82 Overall. Every critical stat screams quality – 85 Ball Control, 83 Dribbling, 83 Shooting, 83 Passing – and in the very unlikely event that he doesn't mesh with your playing style, you can sell him in the next transfer window for close to £20 million. An absolute no-brainer.
11. Haris Seferovic (ST)
Potential wage: £30,500
Need to know: Aged 24 and with an agreeable salary, the Swiss would be a solid frontline addition for any top-flight club. As a big team you can take a leaf out of Chelsea's developmental book: sign him up then pack him off on loan for a season or two until his stats bloom. For a mid-table or lower squad, he'll lead the forward line with 81 Strength and 78 Shot Power for the next five years.
12. Kevin-Prince Boateng (FW)
Potential wage: £38,500
Need to know: All that moolah for a Portsmouth reject? Well, yes, given that heavy, tall forwards are overpowered in FIFA 17. With 86 Strength and 85 Jumping he'll cause chaos for opposition centre-backs, and offers flexibility too – being able to move seamlessly to CAM or LM. As a starter or bench option you'll get at least three seasons of regal excellence.
13. Fernando Torres (ST)
Potential wage: £66,000
Need to know: Like the Yaya Toure recommendation, there's a little bit of sentimentality to this one – but with ratings of 82 Shot Power and 75 Finishing, Torres can still play a bit too. Perhaps you're controlling Liverpool and fancy giving him one last glorious Anfield season, or maybe you want to see whether he can bang in 30 goals while wearing Everton blue and redefining the term 'cheeky Nando's'.
Quizzes, features and footballing fun
Get the best features, fun and footballing frolics straight to your inbox every week.
Thank you for signing up to Four Four Two. You will receive a verification email shortly.
There was a problem. Please refresh the page and try again.