23 things you didn't know about cult football TV & films
Everyone knows that Pele's 'Escape To Victory' character hails from Trinidad, don't they? Here's Richard Luck with that and more...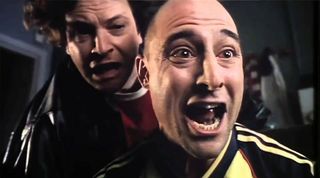 In the latest FourFourTwo magazine: Kes! Half a century on, FFT hails the greatest football match in British cinematic history. Subscribe today!
1. When Saturday Comes (1996)
Produced by Highlander's Christopher Lambert, little is remarkable about Sean Bean's love letter to Sheffield United. Except that the film features a barman called Judd who's played by Freddie Fields. The same Freddie Fields who played Billy Casper's brother Jud in Ken Loach's Kes. Is it the same character? It's never confirmed but it'd be fitting if the thug wound up doing something as mundane as pulling pints for semi-pro footballers.
2. Porridge: The Movie (1979)
"A weather man, eight small parts and a Widow Twanky." No, there aren't many stars in the showbiz XI who visit Slade Prison. However, there are some soon-to-be big names among the inmates. Besides Brush Strokes' Karl Howman as captain 'Light-Fingered' Larry Urquhart, there's Never The Twain's Derek Deadman as 'Minnie' Cooper and comedian Steve Steen playing Wellings. Oh, and the weather man? Victoria Wood regular Duncan Preston.
3. Porridge, Series 2, Episode 4, 'Happy Release' (1975)
Ah yes, the classic episode where Ronnie Barker's Fletch and David Jason's Blanco lead the no-good Norris (the other Colin Farrell) a merry dance in pursuit of the old lag's fortune. Cue Norris digging up the pitch at Elland Road. Only it's not Elland Road. Yes, the stands were filmed in Leeds but the on-field footage was captured at QPR's Loftus Road, just around the corner from the Television Centre.
4. Whatever Happened To The Likely Lads?, Series 2 Episode 7, 'No Hiding Place' (1973)
The Beautiful Game features pretty heavily in Clement & La Frenais' superb sequel series. Besides 'One For The Road' and 'The Great Race', there's this: the celebrated episode in which Bob and Terry (Rodney Bewes and James Bolam) spend the day trying to avoid the England score. But who are England playing in said fixture? To win any pub argument from now until the end of time, the answer is Bulgaria.
5. Bedknobs And Broomsticks (1971)
Disney's Poppins-esque musical comedy sees two teams of animals take to the field. Though the villainous Dirty Yellows win the day, hats off to the smart arse who, after applying the laws of Association Football to the game, concluded that the sole goal should have been disallowed with the referee stopping play at the point where the ball bursts (Law 2), if not earlier for substandard goalposts (Law 1).
6. Scully (1984)
Alan Bleasdale's comedy drama concerned football-crazy Liverpudlian Francis Scully (Andrew Schofield) and his bizarre fantasy relationship with Kenny Dalglish. Co-starring Elvis Costello as Franny's disabled brother - the main attraction also provided a superb theme song - what's less widely known is that the Channel 4 series wasn't the character's first outing, Schofield having previously starred in Scully's New Year's Eve, a 1978 BBC Play For Today, also scripted by Bleasdale.
7. Bloomfield (1970)
Richard Harris only directed one film, and for this we should all be grateful. British-Israeli co-production Bloomfield stars Harris play an old pro who can't walk away from the game. Actually, he can neither run nor walk; such is Harris's centre of gravity, he permanently appears to be on a tightrope. And why was he sitting in the director's chair? Because first-choice Uri Zohar quit after a week.
8. The Arsenal Stadium Mystery (1939)
The Leslie Banks thriller features such Highbury legends as Cliff Bastin and manager George Allison. Our interest, however, concerns how the match footage was attained. With the plot pitting the Gunners against a charity Trojans XI, director Thorold Dickinson received special permission from the FA for Brentford to sport the Trojans' colours when they played Arsenal on Saturday May 6, 1939. The home side won the match proper 2-0.
9. Escape To Victory (1981)
Forget Michael Caine's all-star Allied XI; there were also several stars among the German side. Led by New York Cosmos defender Werner Roth, the Nazi XI also features Ipswich reserve keeper Laurie Sivell and fellow Portman Road resident Robin Tuner. And since Escape To Victory was largely shot in Budapest, you'll also find Hungarian striker Ferenc Fulop and future national manager Sandor Egervari on the side of the Swastika.
10. Fever Pitch (1997)
Inspired by Nick Hornby's best-seller, Fever Pitch saw Colin Firth play the author's on-screen alter-ego Paul Ashworth. It's Paul's younger self we're interested in, though. The brother of Bluestone 42 star Laura, Luke Aikman is very good as an awkward tween. And he deserves the respect of football fans everywhere for ensuring that, whenever Paul sports the Arsenal kit, the Watford supporter was wearing his team's strip underneath.
11. Gregory's Girl (1981)
For stereotypical young lads growing up in the '80s, Dee Hepburn was the ideal woman - a blonde who was good at football. A trained dancer, Hepburn developed her soccer skills at Partick Thistle. As for who took charge of her development, why it was keeper Alan Rough, he of the unfortunate haircut, the countless keeping errors and the oft-told anecdote about eating sandwiches while sat on the bench for Scotland.
12. A Shot At Glory (2000)
He loves his football does Robert Duvall. That's why he threw himself into this, a film based on Raith Rovers' improbable 1994 League Cup run. So it was that the Godfather star became a regular at Raith matches and training sessions. And when he wasn't pestering Rovers' then-manager John McVeigh, Duvall became such close friends with Celtic legend Jimmy Johnstone, the Oscar-winner named his dog 'Jinky' in his honour.
13. The Damned United (2009)
The Damned United cast features two very good footballers. First up there's Michael Sheen (Cloughie), who was such a talented 12-year-old that he was offered a trial with Arsenal provided his family move to London - the ever-so-Welsh Sheens stayed put in Newport. And then there's Martin Compston (John O'Hare), who actually played two games for Greenock Morton only for Hollywood to come along and ruin everything, the bastard.
14. The Fix (1997)
The story of the 1960s Sheffield Wednesday betting scandal posed an unusual problem for Jason Isaacs. Cast as Tony Kay, the corrupt forward who was with Everton when the scandal broke, Liverpool fan Isaacs wanted no part of Goodison Park. "For one scene, I had to drive through the gates at Goodison," the actor recalls. "I told the director I'd drive as far as the gates but no further. Standards are important."
15. Monty Python's Fliegender Zerkus (1972)
Shot for a brace of German specials (hence the title), the philosophers football match is among the comedy troupe's greatest creations. Pitting the finest minds of ancient Greece against the might of the German intelligentsia, the sketch was shot on September 10, 1972 in Munich's Grundwalder Stadion. Just four short days after the Black September terrorist cell massacred the Israeli Olympic team in the very same city.
16. Goal! (2005)
It's hard to believe now but there was a time when the FIFA-approved Goal! movies looked halfway decent. That time was when 24 Hour Party People director Michael Winterbottom was attached to the project. The BAFTA-winner had actually completed a few days' shooting before he realised that he and the higher-ups had different hopes for the project. He was replaced by Judge Dredd director Danny Cannon. Oh well.
17. Mike Bassett: England Manager (2001)
The movie is hit and - mainly - miss but Mike Bassett's a gold mine for film trivia fans. From the Wembley pitch being re-laid especially for it to the lead vocals on the England World Cup song being provided by an uncredited Lily Allen, there's lots of good stuff here. And the Irish and Scotland fans we encounter at Rio's airport are all Brazilians, save for a few holidaying Scots.
18. Josey's Giants (1986-87)
Nearly everyone knows that the children's favourite was scripted by darts poet laureate Sid Waddell. More surprisingly, only 10 episodes were made. And given the programme's kid-friendly nature, it's remarkable that the only big name of the time to guest star on the show was Bryan Robson. This being the mid-1980s, it was a great relief to everybody that Robbo's showing didn't require a six-month injury layoff.
19. Mean Machine (2001)
Have you seen the American version of Mean Machine? Not the Burt Reynolds movie or the Adam Sandler remake. No, before the Vinnie Jones movie was released in the US, it underwent some cosmetic changes. For one thing, a lot of the slang was lost - 'nipper', 'bird' etc. As for Stephen 'Nitro' Walters, the producers decided his Scouse accent was too thick and so dubbed his entire performance. Into Geordie.
20. Dream Team (1997-2007)
What a world we live in - 12 episodes of Fawlty Towers but 419 instalments of Sky One's soccer melodrama. Still, the show was a huge success, at least to begin with. In fact, shirt manufacturers lobbied hard to land the Harchester United kit contract. And the lucky three who did business with the Dragons? None other than PONY (1997-98), Le Coq Sportif (1998-2003) and Valsport (2003-2007).
21. Bend It Like Beckham (2002)
She's a brave lady, Parminder Nagra. That large scar her character Jess is so self-conscious about? It's the real thing and the way she got it - an accident while preparing beans on toast - was written into the script. Not that she wasn't well compensated for her role in promoting the women's game. On the contrary, she beat out Luis Figo and Ronaldo for the 2002 FIFA Football Personality Of The Year Presidential Award.
22. Looking For Eric (2009)
He's a good actor, Eric Cantona. Seriously - he's excellent as himself in Ken Loach's comedy-drama. In amassing over 30 credits, Eric's had several opportunities to work with his brother Joel who played for Marseille before going in front of the camera. A word also about Eric's co-star here, Steve Evets - superb in shows like Rev, you might also recognise him for his stint playing bass in The Fall.
23. Kes (1969)
And we end back at the beginning with the greatest football scene in the history of film. It took a while to capture it, mind you. Between days one and two of the shoot, Brian Glover sustained a leg injury wrestling in Blackpool. When Glover returned sporting a knee support, Ken Loach had to ditch the previous day's footage to avoid continuity issues. Oh, and Glover's in-ring name? Leon Arras - The Man From Paris.
NOW READ...
QUIZ Can you name every country Lionel Messi has scored against for Argentina?
OPINION Forget the hysteria: VAR can work – it just needs time
Quizzes, features and footballing fun
Get the best features, fun and footballing frolics straight to your inbox every week.
Thank you for signing up to Four Four Two. You will receive a verification email shortly.
There was a problem. Please refresh the page and try again.