6 things that would be different if Manchester United had kept David Moyes
By Declan Warrington published
Two years on from the Scot's sacking, Dec Warrington considers what might have happened if the Red Devils had stuck by him…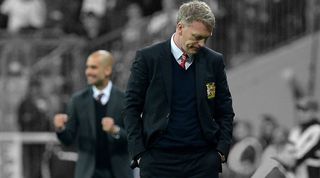 Two years to the day from when Manchester United (opens in new tab) ended David Moyes's reign as manager, they are arguably in worse health.
It may be that had Moyes retained his job, and Ed Woodward his nerve, United would still be struggling to reach next season's Champions League and that after three years of attempting to build a new team, the unavoidable conclusion would be that the Scot was simply the wrong appointment.
His successor Louis van Gaal has often spoken with greater confidence, but in his so-far eye-wateringly expensive and unimpressive reign, United still lack direction, have become worse to watch, and have even been accused of losing their identity.
Moyes may never have proved capable of succeeding Sir Alex Ferguson, but he had other considerable strengths that United are still lacking...
1. United would still be United
Concerns that United have lost their identity surround their personnel as much as their uninspiring style of play. Players like Javier Hernandez, Shinji Kagawa and Robin van Persie would all likely have left regardless, but Moyes would have wanted to retain Danny Welbeck, Tom Cleverley, Jonny Evans and Darren Fletcher.
Only Welbeck would considerably improve their present team, but key to United's traditions is selecting players developed by the club. Each are more-than-capable squad players; with them, United would still have a core of those they have nurtured.
"I doubt he would have let so many of the experienced Man United heads – who knew that Man United way, who'd come from that last dressing room – leave," says Kevin Kilbane, who played under Moyes at Everton from 2003 to 2006 and considers him the manager with the best "all-round package" he worked with.
"Now, they've probably only got Wayne Rooney, [Chris] Smalling to a lesser extent, and Phil Jones. United were littered with players who crossed generations. Fletcher and Welbeck certainly had that."
2. Millions in transfer fees wouldn't have been wasted
The near-£16 million loss on Angel Di Maria, the experiment with Radamel Falcao, the still-to-justify transfer fees Matteo Darmian, Ander Herrera, Bastian Schweinsteiger, Memphis Depay and Marcos Rojo...
Given that one of Moyes's greatest strengths was his ability in the transfer market, he'd almost certainly have invested that money well. Seamus Coleman was a reported transfer target and could have been the long-term successor to Gary Neville; the signing of Luke Shaw, so impressive before breaking his leg, was effectively secured by Moyes.
After signing, arguably through desperation, the disappointing Marouane Fellaini and the talented Juan Mata, the Scot appeared to be developing a strategy. Under Van Gaal, Daley Blind aside, there's been a scattergun approach at best.
"Whether that's Van Gaal's policy, whether that's just the club, it looks to me like Ed Woodward has tried to entice so many players," Kevin Kilbane explains. "The one thing I'd say with Moyes is, I see it as one of his strengths that he would never take a scattergun approach; he'd review all the different options before he'd commit.
"Now, sometimes when you're at United, you need to act, be impulsive and go with your gut feeling, and David Moyes was very methodical. Perhaps he took too much time.
"[But he] would have signed players who would have totally fit in to how he wanted to play, and they wouldn't have been over a season or two, they would have been over six or seven."
3. Ander Herrera's talent wouldn't be going to waste
The Spaniard's influence when selected justifies far more than the peripheral role Van Gaal normally offers him. He impressed during United's finest run last season, but since then has often been overlooked.
It is no secret Moyes wanted Herrera the summer he was appointed – had he been delivered, it's likely Fellaini would never have arrived and even that United would not have been so disappointing. If he ends up leaving through frustration this summer, a fine player will have been lost.
4. There wouldn't be so many doubts about Rooney
Alongside David de Gea, Wayne Rooney was United's most impressive player under Moyes. At present, there are many who believe he no longer justifies his place in the England team, but so many of those conclusions have been drawn not on his form for country, but for his club.
He consistently scores for England, albeit against often inferior opposition, is proving a sound captain, and away from Van Gaal's restrictive tactics still shows so much of the ability he has long had. The suspicion remains that United's system (which also limits others, though he is the biggest name), not Rooney's ability, is his biggest problem.
5. Woodward wouldn't be under such pressure
It was effectively Woodward who oversaw Moyes's sacking, in the same way he recruited Van Gaal, and it is often Woodward who is criticised for United's decline. Arguably, his struggles in his first transfer window left Moyes ill-equipped to avoid the challenges that followed, even if there is little question that he under-achieved.
Yet in taking the decision to replace him, and to appoint Van Gaal, he took responsibility for the direction of the club which, including the recruitment of Moyes, Ferguson had long been overseeing.
He also encouraged the transfer policy he has been criticised for, and left himself vulnerable to accusations of turning United into "any other club": effectively one prepared to shun admirable stability in preference for sacking managers.
Their results and performances would have led to Van Gaal's sacking at other clubs, and as the doubts in his ability increase, so the pressure builds on Woodward. Retain the Dutchman, and persist with the manager who inspires so little confidence, or sack him, effectively acknowledge an error of judgement and become like "any other club". He can't win either way.
6. Marcus Rashford wouldn't have emerged
Despite nurturing Rooney at Everton, and spotting John Stones, Moyes wasn't known for a prolific youth policy. So for all of his promise, given the likelihood that Moyes would have overseen a far more organised and less chaotic overhaul of United's squad, it's unlikely Marcus Rashford would yet have been given a first-team chance.
Van Gaal, as he has shown with other young players at United and in previous roles, is more willing than most to gamble on youth-team players (even if it is likely Moyes would have continued to encourage Adnan Januzaj, instead of loaning him out).
He is also responsible for the lack of senior strikers – and curious reluctance to play Anthony Martial up front – which has made Rashford such a necessity. On such a mix of circumstances can careers be made.
More features every day on FFT.com (opens in new tab) • More Manchester United (opens in new tab)
Thank you for reading 5 articles this month* Join now for unlimited access
Enjoy your first month for just £1 / $1 / €1
*Read 5 free articles per month without a subscription
Join now for unlimited access
Try first month for just £1 / $1 / €1
Quizzes, features and footballing fun
Get the best features, fun and footballing frolics straight to your inbox every week.
Thank you for signing up to Four Four Two. You will receive a verification email shortly.
There was a problem. Please refresh the page and try again.