In praise of Ashley Young: Manchester United's best outfielder in the post-Ferguson era
There's no question that David de Gea has been the Red Devils' standout performer of the last five years, but John Brewin argues that their former Aston Villa man deserves plenty of praise too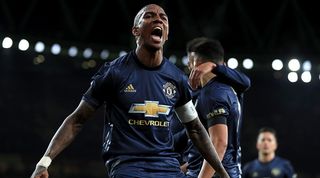 If ever there were a footballing question with an easy answer, it's that of the best Manchester United player since Alex Ferguson retired. Only Ander Herrera, in 2016/17, has broken David de Gea's dominance of the Sir Matt Busby Player of the Year award since 2013.
But for the best outfield player, potential candidates reveal a litany of lapsed form and flashes in the pan. Herrera, having been a key man in Jose Mourinho's first season, was one of many to lose the faith of his manager and has only recently, under Ole Gunnar Solskjaer, again looked like the combative but intelligent midfielder he was bought to be.
There are increasingly few survivors from 2013, and most have suffered plunges into mediocrity. The continuing presence of Chris Smalling and Phil Jones mystifies many United fans, while Antonio Valencia, another to be excommunicated by Mourinho, has slowed up badly. Marouane Fellaini was important for both Louis van Gaal and Mourinho - and in the latter's case, became his manager's sole tactical variation - but remains a tousle-haired symbol of David Moyes's failed regime.
Light in the dark
Of the rest, Marcus Rashford and Anthony Martial's huge talents withered on the vine of Mourinho's distaste for youthful flights of fancy. The evidence under Solskjaer suggests much the same goes for Paul Pogba. Jesse Lingard has often been a player for the big occasion, but has also gone missing in matches where he might be expected to flourish.
United have never seen the best of Juan Mata, a player with just as much talent as compatriots David Silva or Santi Cazorla, while Wayne Rooney creaked his way to becoming the club's record goalscorer before becoming a memory almost as soon as he reached that milestone.
Which leaves one player who has, in his own way, flourished and rarely let United down. During the club's Dark Ages, a period in which they have frittered away £700m and lost their primacy, Ashley Young has played in just about every position bar centre-back.
Bought as a winger by Ferguson in 2011, in what looked an opportunistic signing on the cheap, Young ended up starting 2018's World Cup semi-final as a left-wing-back; the only player in his 30s selected in England's biggest game of this century. His story is one of determination and reinvention.
Adapt and survive
In December, the 10th anniversary passed of Young grabbing the headlines with his 93rd-minute winner for Aston Villa in a 3-2 win at Everton. That Sunday afternoon, Villa manager Martin O'Neill hailed "a world-class" footballer, a player whose pace had torn Everton to shreds from his left-wing position.
Young has never quite met that exalted level, but in a fashion that doesn't come easy to the natural winger - a position where inconsistency is almost part of the job description - he's dug in and made himself indispensable, even now at 33.
When Van Gaal arrived in July 2014 and decreed that his United team would be built around three central defenders, Young was a rare success in a side that blundered along in a confused state. Energy and athleticism carried him down either flank, and he proved equal to the physical element of defending.
Young became one of the team's leaders, appreciated by his peers. On the occasion of the 2015 Busby awards night, Rooney said that his captain's vote had gone not to De Gea but to "Ash", who had been "incredible" during a season in which a fourth-place finish had raised hopes that United's period in the wilderness might only be temporary. Young still shone after Van Gaal abandoned his defensive trio, either at left-back or when restored to the left wing.
Winning over Mou
Even Mourinho, who waited until November of his first season to give Young a start, was eventually won over.
"For the last couple of seasons, lots of injuries, lots of doubts, lots of question marks about his future at the highest level," said the Portuguese last May, never one to sugar the pill but going uncharacteristically close to admitting a misjudgement. "Next year again, he will be an important member of our squad."
NOW READ
Mourinho ended up appreciating Young as just the kind of player he likes: not the most talented, but prepared to cleave to his manager's whims.
There have been opportunities to leave Old Trafford, including a link with China during that January 2017 window, but Young has never asked to leave, and those close to him would tell you of a desire to play for the club as long as he can. Being signed up by Ferguson was a dream in itself, and unlike many of the players who have followed him through the doors, Young has always treated playing for United as a privilege.
If the club's recovery under Solskjaer are the early days of a Manchester United revival, then the last five years will soon be swept under the carpet. Young, though, ought to be recalled for his contribution to the cause.
Quizzes, features and footballing fun
Get the best features, fun and footballing frolics straight to your inbox every week.
Thank you for signing up to Four Four Two. You will receive a verification email shortly.
There was a problem. Please refresh the page and try again.