Back of the Net's definitely serious Africa Cup of Nations 2017 preview
By Back of the Net published
The Africa Cup of Nations is almost certainly about to start. Back of the Net previews events in Gabon...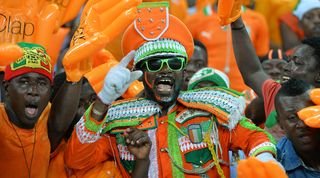 The Africa Cup of Nations is the premier football contest for African countries, held every year, or two years, or three years inconveniently in the middle of the European winter, which many African nations persist in calling summer.
The tournament was founded in 1957 when only nine independent states existed in Africa, six of whom refused to take part. The first contest was won in controversial circumstances by Belgium, under the rule that a European team would receive a bye to the final and the pick of their opponents' players. After widespread criticism, half of this rule was rescinded.
Widespread dissatisfaction with a three-team tournament accelerated the process of decolonisation, and saw the addition of a fourth team in 1962. Since then, the tournament has grown to be large and important enough that the international press now provides exhaustive coverage of how mid-ranking English sides may be a body light in midfield for a few matches.
Gabon 2017
The Gabonese Football Federation stepped in to accommodate the 2017 Africa Cup of Nations after Libya selfishly descended into civil war, showing wilful disregard for their role as host nation. Officials in Gabon will be hoping the tournament can put their country on the map, possibly at the expense of Cameroon or Equatorial Guinea.
Gabon's preparations for the tournament have been blighted by visa processing issues, infrastructure problems and an incipient civil war of their own, which will grudgingly be given token coverage by football journalists irked at having to do some actual research rather than just farting out another 600 words about Mesut Ozil's work ethic.
Gabon's political crisis means that most of Group B's fixtures have been moved to 'Franceville', a fictional city clearly hastily created by organisers as the tournament approached.
AFCON and the Premier League
This year, 23 Premier League players will have the bare-faced cheek to take part in the AFCON, to the chagrin of their managers, many of whom have just learned of the tournament's existence for the very first time and suspect it to be a deliberate conspiracy to undermine their club's chances.
Fans will therefore tune in expecting to see the likes of Wilfried Zaha, Riyad Mahrez and Nordin Amrabat do the decent thing and ensure their nations are eliminated as swiftly as possible so they can get back to fighting for that coveted 11th place.
Most games will be scheduled during the middle of the night at the behest of UK broadcasters, who would rather use primetime slots to show My Cat's Fatter Than Your Cat and a dark, sexy reboot of Bergerac. But determined viewers can look forward to a feast of clichés and vaguely racist assumptions about naivety, corruption and goalkeeping incompetence, traits that everyone knows are unique to African football.
Pay disputes
As is traditional at the AFCON, several nations' football associations have been accused of planning to withhold player bonuses and reinvest them instead in untraceable Swiss bank accounts.
In past tournaments these stand-offs have threatened to derail matches, with the Ivory Coast famously refusing to take a shot on target until players were paid in 2013. This time around Zimbabwean players haven't received their due fee but their Federation has agreed to pay the players per minute on the field by thrusting bundles of notes at them from the sideline.
Please note: This is all one big joke. Obviously.
Thank you for reading 5 articles this month* Join now for unlimited access
Enjoy your first month for just £1 / $1 / €1
*Read 5 free articles per month without a subscription
Join now for unlimited access
Try your first month for just £1 / $1 / €1
Quizzes, features and footballing fun
Get the best features, fun and footballing frolics straight to your inbox every week.
Thank you for signing up to Four Four Two. You will receive a verification email shortly.
There was a problem. Please refresh the page and try again.