Banished! 8 players who were forced to train alone – and what happened next
By Tim Ellis published
All is merry with Antonio Conte and Diego Costa after an odd fallout earlier this month, but others have been confined to the naughty step for much longer. Tim Ellis raided the archives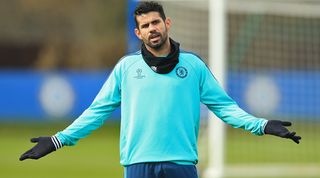 1. Luis Suarez
In August 2013, Suarez claimed he was allowed to leave Liverpool because the club promised to sell him if they failed to qualify for the Champions League the previous season. They did indeed fail, but the Uruguayan was told he was going nowhere, and Brendan Rodgers was suitably unimpressed by his star striker's tantrums.
"There were no promises made – categorically none – and no promises broken," the Reds boss insisted, before leaving Suarez behind while he and the rest of the team jetted off to Norway for a pre-season tour.
Upon realising Rodgers was serious, Suarez pulled himself together and set off on an incredible 31-goal season which almost fired the Merseysiders to the Premier League title. He then secured his big-money move to Barcelona the following summer, but his decision to bite Giorgio Chiellini during the World Cup in Brazil meant he was again forced to train alone in Catalonia after being handed a four-month ban from the game.
"It was hard for me to train alone in a rectangle 10 by 10," Suarez groaned. He made up for lost time on his return to the pitch, though, firing home 25 goals as Luis Enrique's side won the Treble.
2. Joey Barton
George Orwell isn't a reference point for many Premier League footballers, but it was the Animal Farm author who Barton quoted after a bust-up with Newcastle boss Alan Pardew in 2011.
"In times of universal deceit, telling the truth will be a revolutionary act," the midfielder tweeted, adding: "Made to train on my own today, how predictable." (Probably not Orwell, that bit.)
Another rant on social media – "One day the board might realise what the shirt signifies HONOUR and PRIDE. Thanks for your continued support" – saw Barton placed on the transfer list, with QPR handing him a four-year deal a few weeks later.
3. Victor Valdes
Even by modern football's standards, Valdes came across as a little melodramatic.
"What if I were to hit the post and lose consciousness, and if I swallowed my tongue?" he spluttered to academy coach Alan Fettis after the goalkeeper had been ordered to train alone by Manchester United boss Louis van Gaal, who was unimpressed when Valdes refused to play for the club's under-23s.
The former Barcelona custodian was loaned to Standard Liege last January, where he reportedly had to pay £77 every time he swapped his shirt with an opponent. How the mighty fall.
4. Mamadou Sakho
Sakho and team rules don't seem to go together. On a pre-season tour of the United States in 2016, the French defender somehow managed to be late for a team meal, a treatment session, and the plane's departure from Liverpool Airport.
But rather than ensuring he was on his best behaviour for the rest of the trip, the former PSG man felt it would be wise to interrupt Jurgen Klopp's interview during a tour of the Alcatraz prison complex. "We're here because we want to leave Mama here," Klopp hit back, probably only half-joking.
Sakho was sent home early and began playing for Liverpool's reserves in October. When Klopp was asked about a possible return to first-team action last month, he replied bluntly: "Nothing's changed."
5. Paul Pogba
Frustrated at a lack of first-team opportunities during his first stint at Old Trafford, Pogba was banished from the group by Alex Ferguson after he demanded a transfer. "I was training alone for one week," the midfielder grumbled. "They told me to go in the gym. I said: 'I'm not an athlete, I'm a footballer'."
"He and I were like oil and water," Ferguson said of Pogba's agent, Mino Raiola, who helped his client secure a move to Juventus in 2012. "From then on, our goose was cooked because Raiola had been able to ingratiate himself with Paul and his family."
No matter: the 23-year returned to his former home in August for a world-record fee of £89.3 million. "I could also have joined Real Madrid or Barcelona, who were interested in signing me," Pogba claimed. "But I chose to return to United because I followed my heart." How sweet.
6. Antonio Cassano
Cassano has always been a fan of the good life, but he became a little slack even by his own modest standards while working with Fabio Capello at Real Madrid.
"Anarchy is always there with Cassano," lamented the ex-England disciplinarian of his striker, who compared his and Capello's problems more favourably to those of a father and son.
When Cassano's weight ballooned in 2006, his compatriot accused him of disrespect and forced him to train away from the rest of the squad. David Beckham soon joined him in exile after announcing he was set to join LA Galaxy, while Cassano returned to Italy with Sampdoria soon after.
7. Bastian Schweinsteiger
The Germany international was deemed surplus to requirements when Jose Mourinho took charge at Old Trafford in May, with Schweinsteiger cutting an isolated figure at Manchester United's training ground as the club tried to shift his £200,000-per-week earnings off the wage bill.
The former Bayern Munich man didn't really complain about his fate in public, but Dejan Stefanovic of FIFPro wasn't shy in stepping forward. "It's clear bullying," he insisted of Mourinho's behaviour. "In Slovenia, we would have indicted Mourinho and asked for the highest penalty – three years in prison."
Schweinsteiger was eventually restored to the squad in October, with Mourinho praising his attitude and professionalism. All's well that ends well.
8. Papiss Cisse
Cisse didn't react well when Newcastle revealed that payday loan company Wonga were their new shirt sponsors in 2013; the striker, citing his Muslim beliefs, objected to wearing the Magpies' new kit on religious grounds.
Alan Pardew had no sympathy, though, leaving Cisse behind when the rest of the team flew to Portugal for a training camp. But, after negotiations featuring Islamic law specialists and the PFA, the Senegalese star revealed he was prepared to don the garment "after a huge amount of thoughts and reflection".
Newcastle presumably reminded Cisse that he'd been happy to promote Richard Branson's brand of personal finance the year before.
Thank you for reading 5 articles this month* Join now for unlimited access
Enjoy your first month for just £1 / $1 / €1
*Read 5 free articles per month without a subscription
Join now for unlimited access
Try your first month for just £1 / $1 / €1
Quizzes, features and footballing fun
Get the best features, fun and footballing frolics straight to your inbox every week.
Thank you for signing up to Four Four Two. You will receive a verification email shortly.
There was a problem. Please refresh the page and try again.