Manchester United know they're making a pact with the devil – but just what will success cost?
By Declan Warrington published
Declan Warrington says the arrival of the Portuguese manager will take the club away from the values laid down in the era of Sir Alex Ferguson…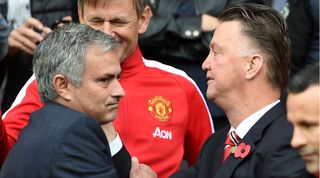 Confirmation of Jose Mourinho's appointment as Manchester United (opens in new tab) manager may come with a promise of the success demanded, but it also effectively embraces many of the negatives that they wished to avoid three years ago. It's also a demonstration of their desperation following three seasons of decline, first under David Moyes and then Louis van Gaal.
When Sir Alex Ferguson retired in 2013, Mourinho may in many ways have been his most suitable successor. Even amid their understandable desire for another long-term appointment, the Portuguese's strength of character was sufficient for him to resist the weight of Ferguson's and Sir Matt Busby's collective history, one of the few capable of succeeding as the manager who came next.
Three years on, however, as with Chelsea (opens in new tab) in 2007 and Real Madrid in 2013, United would likely have been looking for a successor following the burnout from his reign. It's the collateral damage that comes with his appointment – conflict, controversy, questionable recruitment – they hoped not to sign up for, but which will gradually unfold from his first day.
Flawed genius
There is little question that, as one of the finest managers in history, Mourinho's appointment – in addition to further investment to an already-strong squad – is among the most logical steps United, and Ed Woodward, can take to ensure success.
The Portuguese may prove to be the most effective manager of his generation, but he will not embrace working with United's squad in its present state. For all of its under-performance with Van Gaal, they perhaps need only a new central defender and right-back to convincingly challenge for titles. But with Mourinho, there will be numerous harsh sales, good and bad signings, and all just for short-term gain.
Among those sold by Mourinho during the past decade are Lassana Diarra, Nuri Sahin, Juan Mata, Romelu Lukaku and Kevin De Bruyne. Mourinho perhaps justified his judgement with trophies, but if Ferguson still represents United's ideal – management beyond the first XI and maximising the club's resources by correctly timing sales – then the 53-year-old is far from the same mindset.
Chelsea received a total of £23m for Diarra and De Bruyne when they were later sold for £75m; Sahin, Mata and Lukaku strengthened rivals when they could have contributed but for Mourinho's reluctance to rotate.
Examining United's squad, it's difficult to avoid the conclusion that Memphis Depay, Ander Herrera, Daley Blind and Mata – again – could be among the manager's casualties, and that their exits (particularly Depay considering his youth and potential) are ones they could later regret.
Gambling on a generation
As has rightly already been recognised, if Van Gaal has left a legacy at Old Trafford, it came in his encouragement of Jesse Lingard and Marcus Rashford, in finally inspiring Chris Smalling, and in signing Anthony Martial.
Beyond the exceptional Raphael Varane, few young players have truly thrived under Mourinho's management, so alongside Adnan Januzaj, Cameron Borthwick-Jackson, Timothy Fosu-Mensah and others, the careers of Lingard and Rashford – if not Martial – could yet stall. Perhaps, though, Rashford has already done enough to be considered differently.
Given United's admirable tradition of developing their own players (and against Van Gaal's relative success, it should be remembered trainees Danny Welbeck, Jonny Evans, Tom Cleverley and Darren Fletcher left during his reign), and supporters' hopes that is something they will continue to do, Mourinho will always be the manager who chose Samuel Eto'o, at 32, over Lukaku, and loaned the 26-year-old Emmanuel Adebayor shortly after Alvaro Morata's first-team debut.
Leopards and changing spots
Among this week's observations of Mourinho have been claims that, having secured the position he has unquestionably long wanted, he will adapt his philosophy to suit United by embracing their demands for entertaining, attacking football; for developing the club's young talent and by keeping his behaviour lower-key.
While it's harsh to dismiss him as a purely defensive manager (which Van Gaal appeared throughout at Old Trafford), it's unrealistic to expect long-term changes, particularly given his second reign at Chelsea captured so many of his defining traits.
Recognising Roman Abramovich's desire for more expansive football contributed to his departure in September 2007; upon his reappointment, Mourinho (whose first Chelsea team, inspired by Damien Duff, Eidur Gudjohnsen and Arjen Robben produced some of the finest football England has seen) built a team that attacked and entertained until a 5-3 defeat at Tottenham inspired a permanent return to a pragmatic game.
He was also encouraged to nurture the promising talents from the club's expensive academy, but refused to give Ruben Loftus-Cheek beyond half-time against Aston Villa in a routine 2-0 win.
Dicing with danger
Whether it be poking the late Tito Vilanova in the eye, criticising referees, clashing with the media, embarrassing Iker Casillas and Eva Carneiro, or provoking Arsene Wenger, there can be little arguing Mourinho doesn't thrive on confrontation. Ferguson also oversaw some ungraceful episodes but his at least tended to relieve the pressure on his club, where Mourinho's often don't.
Similarly, the temptation provided by the renewal of his great rivalry with Pep Guardiola – in the same city – with Wenger, and by new ones with Antonio Conte and Jurgen Klopp, will gradually prove too great to resist.
The question is not if, but when Mourinho will bring trophies to United. There is less certainty, however, when considering how many – and at what cost.
Zlatan Ibrahimovic's expected arrival may excite, but is a year or two from even the finest 34-year-old worth the 18-year-old Rashford's potential departure? Will the millions likely to be spent on more experienced and robust players be justified by long-term results, or will Mourinho's successor inherit a squad requiring rebuilding, as Inter Milan's did when he left in 2010 after exceptional success?
It'll be fun finding out.
More features every day on FFT.com (opens in new tab) • More Manchester United (opens in new tab)
Thank you for reading 5 articles this month* Join now for unlimited access
Enjoy your first month for just £1 / $1 / €1
*Read 5 free articles per month without a subscription
Join now for unlimited access
Try first month for just £1 / $1 / €1
Quizzes, features and footballing fun
Get the best features, fun and footballing frolics straight to your inbox every week.
Thank you for signing up to Four Four Two. You will receive a verification email shortly.
There was a problem. Please refresh the page and try again.