Toure epitomises Man City mistakes: 5 things from Real Madrid 1-0 Man City
Thore Haugstad was at the Bernabeu to analyse this Champions League semi-final using Stats Zone…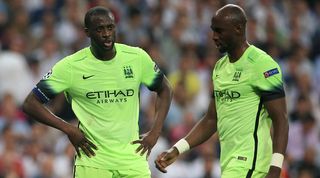 There is a certain sense of repetition when tactical reports on Manchester City are to be written. All season, their fractured central midfield structure has been a recurring issue that might serve to explain why they are fighting to finish fourth and currently boast only four wins in their last 15 league away matches.
Familiar faults were certainly on display at the Santiago Bernabeu on Wednesday night, as Real Madrid reached the final despite delivering an unremarkable performance.
1. Toure lets Kroos run the game
One of the pre-match talking points had been whether Madrid would miss Casemiro, the ball-winning midfielder who has been such a stabilising factor over the last two months.
As it happened, his injury turned into an advantage: City rarely threatened between the lines and did little to stop his replacement at the base of midfield, the playmaker Toni Kroos, who is far silkier in possession.
The reason centred largely on Yaya Toure. City initially lined up in a 4-1-4-1, but it soon looked more like a 4-2-3-1 as defensive midfielders Fernando and Fernandinho laboured to shield the defence while Toure jogged around gently.
Rather than staying deep, Kroos was clever enough to exploit this by moving forward, which created numerical advantages in key areas as Zinedine Zidane's 4-3-3 overwhelmed the two holding midfielders.
Love Yaya's workrate #UCLpic.twitter.com/T50AgWDdVo
— Filip Borowski (@FilipBorowski) May 4, 2016
At some point, Fernando had to leave his defensive zone to shut down Kroos, even though Toure stood far closer. The ball ended up in the space the Brazilian had vacated. This was not corrected until Toure went off on 61 minutes and, by full-time, Kroos had played the most passes (79 out of 84 completed) and completed the second-most in the final third (15/16).
These were not unimaginative layoffs to his centre-backs either, but constructive deliveries to some of Madrid's most inventive players. The team-mates he found the most often were Gareth Bale (16 passes), Luka Modric (16) and Isco (13). Forty-two passes went forward, while only 13 went backward.
2. Modric and Isco move wide
There were other issues as well. In Zidane's 4-3-3, Isco and Modric often moved wide to overload the flanks and draw City out of shape. With Toure hardly pressing at all, Fernandinho was habitually tempted upfield to close down, which created gaps.
On 26 minutes Isco first dribbled past Fernando, then bypassed Fernandinho as a clever turn allowed him to release Jesé in behind the defence. Later, Fernandinho tracked Cristiano Ronaldo as he moved deep towards Dani Carvajal. That left space behind him, and when Carvajal simply passed it to Modric, the Croat had time and space to play a sumptuous through-ball to Marcelo (whose cross found nobody).
The examples kept coming. Seven minutes into the second half, Modric had possession close to Pepe as Fernandinho again charged upfield. The ball was moved to Carvajal out wide as Modric advanced past Fernandinho; Carvajal extended it to Bale, who then found Modric, and with Fernandinho outplayed and Toure standing in the centre circle, Madrid were free to run at Fernando and the backtracking defence.
The attack ended with a Bale cross for Modric, who squandered a huge chance alone with Joe Hart.
3. Carvajal escapes De Bruyne
The movement of Isco and Modric also had effects in other areas. On 19 minutes, Modric moved so wide that it was left-winger Kevin De Bruyne who closed him down. This let Carvajal run at Gael Clichy, and the right-back released Bale whose cross went in via Fernando.
Before that goal, City had already been warned. Six minutes earlier, a move had materialised in which the patterns were almost identical: Carvajal ran on the outside of De Bruyne, and this time it was Jesé who ran in behind Clichy. Jesé's marker was also the same man that would follow Bale; Fernando. Carvajal opted to cross that time, which saw Ronaldo direct a header off target.
Carvajal continued to find space. Ten minutes into the second half, he crossed again for Ronaldo whose header went straight at Hart. The right-back also slipped a pass through for Jesé, with Hart tested once more.
They were all good opportunities arising from structural issues, which made it surprising that Manuel Pellegrini said he had no regrets about his tactical approach. "We worked very well for 90 minutes," he said. "That's why Real Madrid couldn't create any chances."
4. City miss playmakers
For City's part, they did not make Madrid miss Casemiro. This did not so much centre on Kroos's defensive work as City's own shape and the players they missed.
The 4-1-4-1 featured no attacking midfielder and Toure often dropped deep, which meant City only had Sergio Aguero positioned close to the centre-backs. Initially, both De Bruyne and Jesus Navas stayed wide.
This left City without ideas and they initially offered little beyond a few Navas crosses and some hopeless long balls towards Aguero. Things only changed just before half-time when De Bruyne started drifting infield.
On 44 minutes, the Belgian emerged in a pocket of space to find Fernandinho, who hammered a shot just wide. It was an excellent chance, but it would prove to be an exception, and Pellegrini later made more sense when he rued the absences of David Silva and Samir Nasri. "We didn't have creative players to make a difference," he said.
5. Madrid untroubled late on
By the time Pellegrini tried to force a late equaliser, Bale had already flicked a Kroos corner onto the woodwork.
As such, there was still hope when Raheem Sterling replaced Toure and Kelechi Iheanacho came on for Navas as City went 4-4-2. Particularly in the final 15 minutes, Madrid defended surprisingly deep and appeared to invite pressure.
STATS ZONE
Yet City offered nothing beyond a De Bruyne free-kick into the side-netting and a 25-yarder from Aguero that landed on the rooftop. By full-time, their only recorded shot on target was a mishit De Bruyne volley that had bounced into the arms of Keylor Navas.
That was disappointing, and it told more of City's lack of creativity than Madrid's defending. The hosts weren't great, but nor did they have to be.
NOW READ THESE
Analyse Real Madrid 1-0 Manchester City yourself with Stats Zone
More features every day on FFT.com • Analysis
STATS ZONE Free on iOS • Free on Android
Quizzes, features and footballing fun
Get the best features, fun and footballing frolics straight to your inbox every week.
Thank you for signing up to Four Four Two. You will receive a verification email shortly.
There was a problem. Please refresh the page and try again.