What exactly is Ole Gunnar Solskjaer getting right at Manchester United?
By Declan Warrington published
More than just inspiring confidence, Solskjaer has found a way to overhaul a declining institution, writes Declan Warrington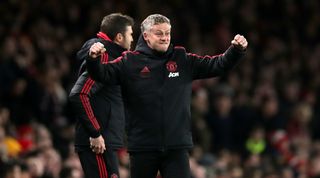 Liverpool fans would no doubt had preferred it if Manchester United hadn't rediscovered the confidence that briefly escaped them against Paris Saint-Germain.
Chelsea may be troubled, but Monday's 2-0 victory at Stamford Bridge demonstrated again how Ole Gunnar Solskjaer has been able to stamp an identity back onto a club which has largely been absent since Sir Alex Ferguson's retirement nearly six years ago.
Even beyond Ferguson's consistent success, and United's transformation into one of the world's leading clubs, it was the traditions of attacking football and educating academy players that defined Ferguson's legacy most of all.
The damaging reigns of Jose Mourinho, Louis van Gaal and (to a lesser degree) David Moyes diced with degeneration, but Solskjaer has gone some way to restoring these traits in only two months. The team facing Liverpool on Sunday will be a more familiar foe than Manchester United sides the Reds have gone up against in recent years; certainly, very different to the one they beat 3-1 at Anfield in December.
Style with substance
It remains an oversimplification to recall Ferguson's greatest teams as ones that only attacked relentlessly, but in two uninspiring years of inexplicably rigid, stale football under Van Gaal and then Mourinho, United had lost their footballing identity.
Perhaps more caution would have given them a better chance going into their Champions League second leg at PSG, but to witness United's wide forwards getting in behind their opposing full-backs and defences being stretched by their attacking pace is to recall what was once taken for granted.
Their full-backs are also again encouraged to attack, there is a renewed intensity about the team's play, and attempts to play defence-splitting passes are once again a regular feature. Perhaps more than anything else, United are frequently taking risks.
A squad unhappy under Moyes, Van Gaal and Mourinho had done little to prevent those managers' sackings, and with the latter, perhaps even secured the outcome. There is little question that his difficult relationships with the influential – and now improving – Paul Pogba and Anthony Martial, as well as the uncertainty that surrounded their futures, contributed to Mourinho's departure. Ed Woodward chose his side, and picked wisely.
This is not a club unfamiliar with big personalities in the dressing room. But in the space of a little over two years, Ferguson had overseen the sale of David Beckham and the termination of Roy Keane's contract. Both had achieved far more at United, and become far more notable club figures, than Pogba and Martial likely ever will. Even Cristiano Ronaldo, when agitating for a move to Real Madrid in 2008, was forced to remain at the club for a further year, and ultimately because the manager – and the club – was king.
Gary Neville, never shy about expressing an opinion about his former club, has been just as vocal about his admiration for the job Solskjaer has been doing as he was critical of the direction United had been taking in the years prior. His most interesting intervention, though, was his accusation that the Reds had "lost all sense of the values that the club was built on" from the moment they decided to sack Moyes.
In doing so, United had adopted the same short-term approach of other clubs hiring and firing in an attempt to inspire immediate results – instead of addressing the problems that, until Solskjaer's arrival, would persist.
It may transpire that Solskjaer isn't kept on beyond the end of the season, or is similarly replaced if his relationship with the players also declines – but that seems unlikely. The harmony he has so far encouraged could yet prove sustainable.
Familiar faces
One advantage Solskjaer is afforded over Mourinho is that he isn't under the same pressure to start Romelu Lukaku – having not been the manager to demand his signing at an eye-watering £75m. And there have also been other decisions that have highlighted their notably contrasting approaches.
The re-appointment of Mike Phelan, a figure close to Ferguson for many years, has added valuable wisdom and experience to his coaching staff, while Marouane Fellaini, pivotal under Mourinho but a figure who limited United's potential, has already been sold.
Marcus Rashford's promotion into the central role he has long demanded, and his subsequent transformation into one of the team's leaders, is more admirable and significant still. If he and Jesse Lingard are to consistently feature in United's frontline, then they will at least have two attacking players who forge a link to the club's traditions.
Since Ferguson's retirement – or perhaps more relevantly, since Ed Woodward succeeded David Gill – the departures of Darren Fletcher, Jonny Evans, Danny Welbeck, Tom Cleverley and Wayne Rooney have all been sanctioned. United had regularly retained declining players for their value to the dressing room and club ethos, and of that five, only Rooney – by then the club captain and their longest-serving first-team player – hadn't been a club trainee.
Even the retired Ryan Giggs, among United's finest ever players, was lost from the coaching staff when Mourinho took over from Van Gaal, leaving them without yet another link to their past. At Old Trafford, that means something.
As well as Rashford and Lingard, the likes of Luke Shaw, Victor Lindelof and Eric Bailly help make up a group of young players capable of creating long-term futures at United in the way that Rooney – and Solskjaer – once did. In time, it might just help the club rediscover similar levels of success too.
NOW READ… Ranked! The 10 best goalkeepers in the world (opens in new tab)
New features you'd love on FourFourTwo.com (opens in new tab)
Thank you for reading 5 articles this month* Join now for unlimited access
Enjoy your first month for just £1 / $1 / €1
*Read 5 free articles per month without a subscription
Join now for unlimited access
Try first month for just £1 / $1 / €1
Quizzes, features and footballing fun
Get the best features, fun and footballing frolics straight to your inbox every week.
Thank you for signing up to Four Four Two. You will receive a verification email shortly.
There was a problem. Please refresh the page and try again.