Who SHOULD win the PFA Player of the Year awards this season – FourFourTwo writers make their picks
Top-flight stars are casting their votes for the finest performers of the season – so here are our selections for the PFA Players' Player and Young Player gongs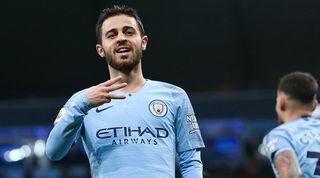 James Maw (Deputy Editor)
Players' Player: Sadio Mané
With so much focus on Mohamed Salah's form (or lack of, in the eyes of some), not enough has been made of the fact his team-mate has fired in 17 Premier League goals this season – the best return of his career – with five games to spare.
That's put Mané level with prolific strikers Harry Kane and Pierre-Emerick Aubameyang, and ahead of in-form superstars like Eden Hazard and Raheem Sterling. He's also clicked up a gear as Liverpool have laboured over the last couple of months, scoring nine goals in the Reds' 13 league fixtures so far this calendar year.
Should the Anfield side finally end their title drought this season, Mané's contribution deserves to be recognised as much as Salah, Virgil van Dijk or any other players.
Young Player: James Maddison
Let's be frank, here – anyone voting for Raheem Sterling (192 Premier League appearances before this season) or Bernardo Silva (24 years old but inexplicably eligible) for Young Player of the Year is completely disregarding what the award should be about.
It should go to a player who has made a genuine breakthrough and who is genuinely young. For that reason, my pick would be Leicester's James Maddison, who was 21 until he turned 22 in November.
The former Norwich playmaker has enjoyed a superb debut Premier League campaign, and at the time of writing no player in the division has created more goalscoring chances for team-mates. With six assists and seven goals to his name, Maddison's England debut won't be too far off.
Andrew Murray (Staff Writer)
Players' Player: Virgil van Dijk
True, Liverpool may not win the league. True, Raheem Sterling, Sergio Aguero, Son Heung-min and others have had more tangible influence in their teams' seasons. True, individual awards in a team sport are inherently flawed.
None of these matter, though. You have to vote for the player who makes the biggest difference to their team, not just in their side's results, but also the effect they have on their team-mates. Take Van Dijk out of Liverpool's defence and that rearguard is barely playing the same sport. They become jittery, nervous and completely rudderless, a million miles from the parsimonious serenity the Dutchman adds to the Reds' backline every week.
People scoffed at the £75m Jurgen Klopp paid for the 27-year-old colossus in January 2018, but that world-record fee was money impeccably spent.
Young player: Declan Rice
If you'd told this writer that he was watching a future England midfielder when taking in Chelsea U23s vs West Ham U23s at Aldershot in October 2017, we'd never have believed you. And not least because the teenager in question was then registered as Irish.
Declan Rice played in central defence that day and, though he looked assured enough, didn't show much to suggest he would be the beating heart of the Hammers' midfield. He snaps into tackles like Hammers legend Billy Bonds, and is the perfect complement to his team's attacking riches further forward. He's the future. For club and country.
Joe Brewin (UK Digital Editor)
Players' Player: Bernardo Silva
Ask a Manchester City fan who's been their best player this season, and the chances are they won't say Raheem Sterling. It takes a special player to stand out in a special team; a special player who's capable of making fans feel like they haven't missed a man like Kevin De Bruyne at all.
So step forward Bernardo Silva, the winger-turned-central-midfielder who has filled the gaping De Bruyne void this term and made this remarkable team continue ticking. The stats – six goals, seven goals – are less outstanding than his consistency; the kind that means only Aymeric Laporte among outfielders has played more minutes for Pep Guardiola's side this term.
The greatest eulogy came from his manager. "I love him," said Guardiola. "Simple as that."
Young Player: Aaron Wan-Bissaka
Only a year on from his senior debut, Wan-Bissaka has taken his game to astonishing heights. We should have known last year, when the fresh-faced youngster looked unflappable in his first five Premier League matches – against Tottenham, Manchester United, Chelsea and Liverpool, no less (yes and you, Huddersfield).
This term it's been more of the same – to the point where his manager Roy Hodgson was so relieved when he finally made a mistake. "I was starting to think he was a robot," mused the ex-England boss. Wan-Bissaka is arguably one of the best full-backs in the league already. He's 21.
Chris Flanagan (Staff Writer)
Players' Player: Virgil van Dijk
Van Dijk was a Liverpool legend before he'd even arrived at the club. For six months, after the collapse of his transfer from Southampton, Reds fans declared him the answer to all of their problems – all the club had to do was stump up the cash.
That's some pressure: when the Dutchman finally did sign, he really had to deliver. He's done just that, solving Liverpool's defensive issues and turning them into genuine title contenders. A defender hasn't won this award since John Terry in 2005 – this year, Van Dijk deserves it.
Young Player: Raheem Sterling
Incredibly, Sterling is still eligible for this award, just the seven years since he made his first-team debut for Liverpool with a mere 350 career appearances under his belt.
Still, rules are rules – Sterling may be 24, but the award includes all players aged 23 and under at the start of the season, and undoubtedly he wins that category hands down.
For so long he produced everything but goals – now he's scoring for fun and developing into one of the world's best. Sterling has been brilliant this season, a contender for the senior award and without doubt my pick for Young Player of the Year, just ahead of Petr Cech, Glenn Murray and Pablo Zabaleta.
Conor Pope (Digital Features Editor)
Players' Player: Raheem Sterling
There's a good argument for Virgil van Dijk to win: his performances have improved a team exponentially, and without him it's unlikely that Liverpool would have kept pace with Manchester City. Without Raheem Sterling, however, City would still be in with a good shout of Premier League glory.
But Sterling's case is different. He has improved himself to the point of being a genuine world-class talent, and become a foremost star among Pep Guardiola's exceptional side.
He has vaulted expectations – partly due to skewed perceptions following widespread undermining of his actual talents. More importantly than himself or his team, he has also improved football itself, becoming a figurehead against the rising tide of racism in football. On and off the pitch, he hasn't put a foot wrong.
Young Player: Declan Rice
Rice was already established in West Ham's first team last season, but this year he has cemented himself in the Hammers' starting line-up, moving from a player with potential to a top-level Premier League performer.
He simply doesn't play like a youngster. His reading of the game from a midfield vantage point means he can boss the pace of the game against superior opposition.
On his England debut, he came across as a cool-headed senior member of the squad, and must now become a Three Lions regular. The next episode in his career is surely a transfer battle among the country's top clubs.
Then read...
UNPOPULAR OPINION I'm a Chelsea fan – and we'll be better off without Eden Hazard
QUIZ! Can you name the 50 highest Premier League scorers of all time?
Quizzes, features and footballing fun
Get the best features, fun and footballing frolics straight to your inbox every week.
Thank you for signing up to Four Four Two. You will receive a verification email shortly.
There was a problem. Please refresh the page and try again.