19 of the best Zlatan Ibrahimovic quotes: The world according to Manchester United's new boy
The Swedish striker got his Red Devils career off to the perfect start with a late winner in the Community Shield, and he's sure to make an impression off the pitch this season too. Nick Ames picks out his most memorable utterances...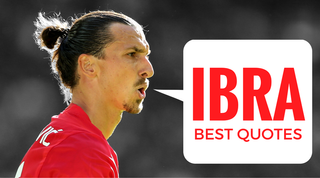 Zlatan Ibrahimovic announced himself to the English game with a terrific header to win Manchester United the Community Shield on Sunday. Red Devils fans will be hoping it was the first of many goals he'll score this season as they target the Premier League title, with the Paris Saint-Germain striker bringing a fine mix of ability and experience with him to Old Trafford.
Ibrahimovic has played in Sweden, the Netherlands, Italy, Spain and France in the past and will be confident of making an impact in England in 2016/17. Even if he doesn't quite meet expectations he should still be good for a quote or two, with the headline writers already licking their lips at the thought of post-match interviews filled with controversial barbs and withering put-downs.
Here are 19 of Ibrahimovic's best quotes to date...
1. "I was like, 'No way, Zlatan doesn't do auditions'. "I thought 'You either know me or you don't and if you don't know me you can't really want me'."
On the – apparently humiliating – prospect of a trial with Arsenal in 2000.
2. "One thing is for sure, a World Cup without me is nothing to watch so it is not worthwhile to wait for the World Cup."
A parting shot after the dream of captaining Sweden at a World Cup died at the hands of Portugal in a play-off three years ago.
3. "Only God knows... You're talking to him now"
Before that tie, a reporter had asked Ibrahimovic what the outcome would be. Based on this, you'd have expected him to craft a more palatable ending.
4. "I don't think that you can score as spectacular a goal as those of Zlatan in a video game - even though these games are very realistic these days."
FIFA 16 and others are no match for Ibrahimovic.
5. "What Carew does with a football, I can do with an orange."
The players' relative merits may not cause too much debate, but when Ibrahimovic heard Norway's John Carew question the need for his tricks and flicks in 2002 the riposte was short and sharp.
6. "At Barca, players were banned from driving their sports cars to training. I thought this was ridiculous – it was no one's business what car I drive – so in April, before a match with Almeria, I drove my Ferrari Enzo to work. It caused a scene."
Zlatan has only ever been one to make an entrance.
7. "I can play in the 11 positions because a good player can play anywhere."
Potentially good news for Jose Mourinho if an injury crisis takes hold at Old Trafford.
8. "First I went left, he did too. Then I went right, and he did too. Then I went left again, and he went to buy a hot dog."
Describing how he twisted the blood of Liverpool's Stephane Henchoz.
9. "I didn't injure you on purpose, and you know that. If you accuse me again I'll break both your legs, and that time it will be on purpose."
A spat with Rafael van der Vaart, who was then his team captain at Ajax, during a friendly between Sweden and Holland (Van der Vaart had injured ankle ligaments and apparently blamed a challenge with Ibrahimovic).
10. "Mido picked up a pair of scissors and flung them at me. It was completely nuts. The scissors whizzed past my head, straight into the concrete wall and made a crack in it. I went over and gave him a smack, but 10 minutes later we left with our arms around each other. Much later I discovered our team manager had kept those scissors as a souvenir, to show his kids."
On another run-in with a team-mate, this time Mido – and what it was worth to his coach.
11. "Then Guardiola started his philosopher thing. I was barely listening. Why would I? It was advanced bullshit about blood, sweat and tears, that kind of stuff."
Why Ibrahimovic was never likely to be joining the blue half of Manchester this summer.
12. "Guardiola was staring at me and I lost it. I thought 'there is my enemy, scratching his bald head!'. I yelled to him: 'You have no balls!' and probably worse things than that."
Further evidence of the above.
13. 'It was a joke,' I explained. "The cops laughed, but a photographer appeared and snapped a photo. Idiot that I was, I put on a huge grin. You can imagine what happened next."
On defusing a situation whereby he and some friends had pretended to be police stopping a sex worker and a possible client in Malmo.
14. "People trashtalk me. I've heard so much s**t over the years: 'F****** gypsy', stuff about my mum – all that stuff. I retaliate with my body, not with words."
What happens when you go too far with Manchester United's new signing.
15. "An injured Zlatan is a properly serious thing for any team."
After being struck down with a calf problem during his time at Barcelona.
16. "I'm not used to winning nothing – it's the first time it's happened to me. I'm disappointed. It's a failure."
After failing to win Serie A with Milan – the first time he had not taken a league title in eight years, in fairness to him – in 2012.
17. "We are looking for an apartment; if we do not find anything, then we will just buy a hotel."
On setting down – extremely lavish, if necessary – roots in Paris.
18. "I came like a hero, left like a legend."
And his modest take on departing the French capital.
19. "Give them a bicycle with my autograph and that will be enough."
Not the smartest suggestion for how to remunerate female footballers.
Oh, and one bonus one from the past that's very relevant now…
"If I had played in England I would have destroyed it, like I have everywhere else."
Time to prove it, Zlatan…
Thank you for reading 5 articles this month* Join now for unlimited access
Enjoy your first month for just £1 / $1 / €1
*Read 5 free articles per month without a subscription
Join now for unlimited access
Try first month for just £1 / $1 / €1
Get FourFourTwo Newsletter
The best features, fun and footballing quizzes, straight to your inbox every week.