Rated! The Manchester United players Jose should sell - and who he must keep
Paul Pogba's attracted most of the headlines related to United's transfer business this summer, but there's also likely to be some departures from Old Trafford this month. Scott Patterson runs the rule over the Red Devils' squad...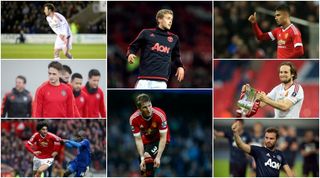 1. Bastian Schweinsteiger
When Bayern Munich allowed Schweinsteiger to join Manchester United for just £6.5 million last summer, it should have been clear something was awry. The German arrived at Old Trafford looking overweight and, while there were a few positive moments from his debut season, repeated injuries meant he never really built up any momentum.
It's clear Schweinsteiger's best days are behind him, but given that United have lost so many leaders in recent years they should keep the experienced campaigner around for at least another seasons.
When he did get out on the pitch in 2015/16, Schweinsteiger was constantly instructing those around him, while he's clearly a positive influence off the field too. As Sami Khedira said before the Euros: "Bastian is our captain, it doesn't change anything if I wear the captain's armband or not."
However, while the United careers of some players are still up in the air, Mourinho has made it clear that Schweinsteiger's future lies away from the club.
What should Mourinho do? Keep
Schweinsteiger scores against Leicester
2. Adnan Januzaj
Januzaj was a ray of sunshine in what was otherwise a dark and stormy season in 2013/14, when United finished seventh under David Moyes. He even earned himself a couple of well-crafted chants from impressed supporters on the terraces.
Things have gone downhill for the Belgian since then, though, with Louis van Gaal sending him out on loan to Borussia Dortmund last term. After his attitude was questioned in Germany, Januzaj returned halfway through the season having barely featured for Thomas Tuchel's charges.
The 21-year-old has bags of potential and could still come good, meaning it would be premature to let him go on a permanent basis. A loan deal, however, would allow him some valuable playing time and allow United to monitor his progress on the pitch: if he thrives at another Premier League club for a year, bring him back; if he doesn't cut the mustard, wave goodbye.
What should Mourinho do? Loan
3. Daley Blind
Many of Van Gaal's signings have been a disappointment at Old Trafford, but Blind doesn't fall into that category. The Dutchman had a solid first season at the club before pushing on last term, despite being moved to a then-unfamiliar centre-back role.
While Blind's versatility - he's played at left-back, centre-half and in central midfielder - would be considered a virtue by many, Mourinho's already made it clear he prefers players with a defined role.
"I am more a manager that likes specialists and not so much the multi-functional players because I am very clear in my approach," he said last month. "Multi-functional players are like one or two, when you are in trouble you need someone who can fill, but basically I want specialists."
That doesn't necessarily bode well for Blind in terms of earning a starting spot, but he'd certainly be a good squad player for Mourinho in the season to come.
What should Mourinho do? Keep
4. James Wilson
Wilson's career got off to a brilliant start, the striker scoring two goals on his debut while playing for his boyhood hero, Ryan Giggs. Van Gaal subsequently overlooked the youngster, though, with rumours circulating that Giggs was less than impressed with the Dutchman's decision.
Wilson will feel particularly hard done by given the success of Marcus Rashford, whom he was once ahead of in the United pecking order. While Rashford was living the dream, scoring winning goals against Arsenal, Manchester City and West Ham and earning a call-up to England's Euro 2016 squad, Wilson was on loan at Brighton - where he managed only five goals in 27 appearances - in the second tier.
Wilson's even more unlikely to benefit from regular action at Old Trafford given the abundance of attacking options Mourinho has to choose from. It's still too early to write him off, though, and another temporary move should do him good.
What should Mourinho do? Loan.
Wilson nets against Hull two years ago
5. Marcos Rojo
Rojo was a poor buy and has done little to warrant his place in the squad for the 2016/17 campaign, particularly now that Luke Shaw has returned to full fitness.
Rojo marshalled Kevin De Bruyne brilliantly in his first Manchester derby for United, but that performance proved to be the exception rather than the norm. At £16 million, Rojo wasn't the biggest disaster imaginable, but the signing has clearly not worked out and United should set about trying to recoup as much as they can for the Argentina international.
Who should Mourinho do? Bin
6. Marouane Fellaini
Fellaini's endured a tougher time at Old Trafford than he probably deserved: it wasn't his fault Moyes brought him to United, nor that Van Gaal frequently played him out of position. In his time at the club he scored against City, Tottenham Hotspur and West Ham, as well as the crucial opener in the FA Cup semi-final against Everton.
Fellaini may have excellent chest control, but he doesn't carry enough value even as a squad player. Moyes wants him at Sunderland but the Belgian might fancy breaking the association with his former manager at Everton and United and moving elsewhere.
What should Mourinho do? Bin
7. Juan Mata
Most United players probably celebrated when they heard Mourinho was replacing Van Gaal at the helm, but Mata may have greeted the news with a little less excitement. The former Barcelona boss may have played him out of position for two years, but Mata still recorded a better goalscoring record than he had at Chelsea, where he was named Player of the Year two seasons running.
Mourinho was the manager who sold him to United back then and has never seemed to be a big fan of the languid Spaniard. Mata's been one of the standout players this pre-season, however, and still has plenty to offer even if he's not first-choice attacking midfielder.
If being a bloody nice bloke isn't reason enough to keep him around, the fact he can produce brilliant moments of skill, take a mean set-piece and score a decent amount of goals should be.
What should Mourinho do? Keep
8. Andreas Pereira
Pereira was criminally overlooked by Van Gaal, despite scoring an excellent free-kick on his full debut. Having only turned 20 earlier this year, he's consistently shown ability beyond his age and could be one for the future at Old Trafford.
He obviously won't be a starter this season sending him out on loan would be a waste for United: a player with his talent should be on the bench whenever possible, ready to enter the fray and change a game with a moment of magic.
What should Mourinho do? Keep
Pereira's free-kick against Ipswich
9. Will Keane
Will Keane's identical twin brother, Michael, gave up on the United dream 18 months ago, joining Burnley and helping the club to promotion in 2015/16 after their relegation from the top flight the previous year.
Will remains at Old Trafford, meanwhile, although he's now 23 and still has only two league appearances to his name. A lengthy injury which sidelined him for a year certainly didn't help, but he's hardly set the world on light when out on loan either.
Keane was once a great prospect, winning the Young Player of the Year award six years ago, but his long-term career won't be at Old Trafford.
What should Mourinho do? Bin
Thank you for reading 5 articles this month* Join now for unlimited access
Enjoy your first month for just £1 / $1 / €1
*Read 5 free articles per month without a subscription
Join now for unlimited access
Try first month for just £1 / $1 / €1