6 of Emmanuel Eboue's most memorable Arsenal moments
The former Gunners utility man features in FourFourTwo.com's national Cult Heroes search – and Tim Stillman says he could hardly fulfil the criteria more…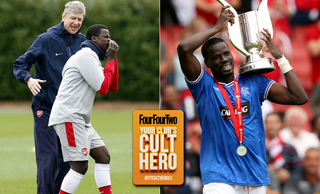 On the pitch, it's fair to say that Emmanuel Eboue's time at Arsenal was a mixed bag. He formed part of a defence that kept an unlikely 10 consecutive clean sheets in the Champions League in 2005/06. He was also subject to the chagrin of the Emirates boo boys more than once.
But the Ivorian's Arsenal stint will certainly be remembered for his more colourful antics. Whether sporting novelty costume wear, his rhythmic dance moves or comprehension of Korean, Eboue was always the joker in the pack at N5...
1. The time he wore a tiger suit to Gilberto Silva's house
In December 2006, Gilberto Silva, captaining Arsenal in the absence of Thierry Henry, decided to host a Christmas get-together at his Hertfordshire pad. It was a savvy diplomatic move from a player taking his newfound captaincy duties seriously.
But the affable Brazilian probably hadn't accounted for having Eboue as a house guest.
The Ivorian spent the early part of the night hiding behind a door, waiting for his teammates to arrive. Once they had all congregated, he jumped out in full tiger costume, roaring like an angry feline.
#Eboue#Tiger#BOOMpic.twitter.com/0GNf2Sgg98
— Colin Hinchliffe (@colhinch6) April 9, 2013
Emmanuel Adebayor was swift to play up Eboue's funnyman skills. "He's funnier than some comedians on TV," the Togolese striker enthused. "Sometimes when he eats, he puts food up his nose."
2. When he pretended he could understand Korean
For most players, the World Cup represents the pinnacle of their careers. Eboue represented his country at the 2010 World Cup in South Africa and the man who once claimed he wanted to be the next Eddie Murphy took the opportunity to test some new material on the road as Ivory Coast played a group game against South Korea.
With goalkeeper Lee Woon-jae receiving treatment, South Korea coach Huh Jung-moo took the opportunity to administer some instructions to captain Park Chu-young on the touchline. Eboue hovered at the scene, looking on and listening intently, pretending to comprehend the instructions by nodding along in time.
Not quite Murphy, but still rather amusing...
3. The time he gave away the latest penalty of all time
Unfortunately for Arsenal fans, Eboue occasionally extended his comic timing to the pitch. In April 2011, Arsenal were clinging on to their fading title hopes by their fingernails. Liverpool were proving to be stubborn opponents at Emirates Stadium, but in the 96th minute, the Gunners won a penalty which was duly converted by Robin van Persie.
Three points, and Arsenal were still in the fight. But Liverpool had time for one last attack, from which they won a free-kick on the edge of the Arsenal area. Luis Suarez's effort ricocheted off the wall, spilling into the area. Lucas gave chase, running towards the touchline with his back to goal.
The danger wasn't significant, but Eboue clumsily bundled into the back of the Brazilian, conceding a 98th minute penalty which Dirk Kuyt coolly thumped home. Arsenal's title hopes were vanquished and Eboue was sold weeks later. The class clown had slipped on one too many banana skins. That joke wasn't funny anymore.
RECOMMENDED Revealed! YOUR club's Cult Hero – as voted for by the fans
4. When he went crazy at Arsenal's Members' Day
Arsenal's Members' Day is usually a fairly low key, unremarkable affair. A good chance for kids on their summer holidays to watch their heroes train and maybe grab an autograph or two, but hardly highlight reels stuff.
Unless Eboue is involved. At the 2010 event, Arsenal players were called onto the Emirates turf one by one in squad number order, to be welcomed by the crowd. The players trotted on as their names were called, waving politely and sheepishly acknowledging those in attendance.
Most of the squad had done their turn, until the Gunners' No.27 was beckoned into the arena. There was to be no self-consciousness from the Ivorian.
He tore onto the pitch like a man possessed, ballooned a ball towards the crowd and then executed a pair of gravity defying star jumps, both of which he seemed pretty pleased with judging by the celebratory leaps that followed. 'Gymnast' joins dancer, comedian and questionable right-back on his CV of talents.
5. The time he was moved to tears
In 2016, Alexis Sanchez is Arsenal's go-to choice on the left. The situation was not always thus – there was a time when the Gunners' options were such that Eboue had to be rushed back from injury to play there. Samir Nasri hobbled out of a home match with Wigan after just 30 minutes following a challenge from Wilson Palacios and Eboue, just back from a knee injury, came on in his place.
He had been underperforming before the enforced layoff and the rust was eminently visible, as he blundered his way through the match. He seemed to be wearing wellies at times, as simple passes bounced off of his shins and into the path of grateful Wigan players, with the Gunners nervously protecting a slender 1-0 lead.
After another simple piece of miscontrol, Wenger moved to spare Eboue – and Arsenal – any more pain, and he was promptly replaced by Mikael Silvestre.
The Emirates crowd laid bare its acid-tongued fury, as Eboue was first cheered ironically and then booed relentlessly as he left the pitch. The poor Ivorian struggled to hold back the tears as he trudged off and walked straight down the tunnel. "He would have been even more unhappy had he stayed on, given the ball away and cost us a goal," was his manager's frank assessment.
6. The time(s) he strutted his stuff
While many were left to question his footballing skills, Eboue's elastic pelvis certainly ranked among his more memorable attributes. The Ivorian was quite the mover – and he was keen to show it. During a particularly confident flourish of form in 2009, Eboue bagged himself a brace from the bench in a 4-0 home win over Blackburn, including an assertively struck penalty.
The game seemed to complete his redemption, having been mercilessly booed off the pitch during that 1-0 win over Wigan three months earlier. Eboue marked each goal with an endearing display of his dancefloor prowess, jigging gracefully next to the corner flag in celebration.
Find out YOUR club's cult hero here • More features on FFT.com • More Arsenal
Quizzes, features and footballing fun
Get the best features, fun and footballing frolics straight to your inbox every week.
Thank you for signing up to Four Four Two. You will receive a verification email shortly.
There was a problem. Please refresh the page and try again.