8 amazing things we've learned from 500 play-off matches in English football
By Richard Foster published
We're approaching that most nail-biting time of year – and this time, writes play-offs expert Richard Foster, there are some major milestones to be hit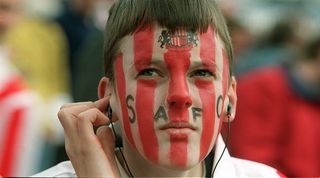 Richard Foster is the author of The Agony & The Ecstasy: A Comprehensive History of the Football League Play-Offs (opens in new tab)
On May 14, 1987, Charlton, Leeds and Sunderland were all involved in the very first series of play-off matches. The original triumvirate will be competing in this year's play-offs alongside Newport County and Forest Green Rovers, who will be taking part in the EFL's frenetic finale for the first time.
In 1987, Charlton ended up beating Leeds in a replay to secure their First Division future, while Sunderland lost out to Gillingham in the Third Division semis. When Forest Green meet Tranmere on May 13, it will mark the 500th play-off match – and here are some of the juicier facts and figures from the last 32 years...
1. The red-and-white curse
Clubs that traditionally wear red-and-white-striped shirts with black shorts have a lamentable record. Between them, Brentford (8), Exeter City (2), Lincoln City (6), Sheffield United (8), Southampton (1) and Sunderland (4) have competed in 29 play-offs and none of the sorry six have won a final.
Sunderland actually lost the final to Swindon when they were promoted in 1990, only for the Robins to be denied promotion because of financial irregularities. Lincoln and Sheffield United will be relieved to have gained automatic promotion, then, while Sunderland will approach the play-offs with understandable trepidation.
2. Coming back better
Eleven clubs have played in successive play-offs finals, and on nine occasions they have won upon their return: Tranmere 1990/91, Blackpool 1991/92, Leicester 1993/94, Crystal Palace 1996/97, Gillingham 1999/2000, West Ham 2004/05, Millwall 2009/10 & 2016/17, and Huddersfield 2011/12.
Aston Villa will be hoping to continue this sequence, having lost out to Fulham last year. The only two clubs to fail are Leicester – who lost to Blackburn in 1992 and Swindon in 1993, but made it third time lucky in 1994 when they beat Derby – and Exeter, who were defeated by Blackpool in 2017 and Coventry in 2018. They missed out on this year's League Two play-offs on the final day of the season.
3. Landmark crowds to come
The play-offs have attracted huge numbers of fans since they began, and this year three attendance landmarks will be reached. Overall, the aggregate attendance will top 11 million this season; the five-millionth spectator will attend a play-off final; and the two-millionth person will pass through the turnstiles of 'New' Wembley for a play-off final since it opened in 2007.
The Championship final regularly attracts more spectators than the World Cup final, and so it was in 2018 when 85,243 fans watched Fulham beat Aston Villa, compared to the 78,011 who witnessed France's 4-2 final victory over Croatia in Moscow.
4. Position vs momentum: the truth
There is no simple formula for success. Where clubs end the regular season doesn't have a massive influence over how they perform in the play-offs. In the Championship, 37% of top-placed clubs have got promoted; in League One it's 28%, and in League Two, 44%.
Momentum is a greater influence, as teams that in good form are more likely to succeed. Villa are at an advantage in the Championship as they have by far the best form of all the contenders, and although they lost on the final day of the regular season, that recent run of 10 successive wins means they have a favourable wind behind them.
5. Goals
Overall, 1,225 goals have been scored in 492 play-off matches, with the most coming in 1988 (over 19 matches), 2007 and 2015 (both 15 matches), when 51 were scored over the semis and finals. The fewest was in 2009, when a measly 23 were netted.
The most in one-off finals from 1990 onwards was 14 in 2001, the first year they'd been held at the Millennium Stadium. The fewest was also at the Millennium in 2004, when a paltry two were scored across the three finals. Boooo!
6. The 100+ Club
This season, Newport will become the 101st club to contest the EFL play-offs. The following day, Forest Green Rovers will become the 102nd.
At the other end of the scale, Preston have made the most appearances, having played in the end-of-season series 10 times – but they've only won them once, on their last appearance in 2015 when beating Swindon 4-0 in the League One final.
Blackpool and Huddersfield are the only two clubs to have won all three divisional play-offs.
7. Survival hopes: bleak
The chances of surviving in the Premier League after winning the Championship play-off final are not particularly encouraging. Fulham are the 19th of 32 victors to have been relegated the following season – a failure rate of almost 60%.
The average spell in the top division for a play-off club is just shy of three years, with Bolton having achieved the longest spell of 11 consecutive seasons after beating Preston in the 2001 final. In 2019/20, West Ham will be entering their eighth consecutive season since winning the play-offs in 2012, while Crystal Palace will head into a seventh after triumph the following year.
8. Hat-trick heroes in short supply
Only three players have scored hat-tricks in play-offs finals. Clive Mendonca was the first in 1998, when Charlton beat Sunderland on penalties after drawing 4-4 in the First Division final. Those two clubs could meet in this year's League One final.
In 2011, Scott Sinclair grabbed three of Swansea's four goals when they beat Reading in the Championship final, while Jermaine Beckford scored three for Preston in the 2015 League One showpiece.
Then read...
FEATURE The incredible adventures of Romario and Stoichkov in Barcelona
QUIZ! Can you name every English player with 3+ Premier League goals in 2018/19?
While you're here, why not take advantage of our brilliant new subscribers' offer? Get 5 copies of the world's greatest football magazine for just £5 (opens in new tab) – the game's greatest stories and finest journalism direct to your door for less than the cost of a London pint. Cheers!
Thank you for reading 5 articles this month* Join now for unlimited access
Enjoy your first month for just £1 / $1 / €1
*Read 5 free articles per month without a subscription
Join now for unlimited access
Try first month for just £1 / $1 / €1