8 notoriously lazy players who were allergic to hard work
Brede Hangeland recently suggested that Emmanuel Adebayor used to sit "in the gym with a cup of coffee and a muffin". Tim Ellis selects some more stars who weren't the most active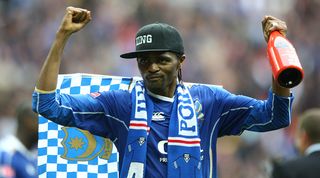 1. Alvaro Recoba's own time zone
In 2003, 'El Chino' was described by the Guardian as the "world's number one almost-great player". Even Recoba's wife labelled him "lazy and romantic", while during his time at Venezia the forward's team-mates gave him a watch in the hope that one day he might actually be on time for training.
Former Inter president Massimo Moratti summed it up perfectly when he paid tribute to the Uruguayan, who won two Serie A titles with the club in 2006 and 2007: "Alvaro Recoba was a bit like Inter - always surprising. He was at times lazy, but could also do things nobody had seen before." Fair play.
2. Antonio Cassano doesn't do warm-ups
Signed by Roma for £19m from Bari in 2001, accruing a handy wage packet of £83,000-per-week in the process, Cassano didn't exactly go the extra mile in the Italian capital.
"It's not worth it for six minutes," was the forward's reply after being instructed to warm up by manager Fabio Capello in the closing stages of a Serie A encounter. Cassano regularly walked out of training sessions, too, leading the future England boss to coin the phrase cassanata – a player who doesn't play for the team.
3. Hatem Ben Arfa: the static No.10
The Frenchman was the subject of his own team-mates' ire at Newcastle for not pulling his weight, while problems also arose during a loan spell at Hull in 2014. When club statisticians ran the numbers on Ben Arfa's work rate, the results didn't make for particularly positive reading; Ben Arfa defended himself with reference to his role as a No.10, to which manager Steve Bruce replied: "Aren't players who wear 10 supposed to run around then?"
An incriminating video later emerged of the midfielder pretending to do press-ups during a training session at current club PSG. Unai Emery, suitably unimpressed with his player's attitude, dropped him from his squad for four matches.
4. Lukas Podolski leaves his friends behind
When Podolski left Cologne for Arsenal in 2012, former Germany coach Berti Vogts wasn't slow to put the boot in. "He had too many friends in the city... he got praised as a great runner if he ever got back to defend three times in a game," Vogts grunted.
Former goalkeeper Uli Stein seemed to agree, declaring that the striker came out as "the laziest player they've ever worked with" in a straw poll carried out among his former coaches.
"I always come off and of course you cannot be happy when you always go off after 60, 70 minutes," the man himself responded when asked about how frequently he was substituted by Arsenal boss Arsene Wenger. Must have been a decent hourly rate, Lukas.
5. Balotelli makes strides with a segway
When asked if he was happy with Mario Balotelli's late Europa League spot-kick winner for Liverpool against Besiktas at Anfield in 2015, Brendan Rodgers replied: "No, once we get the penalty he stops working. So he needs to improve on that facet of his game to play in his position, rather than standing on the side of the football field."
Things didn't get any better when the Italian was loaned to Milan. Roberto Maroni, a political pal of former club owner Silvio Berlusconi, laid into the striker after his performance against Sassuolo in 2016: "Balotelli was non-existent, he must go. It was clear: he was lazy and didn't commit himself, spinning around the pitch thinking about something else."
The striker was certainly spinning around the Trafford Centre the last time he was seen in England, easing the load on his legs by buying a segway.
6. Romario flies to Rio after 20-minute cameo
When Sir Bobby Robson arrived at PSV after Italia 90, he discovered the full extent of Romario's aversion to training.
"There were days when he was pathetically lazy," the former England manager later recalled. "He would dance, chat, meet a local lady, carouse with her and then sleep all day to be 'fresh' for the game."
At Barcelona in 1994, meanwhile, the Brazilian asked Johan Cruyff if he could take two days off to attend the carnival in Rio. The Dutchman told his striker he'd only be permitted leave if he scored two goals the following day. Romario duly completed his brace after 20 minutes, before hop-footing it to the airport an hour after the final whistle.
7. Kanu play 'til you're 50?
The mercurial former Arsenal star may have just had a languid playing style, but that doesn't mean he wasn't lazy: in one match for Portsmouth, the striker was found to have run fewer yards than goalkeeper David James.
"I think he'll play until he's 51," manager Avram Grant wryly commented after a victory over Hull in 2010. "You see, Kanu, he's not running as fast as before and he's not in the physical condition of before. He's not young anymore, but he's clever."
8. Riquelme, the lazy magician
READ MORE
LIST FourFourTwo's 100 best foreign Premier League players EVER
FUN 10 reasons why everyone hates... Arsenal
NOSTALGIA Where are they now? Newcastle's 1995/96 Great Entertainers
It's fair to say Riquelme was indulged a little by Villarreal, who turned a blind eye whenever he picked up mystery injuries, didn't fancy training or brought a train-load of friends over to Spain.
After attending the birth of his son in his homeland, the Argentine asked to be excused on his return. It was one step too far, as Yellow Submarine president Fernando Roig fired him a torpedo: "He'll obey the club and fulfil his obligations – or else he'll have problems with me."
Riquelme's greatest nemesis, however, was Louis van Gaal at Barcelona. "You're the best player when you have the ball, but when you don't we play with one fewer," the Dutchman once told the playmaker. "Why should I run when the ball can do it?" was Riquelme's sharp response. Touché, Juan, touché.
Quizzes, features and footballing fun
Get the best features, fun and footballing frolics straight to your inbox every week.
Thank you for signing up to Four Four Two. You will receive a verification email shortly.
There was a problem. Please refresh the page and try again.