9 players who retired early from international football – and why
Mesut Ozil says he just can't go on with Germany, aged 29. Plenty under 30 have done the same before him, though…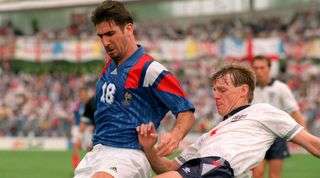 1. Lionel Messi (age at 'last' game: 29)
Messi notched a record-breaking 55 goals for his country in 113 appearances, but failed to score in any of the four finals that really mattered. 
After missing a penalty in the 2016 Copa America Final, the Barcelona man called time on an often-fraught and trinket-less international career that spanned 11 years. "For me, the national team is over," he sobbed. "I've done all I can. It hurts not to be a champion."
Unlike Messi's club career, it began as disastrously as it ended when, less than a minute into his international debut, he was sent off for elbowing a Hungarian opponent. After the game he was found crying in the dressing room – and eleven years later walked off the MetLife Stadium pitch in similar fashion.
He came back, of course – mere hours after his outburst. "I see there are many problems in Argentinian football and I don't intend to create another one," said the red-faced star, who suffered World Cup woe again in 2018. 
2. Gerd Muller (28)
Muller, otherwise known as Der Bomber, scored an incredible 68 goals in 62 games for West Germany. He fired them to successive international titles in 1972 and 1974, scoring in both the European Championship and World Cup finals against the Soviet Union (twice) and Netherlands respectively.
Muller only played in two World Cups (1970, 1974) but still held the all-time goals record (14) for 32 years until Ronaldo broke it in 2006 (16). Miroslav Klose overtook them both in 2014 (16), after grabbing Muller's Germany goalscoring record before the tournament started (albeit needing 75 more games to do so).
The ex-Bayern Munich man's international career ended abruptly after the '74 win on home soil – apparently unhappy that the players' wives weren't allowed to attend the post-final banquet.
3. Alan Shearer (29)
Sixth on the all-time England goalscoring list doesn't do Shearer justice. With the Geordie goal-glutton having made his international debut at 22, many expected the striker's Three Lions career to last much longer – and produce the kind of devastating form he managed at club level. 
Following England's failure to qualify for the 1994 World Cup, there was huge pressure on Shearer and the rest of the squad two years later as England played hosts for Euro '96 – not least as he hadn't managed a goal since scoring twice against the USA in September 1994.
The soon-to-be Newcastle man top-scored at the tournament with five goals, then bagged another couple at France '98 – by which time he was captain. However, following a couple of bad injuries, he announced in spring 2000 that the forthcoming Euros would be his international farewell. Despite calls for his reinstatement in 2002 and 2004, he stopped on 30 times in 63 appearances for his country.
4. Paul Scholes (29)
Scholes never seemed to reach his true potential in an England team he believed was full of "very selfish" players. The former Manchester United man's international highlights include scoring on his World Cup debut in 1998, and grabbing England's first hat-trick for six years in 1999 against Poland.
His England career ended prematurely after Euro 2004, though, where England lost to Portugal on penalties. Scholes had been pushed out onto the left wing in order to accommodate midfield duo Steven Gerrard and Frank Lampard, and his ineffectiveness there resulted in him being substituted in his final game – an inappropriate end for one of the country's greatest-ever players.
5. Eric Cantona (28)
Cantona is another United legend who saw his international career cut short prematurely. Following his infamous kung-fu kick on a fan during a game against Crystal Palace in 1995, his France legacy was over.
By the time his eight-month suspension had run its course, Cantona had lost his captaincy and been replaced by Zinedine Zidane as les Bleus' key man, never to be picked again.
In spite of France's failure to qualify for USA '94, Cantona managed 20 goals in 45 games for the national side.
6. Paul Breitner (22, sort of)
Breitner is one of Germany's most controversial players. Initially, 'Der Afro' decided to retire from international football in 1975, aged 22, after scoring in West Germany's World Cup final win a year earlier.
Essentially, the pipe-smoking Maoist's reasoning was to fulfil his dream of playing in Spain for the Franco-linked Real Madrid alongside fellow countryman Gunter Netzer.
He eventually returned to Germany and played in the national team once more, but his political beliefs meant he refused to play in the 1978 World Cup on account of the terrorism and other atrocities which plagued Argentina at the time. Still, he returned in 1981 and scored in another World Cup final a year later – making him one of only four players to notch in two – as West Germany lost 3-1 to Italy.
7. Samir Nasri (27)
Following an exceptional season with Arsenal, Nasri was named French Player of the Year in 2010, making him a shoo-in for France's World Cup squad. But he was left out, and again in 2014.
Nasri accused his international team-mates of talking behind his back – suspicions latched onto by his family and friends. After his girlfriend labelled Didier Deschamps a "shit manager" on Twitter, the current France boss filed a civil lawsuit against her, according to French reports.
This and many other incidents resulted in Nasri stating that "everything" about the national team made him unhappy. Following his exclusion from France's 2014 World Cup squad, he retired from international football for good.
8. Kevin-Prince Boateng (24)
Boateng is of the youngest players ever to retire from international football, having initially switched from Germany's youth team to Ghana early on in his career.
He originally retired due to health reasons, but, having been recalled to the Black Stars' 2014 World Cup squad, blew his second chance after being accused of aiming "vulgar verbal comments" at coach James Appiah. He didn't leave gracefully either, branding the Ghanaian international setup as "amateurish".
9. Carlos Roa (30*)
Roa appeared to be in the form of his life when he managed to see out the entire France '98 qualifying campaign without conceding a single goal. Argentina then went on to knock out England in the last 16, with Roa saving David Batty's penalty in the shootout.
A year later, however, the then-Mallorca shot-stopper decided to retire from international football and flee to a religious retreat with his wife, fearful of the world's imminent end.
After his worries were never realised, he sloped back to Mallorca to warm the bench for a couple of years before finishing his career with spells at Albacete and Olimpo.
*OK, he's an exception to the sub-30 list.
Now read...
GUIDE 28 red hot fantasy football tips from old winners and experts
OPINION How it feels to be a Liverpool fan this summer
TRANSFERS 9 Ligue 1 stars who'd make ideal Premier League signings – and the clubs they'd suit best
Quizzes, features and footballing fun
Get the best features, fun and footballing frolics straight to your inbox every week.
Thank you for signing up to Four Four Two. You will receive a verification email shortly.
There was a problem. Please refresh the page and try again.