Ranked! All-time World Cup top scorers – and who could join the list at World Cup 2022
Miroslav Klose is the all-time World Cup top scorer, with 16 goals spread across four tournaments for Germany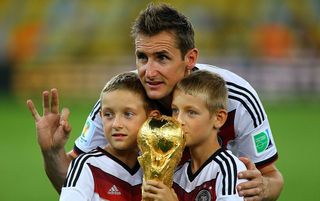 (Image credit: Getty)
The list of the all-time World Cup top scorers contains some of the greatest goalscorers ever to play the game.
The feeling of scoring a goal at any level is indescribable. That euphoria is magnified beyond belief when the eyes of the world are watching.
Hundreds of players have experienced that thrill just once in their life, while only a select few have ever managed to turn it into a habit.
With the World Cup 2022 fast approaching, FourFourTwo thought we should look back at the best goal-getters to have done it on the world's biggest stage – as well as those who could force themselves onto the list while you're watching the World Cup this year.
All-time World Cup top scorers
All-time World Cup top scorers: 1. Miroslav Klose, Germany – 16 goals (24 games)
The German striker overtook Ronaldo with the second goal in a 7-1 thrashing of Brazil as Joachim Low's side went on to win the tournament.
2. Ronaldo, Brazil – 15 goals (19 games)
After the drama and uncertainty that surrounded him ahead of the 1998 final, Ronaldo returned to dominate in 2002, winning the Golden Boot with eight goals.
3. Gerd Muller, West Germany – 14 goals (13 games)
Der Bomber's exceptional awareness and finishing skills were on show as West Germany won the 1974 tournament on home soil.
4. Just Fontaine, France – 13 goals (six games)
No player in history has scored as many goals at a single World Cup as the clinical Frenchman managed in 1958.
5. Pele, Brazil – 12 goals (14 games)
A three-time champion with Brazil, he burst onto the scene as a teenager, scoring twice against hosts Sweden in the 1958 final.
=6. Sandor Kocsis, Hungary – 11 goals (five games)
The Hungarian shone as his country reached the 1954 final, scoring four goals against eventual champions West Germany in their group stage clash.
=6. Jurgen Klinsmann, West Germany/Germany – 11 goals (17 games)
Klinsmann scored in all six international tournaments he played in, including three consecutive World Cups.
=8. Helmut Rahn, West Germany – 10 goals (10 games)
Best remembered for scoring the winner in the 1954 final – known as the Miracle of Bern – he also helped West Germany reach the semi-finals four years later.
=8. Gary Lineker, England – 10 goals in 12 games
The first Englishman to win the Golden Boot, Lineker was on target six times in 1986, culminating in an infamous quarter-final defeat to Argentina.
=8. Gabriel Batistuta, Argentina – 10 goals in 12 games
Few players have ever struck the ball as hard as Batistuta, who managed two World Cup hat-tricks, one against Greece and another against Jamaica.
=8. Teofilo Cubillas, Peru – 10 goals (13 games)
Cubillas scored in all four of Peru's matches at the 1970 World Cup and tormented Scotland with a spectacular brace eight years later.
=8. Thomas Muller, Germany – 10 goals (16 games)
The self-proclaimed 'raumdeuter' showcased his uncanny ability to be in the right place at the right time when scoring five goals in Germany's 2014 success.
=8. Grzegorz Lato, Poland – 10 goals (20 games)
The pacy winger claimed the Golden Boot at the 1974 World Cup with seven goals as Poland finished third ahead of Brazil.
=14. Ademir, Brazil – nine goals (six games)
All of his goals, including four in a 7-1 thrashing of Sweden, came at the 1950 World Cup, where Brazil finished second behind Uruguay.
=14. Eusebio, Portugal – nine goals (six games)
One of the stars of the 1966 tournament held in England, the outstanding Portuguese striker saw his side knocked out by the hosts in the semi-finals.
=14. Christian Vieri, Italy – nine goals (nine games)
Despite his best efforts in front of goal, the well-travelled striker never made it past the quarter-final stage during his two World Cups.
=14. Vava, Brazil – nine goals (10 games)
The first player to ever score in two different World Cup finals (1958 and 1962) – Pele, Paul Breitner and Zinedine Zidane have since replicated Vava's feat.
=14. David Villa, Spain – nine goals (12 games)
A key player in Spain's 2010 triumph, scoring four goals, they then crashed out at the group stage four years later.
=14. Paolo Rossi, Italy – nine goals (14 games)
The poacher returned from a match-fixing ban to fire Italy to the 1982 World Cup, his famous hat-trick eliminating the much-fancied Brazil.
=14. Jairzinho, Brazil – nine goals (16 games)
Jairzinho demonstrated speed, skill and sharp finishing to help Brazil win the 1970 World Cup in Mexico, playing alongside the likes of Pele and Rivelino.
=14. Roberto Baggio, Italy – nine goals (16 games)
One of the best players at the 1994 World Cup, 'the Divine Ponytail' cruelly missed the decisive kick against Brazil as the final was settled by a penalty shoot-out for the first time.
=14. Karl-Heinz Rummenigge, West Germany – nine goals (19 games)
His goals helped West Germany to reach consecutive finals (1982 and 1986), but they lost out to Italy and Argentina respectively.
=14. Uwe Seeler, West Germany – nine goals (21 games)
The Hamburg legend is one of only three players, alongside Pele and Miroslav Klose, to have scored in four World Cups.
=24. Guillermo Stabile, Argentina – eight goals (four games)
The Argentine was the top scorer in the first ever World Cup. He briefly put his side ahead in the final against Uruguay, but they went on to lose 4-2.
=24. Leonidas, Brazil – eight goals (five games)
All but one of his eight goals, including a hat-trick against Poland, came in the 1938 tournament, where Brazil finished third.
=24. Oscar Miguez, Uruguay – eight goals (seven games)
The Uruguayan's eye for goal led his country to success in 1950 and he still remains their leading scorer in World Cup competition.
=24. Rivaldo, Brazil – eight goals (14 games)
The supremely talented attacker scored five of his World Cup goals in Brazil's 2002 success, as part of a fearsome frontline with Ronaldo and Ronaldinho.
=24. Rudi Voller, West Germany/Germany – eight goals (15 games)
Voller lifted the World Cup as a player in 1990 and almost repeated the trick 12 years later as a manager, taking a limited Germany side to the final.
=24. Diego Maradona, Argentina – eight goals (21 games)
An iconic player, idolised in his native Argentina and beyond, he was the undoubted star of the 1986 World Cup and the driving force behind his team's victory.
Potential new entries
Who could make the all-time World Cup top scorers list at Qatar 2022?
Looking ahead to Qatar, the following six players are best placed to climb up the rankings if they can build on their performances at previous tournaments.
Luis Suarez, Uruguay – seven goals (13 games)
Perhaps best remembered for controversies like biting Giorgio Chiellini and handling on the line against Ghana, Suarez has still lit up the World Cup with his attacking play.
Cristiano Ronaldo, Portugal – seven goals (17 games)
The Manchester United striker is yet to find his best form at a World Cup. At 37, this is surely his last chance to have an impact on the tournament.
Harry Kane, England – six goals (six games)
Kane won the Golden Boot as England unexpectedly reached the semi-finals in Russia and he also has Wayne Rooney's international record in his sights.
James Rodriguez, Colombia – six goals (eight games)
The breakthrough star of Brazil 2014, Rodriguez earned a move to Real Madrid on the back of winning the Golden Boot.
Neymar, Brazil – six goals (10 games)
It's been 20 years since Brazil last won the World Cup and much of their hope for the upcoming tournament rests on their talismanic forward, who shone in 2014.
Lionel Messi, Argentina – six goals (19 games)
Much like his arch-rival Cristiano Ronaldo, time is running out for Argentina's captain to taste World Cup glory. Defeat in the 2014 final still rankles.
All-time World Cup top scorers list
All-time World Cup top scorers
1. Miroslav Klose, Germany – 16 goals (24 games)
2. Ronaldo, Brazil – 15 goals (19 games)
3. Gerd Muller, West Germany – 14 goals (13 games)
4. Just Fontaine, France – 13 goals (six games)
5. Pele, Brazil – 12 goals (14 games)
=6. Sandor Kocsis, Hungary – 11 goals (five games)
=6. Jurgen Klinsmann, West Germany/Germany – 11 goals (17 games)
=8. Helmut Rahn, West Germany – 10 goals (10 games)
=8. Gary Lineker, England – 10 goals in 12 games
=8. Gabriel Batistuta, Argentina – 10 goals in 12 games
=8. Teofilo Cubillas, Peru – 10 goals (13 games)
=8. Thomas Muller, Germany – 10 goals (16 games)
=8. Grzegorz Lato, Poland – 10 goals (20 games)
=14. Ademir, Brazil – nine goals (six games)
=14. Eusebio, Portugal – nine goals (six games)
=14. Christian Vieri, Italy – nine goals (nine games)
=14. Vava, Brazil – nine goals (10 games)
=14. David Villa, Spain – nine goals (12 games)
=14. Paolo Rossi, Italy – nine goals (14 games)
=14. Jairzinho, Brazil – nine goals (16 games)
=14. Roberto Baggio, Italy – nine goals (16 games)
=14. Karl-Heinz Rummenigge, West Germany – nine goals (19 games)
=14. Uwe Seeler, West Germany – nine goals (21 games)
=24. Guillermo Stabile, Argentina – eight goals (four games)
=24. Leonidas, Brazil – eight goals (five games)
=24. Oscar Miguez, Uruguay – eight goals (seven games)
=24. Rivaldo, Brazil – eight goals (14 games)
=24. Rudi Voller, West Germany/Germany – eight goals (15 games)
=24. Diego Maradona, Argentina – eight goals (21 games)