Arsenal fans to blame if Lacazette flops, club confirms
Supporters 'must take responsibility' for £52m man, Back of the Net report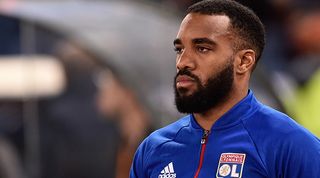 Arsenal fans have been informed that the signing of Alexandre Lacazette is their responsibility and that they will be expected to carry the can if he fails to impress.
Lyon's Lacazette has completed a £52m move to north London after sustained pressure from fans, who have been allowed to get their way just this once to see what will happen.
"You told us you wanted Lacazette, so here he is," said Arsenal managing director Ivan Gazidis. "Is he worth the fee? Is he any good at all? Does he actually exist outside of computer games and YouTube compilations? Well, you tell me.
"If he's a hit, we'll know we can trust you. Maybe you'll get a seat on the board, maybe we'll even give the manager's job to someone who claims they won the Champions League 47 consecutive times on Football Manager.
"But if he's a flop, we expect you to shut your big flapping mouths and stop pretending you know the first thing about running a football club. You're incredibly annoying."
Manager Arsene Wenger welcomed the new signing, telling FourFourTwo: "Lacazette should certainly be capable of scoring 20 goals a season, and if he isn't, we'll know who to blame.
"£52m is a lot for a player untested outside of France", he added, fingering a 'Gooners Out' banner comfortably large enough to attach to a plane. "It would be such a shame if he turns out to be less good than Olivier Giroud, who I personally signed for less than a fifth of the price."
Arsenal season-ticket holder Gary Pearce said: "Look, we need to be given patience and understanding. We've been working very hard making rants on fan forums, and keeping an eye on every Twitter poll isn't easy.
"When we get Gianluigi Donnarumma and Kylian Mbappe and Thomas Lemar, and maybe a defensive midfielder or two and a new left-back, and give them a couple of years to settle in, then you can judge us. But in the meantime, you can't expect instant success.
"All we ask for as Arsenal fans is that people maintain a sense of perspective."
Please note: This satirical news story is not real. Like, clearly.
Quizzes, features and footballing fun
Get the best features, fun and footballing frolics straight to your inbox every week.
Thank you for signing up to Four Four Two. You will receive a verification email shortly.
There was a problem. Please refresh the page and try again.