Do some bosses work better without the budget? Be careful what you wish for...
Declan Warrington explores the theory that the more cash clubs give their managers to spend, the likelier they are to fail...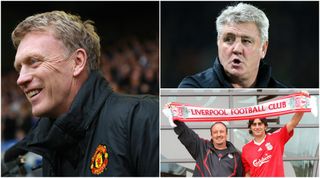 It might just be that Shane Long's £12m transfer to Southampton in summer 2014 was ultimately what took Hull to relegation. Before then Steve Bruce appeared satisfied with a squad that had balance and potential, and an ability to progress.
Perhaps encouraged by the frisson of a renewed budget, he then recruited Abel Hernandez, Gaston Ramirez and Hatem Ben Arfa, dramatically altering Hull's profile. That late flurry stole their equilibrium and momentum; eventually, they were relegated.
There seems little doubt about Bruce's abilities, but Hull's board should have recognised their manager is more successful when there's less money to spend. At Birmingham he was at his finest recruiting Matthew Upson; at Wigan it was Wilson Palacios. More money encourages a recklessness he cannot afford with a smaller budget and negates one of his strengths.
Hull are not the only club at which Bruce has done this – at Sunderland, a summer buying Connor Wickham for £8.1m resulted in his eventual dismissal; before then, Birmingham similarly regressed.
The popular belief remains that the more extravagant the club, the greater their future, but Bruce and others prove this isn't always the case. There are managers who simply benefit from smaller budgets, and whose boards need to encourage restraint.
Frugal Scot
Of the many criticisms of David Moyes during his time at Manchester United, those surrounding the £27.5m spent on Marouane Fellaini remain among the most valid. It reflected a pattern that had emerged at Everton. When there's money available, Moyes, like almost all managers, will spend it; the key comes in limiting it, and inspiring his finest work.
In the summer of 2004, having received £27m for Wayne Rooney, Moyes spent only £350k on Marcus Bent and £2m on Tim Cahill, both significant in Everton memorably finishing fourth. Twelve months later, and under pressure to secure Champions League qualification, the Scot wasted millions in transfer fees and wages on Per Kroldrup, Nuno Valente and Andy van der Meyde.
Similarly, in 2009, encouraged by Joleon Lescott's £22m departure to Manchester City, Moyes signed Diniyar Bilyaletdinov for £10m and Johnny Heitinga for £6m. Contrast their collective impact with those arriving in more restrictive times – £60k Seamus Coleman, £500k Nigel Martyn and £3m John Stones – and the comparisons are stark.
Children and sweet shops
It was Mark Hughes' decision to spend so much of City's millions on Lescott – a job he had earned after excelling at Blackburn with the bare minimum – that had given Moyes much of that budget in the first place.
Having impressed many by taking Blackburn into the Premier League's top 10 by signing Ryan Nelsen, Christopher Samba, Stephen Warnock, David Bentley, Benni McCarthy and Roque Santa Cruz (Samba was later sold for £12m, Warnock £8m, Bentley £15m and Santa Cruz £17.5m), he struggled to adapt at City.
Lescott, £16m Kolo Toure, £12m Gareth Barry, Santa Cruz and £25m Emmanuel Adebayor were each puzzling arrivals – in complete contrast to those Hughes oversaw at Blackburn – and contributed to his dismissal.
The Welshman's career since then has been similar: at Fulham, Steve Sidwell and Mousa Dembele were excellent signings. Then, at QPR, Jose Bosingwa, Junior Hoilett and Samba Diakite failed, meaning Hughes did too. Appointed Stoke manager in 2013 and with restricted resources, Hughes has again produced some of his finest work to sign Bojan, Marko Arnautovic and Ibrahim Afellay.
Unknown territory
Alan Curbishley's last managerial job ended at West Ham, in 2008. On results alone he was a sound appointment yet his signings – Callum Davenport, Luis Boa Morte, Nigel Quashie and Freddie Ljungberg – were unrecognisable to those with which he built his reputation.
At Charlton, with near-non-existent funds, the manager spent their money as if it was his own. Dean Kiely, Danny Mills, Chris Powell, Mark Kinsella and Hermann Hreidarsson all arrived for £1m or less, and succeeded. Only later, with more money available, did his recruitment in 2004 of Dennis Rommedahl, Talal El Karkouri and Francis Jeffers disappoint.
It is also far from simply a British affliction – Rafael Benitez signed £10m Xabi Alonso and £2.5m Alvaro Arbeloa for Liverpool, only to also buy £17.5m Alberto Aquilani and £11.5m Ryan Babel when he had greater freedom – despite managers having less influence on signings overseas.
Balancing act
"That wasn't a nice feeling, not being able to improve your squad and move things forward," Eddie Howe, who at Bournemouth has experienced both administration and a Premier League budget, tells FFT.
"Now we're able to sign players, it's a different type of pressure. You enjoy being able to express yourself, there's nothing worse than being told you can't do anything. I'd much rather [have money] than be restricted.
"I like to think we're very selective and work very hard at our transfers. We're very reluctant to overreact or panic. The key is to try and get more right than wrong.
"It's something I take a great deal of responsibility over. For Bournemouth, we've spent a fortune. The reality is you've got to try and be competitive, and if you don't spend money, you'll very quickly find out you won't be competitive. We've enjoyed those pressures.
Money brings pressure
Expensive transfers naturally increase both expectations and pressure; fans and the media demand more from a team with a £20m striker than one without, making a club's atmosphere – crucial to its hopes of success – increasingly volatile, and potentially damaging.
Is it that which encourages the view that it's harder for a recently promoted club to survive its second Premier League season than its first? Bradford stayed up in 2000 but plummeted in 2001 after the arrival of Benito Carbone; Ipswich finished fifth in 2001 but 18th a year later having signed Finidi George.
Given the increasing demands on the modern-day Premier League manager, it is understandable they should be tempted by the comfort of spending millions on a new player or that panic buys are increasingly occurring. It appears, however, that the false security of a bigger budget discourages the same thoroughness used when less money is available, and that external influences – pressure and expectations from both fans and rivals – can negate what should be an advantage.
"You can't win," says Howe. "I've seen clubs get promoted and criticised if they've not spent, and then teams that have spent get criticised for spending too much.
"What you don't want is too many players where you lose the harmony and good will in the dressing room that you've built over a long period. You've got to have a role for that player and see how that player fits in. For me, the team spirit and camaraderie is the most important thing and I don't want to get that balance wrong."
If finishing one place higher in the Premier League is worth only £1.6m, are managers right to spend tens more pursuing it, particularly when success is so relative? Alan Pardew last season led Crystal Palace to 10th but the difference in quality between the Eagles, Stoke (9th) and Swansea (8th) may mean that even £20m won't guarantee progress. Perhaps club boards could save managers from themselves if the money isn't there to spend.
RECOMMENDED
More features every day at FFT.com (opens in new tab)
Thank you for reading 5 articles this month* Join now for unlimited access
Enjoy your first month for just £1 / $1 / €1
*Read 5 free articles per month without a subscription
Join now for unlimited access
Try first month for just £1 / $1 / €1
Get FourFourTwo Newsletter
The best features, fun and footballing quizzes, straight to your inbox every week.