Oumar Niasse: Meet the hard-working Senegalese striker wanted in England
By Michael Yokhin published
Premier League clubs are monitoring the Lokomotiv star after a superb season so far, and Michael Yokhin thinks he deserves the chance to play at the top level...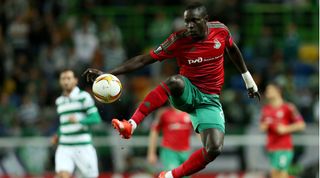 The 60-second story
FACT FILE
Date of birth: April 18, 1990
Place of birth: Ouakam, Senegal
Height: 6ft 2in
Position: Forward
Current club: Lokomotiv Moscow (42 apps, 19 goals)
Former club(s): US Ouakam, Brann (loan), Akhisar Belediyespor
International: Senegal (4 caps, 0 goals)
As Lokomotiv Moscow mounted a very unlikely title challenge in Russia and performed admirably in the Europa League, one man most definitely stood out. Oumar Niasse's form in the second half of 2015 has truly been remarkable, and it is only natural that he is in demand in the Premier League, even though the tussle between Manchester United, Chelsea and Tottenham came as a surprise. After all, his predecessor at Lokomotiv, fellow Senegalese striker Dame N'Doye, was sold to Hull a year ago, and that might be the size of a club one expects to be interested in Niasse nowadays.
The striker scored eight goals and assisted six more in the Russian Premier League, which makes him directly responsible for roughly half of Lokomotiv's total this season. Niasse's contribution in Europe was similarly significant – he scored four goals and provided two assists in six fixtures, enabling the Russians to top their group ahead of Sporting Lisbon and Besiktas. He is most crucial for the club's fortunes in the second half of the season, but Lokomotiv will not be able to hold on to him if a lucrative offer is made.
Why you need to know about him
Niasse's development has been rather slow, and the 25-year-old was virtually unknown just two years ago. The Senegalese insisted on playing football in his childhood against his father's will, and worked hard to get a chance at a rather unfashionable local club US Ouakam. Niasse helped them to get promoted to the top division, and then was instrumental in winning a sensational league title in 2011, deployed as a winger. That is how he was presented to Brann Bergen. The Norwegians were looking for a wide player and signed Niasse on loan, but injury, poor form and problems with the coach prevented him from making his mark, and the Senegalese was sent back after taking part in just three Tippeligaen games.
That is why even Akhisar Belediyespor fans didn't expect anything from Niasse when the small Turkish outfit signed him as a replacement for the Greek star Theofanis Gekas in 2013. They were in for a huge surprise, however. The striker flourished under the guidance of coach Hamza Hamzaoglu, found the net on his debut and finished the season with 15 goals and seven assists in all competitions.
Lokomotiv signed Niasse for €5.5million in the summer of 2014, but his first season was largely disappointing. The Senegalese was seen as an understudy to N'Doye, and when the main striker moved to Hull, Serbian target man Petar Skuletic was signed in his place. Only when former assistant coach Igor Cherevchenko replaced Miodrag Bozovic in May, things changed for Niasse who scored a crucial goal in the cup final.
Having started just eight times last season, the Senegalese demanded to leave, and Hamzaoglu was more than willing to bring his former protege to Galatasaray, but Cherevchenko convinced the striker to stay, explaining that he is about to play a very central role in the new season. The coach was true to his word, and so was Niasse who produces quality performances on weekly basis, finally showing his worth.
Strengths
Niasse is a versatile and multi-talented player. He is very quick and physically strong, willing to take on any defender. His right-footed shots are fierce, and he is dangerous not only in the penalty area, but from long range as well. The Senegalese is good in the air and knows how to position himself. Having played on the flank in his early days, he possesses sound technical skills.
One of the Niasse's major strengths is his unselfishness. He will usually pass the ball when a team-mate is in a better position, and the number of assists he provided in Turkey and Russia speaks for itself. He is also a very hard-working striker who covers a lot of ground without the ball and loves to chase defenders. In short, he has a potential to become a good modern striker.
Weaknesses
Niasse scored a few goals with his left foot, but overall it is much weaker and he prefers not to use it. He can also become a bit frustrated when balls aren't coming his way, and would occasionally lose concentration.
His main weakness, though, is inexperience. It is not easy to judge a 25-year-old based on a few good months in Turkey and Russia. Niasse has rarely faced top opposition throughout his career, never played in the Champions League, and only has four caps for Senegal to his name. During his time in Europe, he only had good relations with two coaches – Hamzaoglu and Cherevchenko, and the striker most certainly needs to feel wanted and rated in order to play well. When facing strong competition for a place in the starting lineup, he could simply give up.
They said...
"Niasse is a good player, and I am not surprised that he is in demand," said Lokomotiv Moscow coach Igor Cherevchenko.
"Niasse is incredibly good. I didn't expect him to perform at such a high level this season. He dreams of playing in the Premier League," affirmed Lokomotiv star midfielder Aleksandr Samedov.
"I don't think that Niasse is a top-class striker, and I am not sure that he can make it at Chelsea. Didier Drogba could do everything himself, but Niasse can't," noted Yevgeni Lovchev, Russian football expert, and the former USSR and Spartak Moscow defender.
Did you know...
Niasse claims to have been monitored by Premier League clubs during his time at Akhisar. "Chelsea scouts came to see me four times, and Tottenham scouts came six times, before I moved to Lokomotiv. I know that they still are in touch with my agent," he said a year ago. Recently, he admitted that Chelsea were close to making him an offer. "Jose Mourinho was very keen to sign me, but unfortunately he was fired. I am trying not to get distracted. If there will be a specific offer, I might leave Lokomotiv," he was quoted.
What happens next?
It looks like Niasse is bound to move to England this month, but his chances of instantly making the difference for the new club are unclear. The Senegalese most certainly deserves to get a chance to prove himself in a top league, but he is far from a finished article, and potential buyers should be careful not to overpay for him. Unrealistic expectations could easily ruin his career.
More features every day on FFT.com • More of football's hottest prospects scouted
Thank you for reading 5 articles this month* Join now for unlimited access
Enjoy your first month for just £1 / $1 / €1
*Read 5 free articles per month without a subscription
Join now for unlimited access
Try your first month for just £1 / $1 / €1
Quizzes, features and footballing fun
Get the best features, fun and footballing frolics straight to your inbox every week.
Thank you for signing up to Four Four Two. You will receive a verification email shortly.
There was a problem. Please refresh the page and try again.