Exclusive: Jordan Henderson wants England to show anger and desire to go one step further at World Cup
Jordan Henderson is now one of the most senior players in the England squad – and after two near-misses at the last two tournaments, he's got a plan for success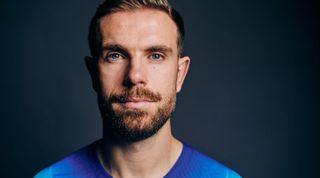 (Image credit: Getty Images)
Jordan Henderson knows a thing or two about lifting trophies. Nobody has ever lifted six different trophies for Liverpool Football Club until the 'Hendo Shuffle'.
But that's not to say there hasn't been a lot of heartache too during his 11 years at Anfield.
Henderson has been part of Liverpool teams that have lost in five finals, plus been runners-up by a single point in the Premier League twice despite points totals that were enough to win the title in all but three other seasons since 1992.
"Part of winning is the struggle before," insists Henderson when FourFourTwo meets up with him at Liverpool's training ground before he joined up with his team-mates in the England World Cup squad.
"You have to go through failure, you have to go through bad moments, through adversity, to get to where you want to be."
OUT NOW
IN THE MAG Stars of the World Cup! Messi and Ronaldo's last dance, Neymar and Mbappe's big chance
When Liverpool lost the 2018 Champions League final, they won it a year later, with Henderson noting it as the biggest moment in his career, saying it was "because of everything we'd been through before as a team."
That final win also came a week after missing out on the title despite the 97 points achieved in the league. The following season they hit back from that to win the title with more games remaining than any side in Premier League history.
Now, the Sunderland-born midfielder is hoping that he can repeat the trick on the international stage with England.
"I hope so!" he says, when asked about the similarities of losing those finals with Liverpool and England losing in the 2020 Euros final last summer.
"It's never just as easy as that but I hope by having that feeling after that (Euros) final it gives us that desire and angriness you're going to need to go one step further."
England progressed one step further in the Euros than they had in the World Cup in 2018 when they were eliminated in the semi-finals at the hands of Croatia.
"I know how difficult that is, we're talking about a World Cup and the world's best teams, so it's really difficult," says the 32-year-old.
"But we have to go with the same mentality of enjoying the occasion, enjoying playing in the World Cup for your country, representing your country, and play with a smile on our face.
"We've done that for the past two tournaments and it seemed to work for the majority of it. But again, it doesn't guarantee you anything so if we can do that again, hopefully, you never know what can happen when we're there."
And while Liverpool supporters may not be particularly passionate about the national side, for Henderson, born in the north-east, the international stage holds special meaning:
"[Growing up] England was a big thing for me and for the city, Sunderland. It was a big thing when England were playing."
As a 13-year-old, he was a ball boy for England against Turkey at the Stadium of Light: "It was a huge thing to be involved in."
That game was in 2003, Henderson was aged 13, Michael Owen was up front for Sven-Goran Eriksson's side.
World Cup Memories
Born in 1990, Henderson's earliest memories of watching the World Cup mostly involve Owen and that goal against Argentina.
"One big moment that stands out for me is probably Michael Owen, Argentina and that goal and everything around it really," he recalls. "In terms of him as a player, how young he was, sort of burst on the scenes. I'd say that's sort of the biggest moment that stands out to me."
The following World Cup, hosted by Korea and Japan, saw Henderson arriving into school early to watch games that kicked off at 7.30am: "I remember the World Cup with a time difference, we could go to school earlier and they'd have all the screens on to watch all the matches before lessons. It was a big factor in my childhood for sure, England."
Those breakfast games included England's eventual defeat to Brazil in the quarter-finals. This time around, if England and Brazil each win their group, the earliest they can meet is in the final.
While Henderson may not be guaranteed a starting role for Gareth Southgate's side, the England manager would be wise to call on Henderson's experience in the dressing room at the very least.
Jordan Henderson: The autobiography is available now. (opens in new tab)
Thank you for reading 5 articles this month* Join now for unlimited access
Enjoy your first month for just £1 / $1 / €1
*Read 5 free articles per month without a subscription
Join now for unlimited access
Try first month for just £1 / $1 / €1