FourFourTwo's 100 Best Teenagers in the World 2017: No.1, Gianluigi Donnarumma
Italians were dreading the day that their legendary Gianluigi Buffon decided to hang up his gloves for good. That was, until Gigi No.2 came along to take over...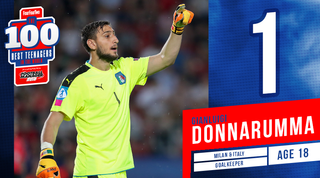 When Gianluigi Donnarumma was thrown into Milan's starting XI as a 16-year-old back in October 2015, not a lot was going right at Milan. Quite the opposite, in fact.
The struggling Rossoneri were 12th after eight games of the season under new manager Sinisa Mihajlovic, who didn't hesitate to drop his experienced goalkeeper – the former Real Madrid net-minder Diego Lopez – and replace him with Donnarruma for their next match. Not with seasoned pro Christian Abbiati, but a 6ft 5in teenager who'd made his first appearance in a Milan squad as a 15-year-old. (It was Abbiati, in fact, who recommended that Donnarumma play.)
It says a lot that the goalkeeper he replaced for that Sassuolo game, Lopez, later hailed him as "the future of Milan and of Italian football".

And yet somehow, just over two years later, even that statement doesn't seem to justify his talent.
Simply, Donnarumma has been sensational. He has kept 27 clean sheets in 80 Serie A matches – a remarkable tally given Milan's woeful performances over the past few seasons.
His save from Paulo Dybala in the 2016 Supercoppa Italiana penalty shootout secured his club's first trophy in five years – the kind of moment which has made him so integral to any chances of future Milan success. The Rossoneri were rocked in the summer when it was initially revealed that Donnarumma wouldn't be renewing his contract at San Siro – so imagine their relief when he penned a new four-year deal just over a month later.
The giant 18-year-old commands his area brilliantly, and has no problem berating his more experienced international team-mates if he has to. Donnarumma's displays have been a joy to behold, and he already looks like an accomplished keeper. The Italian makes few of the errors that normally blight those of a similar age, and on the rare occasion his footwork gets him into trouble, his athleticism and gangly frame help him to recover.
Donnarumma has long been touted as the heir to Gigi Buffon, who will retire next summer – and he is precisely the reason why few Italians are fearing the departure of their legendary shot-stopper.
"If it weren't for Buffon ahead of him, he probably would have already been No.1 choice in the first team," Azzurri boss Giampiero Ventura said recently. "He has an extraordinarily important future."
All hail the best teenager in the world.
Get the list:
FourFourTwo's 100 Best Teenagers in the World 2017
Thank you for reading 5 articles this month* Join now for unlimited access
Enjoy your first month for just £1 / $1 / €1
*Read 5 free articles per month without a subscription
Join now for unlimited access
Try first month for just £1 / $1 / €1