From gloom to glory: Can Seedorf's return help revive ailing Milan?
Adam Digby reports on the problems that faced Massimiliano Allegri, and the bright future the new man may be about to usher in...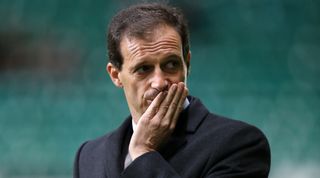 In the end, they had no choice. Milan have limped through this season, amassing disappointing results and performances the way the grand Italian club used to collect trophies. 
Jokes have regularly been made at their expense, the seven-time European champions reduced to a cheap punch line while Serie A's other big clubs raced ahead in their rebuilding. 
On Monday morning, less than 24 hours after throwing away a two-goal lead to tiny Sassuolo, the sacking of coach Massimiliano Allegri was confirmed.
The news came as a relief to those who cherish the Rossoneri, who had grown tired of seeing their proud colours so belittled. Support for the beleaguered coach had dwindled away quickly once the season began to unravel. 
In the past, it had been all too easy to make excuses for Allegri, to look at the sales of Zlatan Ibrahimovic and Thiago Silva to Paris Saint-Germain as proof he was doing the best he could with what remained at San Siro.
But this season it became impossible to overlook his shortcomings, and the latest embarrassing loss left them just six points above the bottom three. While there is very little danger of them being relegated, it is the 20-point gap to the Champions League places that is most concerning - the elite competition has been so vital to their legacy. 
They may still trail Real Madrid's title haul, but since the Champions League era began, Milan have defined the European Cup more than any other club. It seems they will be absent next season, as even if they overcome the hugely impressive Atletico Madrid – in itself a huge task – their odds of winning are extremely slim. 
It started so differently, of course, with Allegri arriving in June 2010 as a two-time Serie A Coach of the Year thanks to his efforts with Cagliari, who he had led to 9th and 12th place finishes, which he quickly followed with a title in his debut season on the Milan bench. 
Yet that squad was a very different to today's, filled with the names instantly associated with the club, veteran players like Paolo Maldini, Alessandro Nesta and Filippo Inzaghi.
Those 'senatori' of the past came together one last time to win a title, and at the time Allegri was praised for coaxing performances from them, and for blending new faces like Kevin-Prince Boateng into the side. Yet as they left, one-by-one they poured scorn on the coach, criticising the way he spoke to them, the tactics he used and leaving a very different impression of that Scudetto-winning campaign.
"Nesta and I left Milan because Allegri did not want us," said Gennaro Gattuso. "The club wanted to keep me, but if those who command the locker room think otherwise it becomes difficult." 
He is far from the only one. Comments by Andrea Pirlo, reborn at Juventus, show the club and its former coach completely misjudged his demise. "The real reason I left Milan was because Allegri wanted to use Massimo Ambrosini or Mark van Bommel in front of the defence instead of me," he told La Gazzetta dello Sport.
There are more, from Seedorf, Nesta and Inzaghi, making it difficult to find anyone with a positive opinion of Allegri after working with him. 
They followed up that 2010/11 title with a second-place finish in 2011/12, then stuttered into third last season after benefitting from some good fortune during the run-in.
He leaves them in 11th but, while the squad is no longer filled with the world class names of the past, it is surely better than most above them. Pirlo and Gattuso may no longer be there, but in Nigel de Jong and Riccardo Montolivo, the Rossoneri boast a pairing that would start matches for everyone other than perhaps Juventus or Roma.
With talented young players like Andrea Poli and Bryan Cristante to support them, this is clearly an area of strength, and yet Allegri so often opts to field Sulley Muntari or Antonio Nocerino.
In attack, it's a similar story. Alongside Mario Balotelli, they have the wonderfully gifted Stephan El Shaarawy, while Giampaolo Pazzini is now back from injury. Behind them comes a resurgent and driven Kaka, while Keisuke Honda is clearly a talented addition. Injuries have plagued them, but to see Allegri either persist in playing Alessandro Matri – after paying Juventus €11 million for the privilege – or shoehorning Robinho into a 4-3-2-1 formation seems ill advised.
Balotelli struggles alone up front, negating much of his ability, and Milan have the players to play a 4-2-3-1 or 4-3-1-2 formation with ease. Surely the main remit of a coach is to bring the best from his players, but with Allegri it seems his tactics hinder far more than they help. Defending a man who played Pirlo wide on the left or insisted on Boateng as a trequartista becomes an impossible task.
One area in which he has been unlucky, however, is at full-back. Injury has meant that Mattia De Sciglio and Ignazio Abate have played together just twice this season, but they remain perhaps the best pairing on the peninsula.
Even in central defence, where Milan have been hugely criticised, they should be much better than they have been. Daniele Bonera was in fine form earlier this season, and – particularly given the strength ahead of them – a serviceable partnership can surely be found among Philippe Mexes, Cristian Zapata and Adil Rami.
Another good player perhaps needs to arrive in the back four, and a replacement for 36-year-old Christian Abbiati is essential this summer. But again, is the goalkeeper truly any worse than Morgan De Sanctis or Neto, the men currently filling the role for high fliers Roma and Fiorentina? Again, it is difficult not to see this whole group as lacking motivation and direction, qualities which must now come from the new coach.
Speaking of which, on Tuesday afternoon it was confirmed that Seedorf would take over the reins at the club he served as a player from 2002 to 2012. Seedorf is a long-term favourite of Berlusconi, and can therefore expect to be backed strongly in the transfer market. The Milan job may suddenly be far from the difficult challenge Allegri made it seem, and the in-fighting between Adriano Galliani and Silvio's daughter Barbara Berlusconi should be resolved this summer too. In short, the future for the Rossoneri just got a whole lot brighter.
With Pazzini and Abate returning to action as Rami and Honda acclimatise to Serie A, an instant improvement should be expected. The fixture list also appears kind, with their next three games coming against Hellas Verona, Cagliari and Torino. The first appears tricky, given the Gialloblu defeated Milan on the opening day of the season, but that was in Verona and, despite sitting in fifth place, Andrea Mandorlini's side have won just twice on their travels this term.
Quizzes, features and footballing fun
Get the best features, fun and footballing frolics straight to your inbox every week.
Thank you for signing up to Four Four Two. You will receive a verification email shortly.
There was a problem. Please refresh the page and try again.