How Luis Enrique is unlocking Neymar's true quality – but faces a Suarez-shaped problem
Lee Roden assesses how the Brazilian is thriving in his second season and wonders where on earth Luis Suarez will fit in...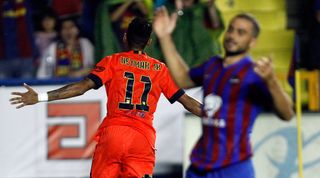 Tapping into the full potential of one of the world's most expensive players may sound like a simple task, but ensuring Barcelona get the best out of Neymar is one of Luis Enrique's big challenges this season. The No.11 had an inconsistent first year at the Camp Nou, with injuries, shifts in position and the high-profile fallout over how much he cost taking a toll on his form.
This season we are starting to see what Brazilians would call the 'real' Neymar, however. With three goals the forward currently leads the Blaugrana scoring charts alongside Lionel Messi, and on a broader scale he is exerting a bigger influence on his club's overall displays. The key seems to be a greater degree of freedom for the 22-year-old, but could that also lead to problems in the long-term?
At times it felt like we saw two different Neymars at the Camp Nou last year. After arriving in the Catalan capital from Santos, the Brazilian made a point of hammering home the idea that he was at Barça as a member of the supporting cast for Messi, but that often led to more subdued performances from the young forward in comparison to those of his at international level.
As Messi continued to be Barca's driving force up front, Neymar's impact mostly came out wide if he was given the chance to isolate an opponent. Yet when Messi missed spells through injury, a substantially different Neymar was on show. On those occasions the forward came out of his shell, relishing the increased responsibility in Barça's build-up play and the freedom to roam in the absence of the Argentine.
Enrique is searching for a combination of both Neymars. Following Barcelona's 5-0 win over Levante, the Asturian stated that his forward needs to be happy not only attacking space but also receiving the ball to feet in more congested areas. That requires precise reading of the game in order to judge when to do one thing and when to do the other. Enrique's vision is already starting to come to fruition, with a new, more complete Neymar on show, and Barcelona are reaping the rewards.
Defensive dilemmas
The increased unpredictability in Neymar's game is causing opposition coaches a major headache as they struggle to come to terms with the change. Though nominally starting as a wide forward on the left, Neymar now spends almost as much time in the middle, making it difficult to guess where he will look to create danger. Against APOEL in the Champions League, Neymar frequently moved into central spaces when Messi drifted elsewhere, illustrated clearly by looking at where the Brazilian tended to receive passes from team-mates.
While Neymar received plenty of balls on the left flank as usual, he was also often handed possession in the middle of the pitch, sometimes as deep as the centre circle depending on where Messi was positioned in turn.
The Brazilian's performance against Levante at the weekend showed that wasn't just a one-off, with a pattern starting to emerge. Once again, along with the usual passes received on the left, there were also plenty of instances where he collected the ball in central positions.
Comparing the areas where Neymar is influencing Barça's play with those in which the forward on the opposite side tends to operate supports the notion that Enrque has specifically worked on this shift.
Pedro was Barcelona's third forward against Levante, yet the Spaniard rarely got involved in the middle while Neymar was on the pitch. Pedro and Neymar may both have theoretically started in the same position on opposing flanks, but in reality they were performing two completely different roles. One was given the freedom to come inside or drop deep according to how he read the situation, while the other was asked to stick mostly to wide areas, at least until Neymar was withdrawn due to injury in the second half.
Neymar's varied positioning creates an obvious challenge for opponents. Not only do the right full-back and right midfielders have to be wary of his threat, but now central players also need to be prepared.
What passing diagrams don't illustrate, however, are the movements he makes off the ball that don't result in receiving possession, something that was particularly intriguing when he was further forward.
Against both Levante and APOEL, when Messi dropped back to the midfield, Neymar quite often moved into the area between the two opposition central defenders. Though he didn't always receive a pass, he was still an active threat to defenders while out of possession – attacking the space, just as Enrique stated.
In the past, centre-backs facing Barcelona already had the dilemma of deciding whether to track Messi's movement into deeper areas or to let him go and risk allowing the one of the world's best passers too much freedom. Now they also have to worry about Neymar, who can pop up in the space Messi vacates.
Confusion is an invaluable weapon in football, and Enrique is trying to provoke that through variety, asking Neymar to judge when to make this move into the area and when to move elsewhere.
Individualism on the flanks
At the same time as encouraging his participation, Enrique doesn't want to lose the positives of Neymar's first season at Barcelona, and the Brazilian is still at his most individualistic when he returns to the flank.
A look at his successful and attempted take-ons against both APOEL and Levante show that the vast majority came when he was out wide, and that makes perfect sense given that there not only tends to be more space there, but losing the ball is less of a problem than in the middle.
Neymar's capacity to use skill and pace to eliminate an assailant out wide is particularly useful for Enrique in his quest to make Barcelona more 'vertical', and provides a useful counter-attacking option should the Asturian wish to use that approach.
The downsides
Three goals in four games show that giving Neymar more freedom to roam is fruitful, but there are also a couple of problems that could develop as a consequence. Against APOEL, Barcelona's third forward Munir received possession infrequently, and cut an isolated figure on the right.
With Neymar and Messi moving so freely they are always likely to be found by team-mates more often than the third, more rigidly placed forward, but will Luis Suarez be equally happy to play as disciplined and unfulfilling a role? The Uruguayan is accustomed to directing build-up play from his time at Liverpool, but it is impossible for all three of Barcelona's forwards to do that at the same time, lest anarchy rule.
Last year Johan Cruyff quipped that the good ship Barcelona can only have 'one captain' if it is going to avoid running aground. At the moment the Catalans instead have two working in tandem according to the position of the other. Three may be one too many.
Neymar's changing role could also cause a defensive problem. With the Brazilian coming inside from the left so often and Jordi Alba hardly conservative in his positioning, Barça risk leaving a gaping hole for opponents to counter-attack down that side. Enrique is aware of the danger (after all, this is a manager so obsessed with positioning he constructed a metal tower to better observe Celta players' movement in training), and his way of trying to counteract that seems to be to cut the ball out at the source.
NEWS Suarez to get Under-19 run-out for Barcelona
Barcelona's current defensive success relies heavily on a hard-working, well-positioned midfield three who can win possession back before it is launched into danger areas. At the moment that's working; the addition of Ivan Rakitic's physical presence on top of Andres Iniesta and Sergio Busquets has helped to keep things tight, but against the best opponents that may not be enough. Barça's left flank is a clear avenue of attack for rivals, and it will be intriguing to see how the likes of Real Madrid, PSG or Atletico Madrid try to exploit that.
When Barcelona bought Neymar they knew he would take a while to fully adapt to European football, but managers also have to play their part in helping players to make that transition. Unlike his predecessor Gerardo Martino, Enrique understands Barcelona's system intimately thanks to years as both a player and B-team coach, and with him also favouring more of a hands-on approach in training, it isn't a huge surprise that he has been the one who has managed to find a way to increase Neymar's influence within the side's 4-3-3.
There is, however, a huge challenge to be faced when it comes to fitting Suarez into an already free-flowing, Neymar-Messi dominated forward line. Enrique's work is far from done, and if he can get Suarez to click just as well as Neymar while maintaining a successful defensive formula, Barça may well prove to be unstoppable.
Quizzes, features and footballing fun
Get the best features, fun and footballing frolics straight to your inbox every week.
Thank you for signing up to Four Four Two. You will receive a verification email shortly.
There was a problem. Please refresh the page and try again.