How Manchester United can beat Manchester City – even without Paul Pogba
The suspended midfielder is a big miss for the Old Trafford side, but Thore Haugstad explains how Jose Mourinho can adjust his gameplan with confidence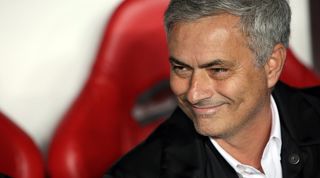 On most matchdays at Old Trafford, Paul Pogba would be irreplaceable. But when Manchester City visit on Sunday, he might not be.
The French midfielder is so crucial to Manchester United that their entire play revolves around him. None of their players can do what he does; just look at their attacking stats – passes, dribbles, through-balls – and he often comes out top.
Yet what these numbers have in common is that they're measured when United are in possession. Their reliance on Pogba hits its peak when they have the ball. Against City, however, they are unlikely to see much of it.
The Pep test
Had the opponent been any other, Pogba would have been missed in a different way.
Normally, since Jose Mourinho doesn't base his attacking gameplan on a specific system (unlike coaches such as Antonio Conte and Pep Guardiola), United's creativity relies on individuals. There is room for improvisation and spontaneity. In most Mourinho teams, the chances have come from one ingenious player pulling the strings in midfield.
At United this is Pogba, which makes him so important. Take him out and there's no system to replace him, nor any other player with his ability to drive forward and ping passes from side to side. He has been involved in eight goals in eight league games – and that doesn't even account for his ability to dictate the rhythm of a game.
This is particularly relevant when United meet stubborn defences. But against City, they won't.
As we all know, Guardiola will tell his team to push up, press high and control the game. And United will adapt. Based on the Reds' strategies so far this season, one of Mourinho's approaches may well be brief spells of high pressure in a bid to intercept the ball high upfield, as they did for their first two goals at Arsenal last weekend. Another may be counter-attacks launched after winning the ball deeper, inside their own half.
In any case, United won't have to break down a deep-lying team. The key will not be what they do with the ball, but in what position they will win it.
Aerial bombardment
Though this changes the nature of their dependence on Pogba, he will still be missed. Part of what makes him so special is his multifunctional skill set; athletic and technical, he's efficient in any situation.
So while his quality as a passer would be less crucial against City, the opposite would be true of his sense of timing and movement off the ball. We saw at Arsenal how dangerous he can be making powerful runs from midfield: one let him assist the opener, another produced a cross that Romelu Lukaku nearly scored, a third led to him shaking off Laurent Koscielny to set up Jesse Lingard.
That game wasn't the only example. Against smaller teams this season, Pogba has controlled the game for the first hour, using his qualities as a playmaker; later on, when the opposition have been forced to chase an equaliser, he has turned himself into a counter-attacking weapon, striding forward and going directly for goal. All of his three league goals this season have come in the second half, when United have been ahead. Two have come within the last 10 minutes.
Against a team as open as City, Pogba would have switched to this counter-attacking mode from the very start. One imagines Guardiola would have worried about this: neither Kevin De Bruyne nor David Silva would have been capable of tracking him, while even Fernandinho might have struggled.
Another factor is set-pieces. United have scored eight league goals via this route this season, two more than any other team, while City have conceded two of their last three goals from corners. Guardiola's only two decent (and reliable) aerial players are Nicolas Otamendi and Vincent Kompany. Having Pogba's presence in the box would have troubled City further.
Pace aplenty
As such, there can be no doubt that United will miss Pogba - yet this time they'll be better suited to replace him. They may not have many dominant central midfielders in his mould, but they do have quick attackers and strong aerial players.
Mourinho will surely change the system. So far, he has used three at the back against teams that have done the same – such as Tottenham and Chelsea – but he may well revert to a back four on Sunday, given that City play 4-1-4-1.
That enables him to pack the team with pace. Lukaku will surely start up front, and neither Lingard nor Anthony Martial started the midweek game against CSKA Moscow.
All three contributed to the win at Arsenal and could worry City too, nipping in behind overly adventurous full-backs, attacking the high backline or challenging Kompany to a sprint. They hand Mourinho solid options on the break - and that's without even mentioning Marcus Rashford.
A new gameplan
As for physicality and aggression, Mourinho has said that Nemanja Matic will play. Next to him, the manager has Ander Herrera, a ball-winner suited to dispossessing players in dangerous positions. The Spaniard was withdrawn in the second half against CSKA, so may well start.
Now read...
How Paul Pogba hides Jose Mourinho's big flaw
Ranked! The 16 teams left in the Champions League... and who we think might win it
United thus have an array of giants to threaten from set-pieces: Lukaku and Matic, plus probably Chris Smalling and Marcos Rojo. There may also be a role for Zlatan Ibrahimovic. Each of these may face a fight against Kompany, but the Belgian can't mark everyone at once, and most of them would fancy their chances against Otamendi.
These will likely be Mourinho's weapons: set-pieces, counter-attacks and spells of high pressure. Pogba would have made them stronger in all three departments, but he's not as hard to replace as he would have been against a more defensive side. Just as City have a different style, so will Mourinho devise a different gameplan.
Even without Pogba, he'll be confident that he has the players to pull it off.
Thank you for reading 5 articles this month* Join now for unlimited access
Enjoy your first month for just £1 / $1 / €1
*Read 5 free articles per month without a subscription
Join now for unlimited access
Try first month for just £1 / $1 / €1
Get FourFourTwo Newsletter
The best features, fun and footballing quizzes, straight to your inbox every week.