Is there extra time at the World Cup 2022?
In the knockout rounds, games that are still level after 90 minutes will go to extra time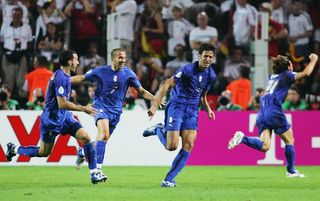 (Image credit: Getty)
Some of the most dramatic moments in World Cup history have happened during extra time.
In 2006, on their way to lifting the trophy, Italy (opens in new tab) eliminated hosts Germany (opens in new tab) in the semi-finals with two unforgettable late goals.
After 90 minutes of action couldn't separate the sides in Dortmund, an additional half an hour was called for.
That looked to have passed without incident as penalties loomed, until Fabio Grosso and Alessandro Del Piero decided otherwise.
For the first goal, a Del Piero corner was headed out to Andrea Pirlo on the edge of the box. He then picked out Grosso, who expertly curled his shot into the far corner.
The left-back appeared to be in disbelief as he charged off down the touchline in celebration, eventually mobbed by his teammates, including goalkeeper Gianluigi Buffon.
As Germany poured forward in search of an equaliser, Italy hit them with a devastating counter attack to make it 2-0.
Substitute Alberto Gilardino was sent scampering through towards goal but elected to cut inside, waiting for support.
It arrived in the form of Del Piero's overlapping run and he finished emphatically past Jens Lehmann to confirm Italy's place in the final.
It was a moment of pure euphoria for Marcello Lippi's side, who went on to beat France (opens in new tab) on penalties in a match chiefly remembered for Zinedine Zidane's infamous headbutt on Marco Materazzi.
Once the group stage is out of the way, extra time will again come into play in the knockout rounds of this year's World Cup.
Games that are level when the final whistle sounds will then go to two fifteen-minute periods of extra time in search of a winner.
If that doesn't arrive, a penalty shoot-out will ensue, as England (opens in new tab) know only too well from previous tournaments.
Thank you for reading 5 articles this month* Join now for unlimited access
Enjoy your first month for just £1 / $1 / €1
*Read 5 free articles per month without a subscription
Join now for unlimited access
Try first month for just £1 / $1 / €1