For Jose Mourinho to prove he is not an anachronism in the modern game, he'll have to turn back the clock at Tottenham
By Richard Jolly published
The new Spurs manager was once genuinely special, writes Richard Jolly. But is he really the man to replace Mauricio Pochettino?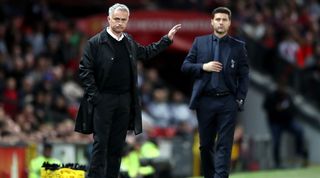 He always could coin a phrase, could Jose Mourinho. Long before he would have contemplated taking the Tottenham job, his frustrations about their tactics became part of the footballing lexicon. Jacques Santini's Spurs bored his way to a stalemate at Stamford Bridge in 2004. "Tottenham might as well have put the team bus in front of their goal," he said.
When Mourinho added "parking the bus" to the game's vocabulary, he was the self-styled "Special One". Not any more. Part of the intrigue generated by Tottenham's decision to replace Mauricio Pochettino with Mourinho is that he seems the opposite of everything they have represented in recent years. Part of it is simply whether Mourinho can reverse the narrative of his career. He can tout second place in 2018 with Manchester United as one of his greatest feats and reference winning the League Cup and the Europa League in 2017, but the alternative perspective is that his time at Old Trafford was his first genuine failure since Benfica.
IN THE MAG Managers special! Rafa, Sven exclusives – plus Simeone, Scolari, Potter, Pep and maddest bosses EVER
He was special, genuinely special. In his golden decade from 2002 to 2012, he won seven league titles in four countries, Porto's only Champions League since 1987 and Inter's sole European Cup since 1965. He dethroned Pep Guardiola's Barcelona to win La Liga. He has become a Premier League champion again since then, but the last seven years still represent an anti-climax. Yet if Mourinho appears Pochettino's antithesis, Tottenham's statement announcing his appointment referenced his haul of 25 trophies; it is 25 more than the Argentinian can boast.
But football is a fast-moving industry. The danger is that Spurs have replaced a man at the vanguard of the modern game with an anachronism. The irony, perhaps, is that in Pochettino's final few months, as he grew more unhappy, more publicly critical of his employers and more outspoken, he started to resemble Mourinho more: but the late-period, increasingly embittered Mourinho, not the manager who ranked among the greatest ever.
Pochettino's methods felt altogether more contemporary. He plays a pressing game Mourinho cannot: indeed, perhaps the beginning of the end for the Portuguese in his second spell at Chelsea was when Spurs blew them away 5-3 in 2015, even if Mourinho lifted the title four months later. Pochettino has flourished with younger players whereas Mourinho distrusted them, seeking the comfort blanket of experience.
At United, Mourinho did not understand Anthony Martial. Or Luke Shaw. Or Paul Pogba. Or, truth be told, anyone born in the 1990s who was not named Scott McTominay. Perhaps, in such dedicated professionals as Harry Kane and Son Heung-min, he will see throwbacks to an earlier era. Or perhaps he will look around another dressing room and wonder why he is not seeing Didier Drogba, Frank Lampard and Petr Cech. They looked at him and saw the cool older brother, sardonically raging against the establishment with a style that made him a cult figure. The United team saw a sad old man.
It is not merely a question of age. Pochettino's ability to shape younger players helped make Tottenham the economy challengers. Mourinho has tended to operate with bigger budgets. He spent £391 million at United and left them with the largest wage bill in England. Indulging Mourinho over the course of his three-and-a-half year contract will involve changing Spurs' financial structure.
Not that the short-termist is likely to stay until 2023; Pochettino promised more longevity. Mourinho exited Stamford Bridge for the second time with Chelsea in 16th and amid acrimony. Relationships were scarcely any better by the time he left Old Trafford. Mourinho was sufficiently toxic it felt that much of Ole Gunnar Solskjaer's three-month bounce came from not being the Sour One. He was Alan Partridge with a grudge, the man who spent two-and-a-half years living in a hotel lamenting that things were not the way they used to be.
LONG READ The making of Jose Mourinho – how did he go from 'the translator' to 'the Special One'?
It has been a recurring theme. Certainly those around Chelsea feel he returned from Real Madrid a different man, maybe irrevocably altered by the bitter last year at the Bernabeu. Mourinho's last seven years mean that, glittering as his medal collection is, he has more to prove than Pochettino now. Certainly he has to show that he can prosper with another manager's players; maybe it helps that he had hoped to sign Toby Alderweireld for United and an ageing back four may appreciate Mourinho's preference for a deeper defensive line. In his trade-off, Spurs will score fewer goals but concede fewer.
But that cautious streak can feel outdated in the age of Guardiola and Jurgen Klopp.
Meanwhile, Mourinho needs to illustrate that he can conjure improvement in the way he once did; he is the man who told Lampard in the shower that he could become the best player in the world and whose prophecy almost came true, and the one who undermined his United charges with his every utterance. His best teams were greater than the sum of their parts, featuring players who progressed further and faster under him than they had under any other manager, courtesy of his coaching and motivational prowess. But the same could be said of Pochettino at Spurs. As he looks to resurrect his career and revive Tottenham, Mourinho's task is to be both the earlier version of himself and a more recent version of his predecessor.
While you're here, why not take advantage of our brilliant subscribers' offer? Get the game's greatest stories and best journalism direct to your door for only £9.50 every quarter. Cheers!
NOW READ...
ANALYSIS Mauricio Pochettino has left a great legacy at Tottenham. Spurs now have two options to build on it
QUIZ Can you name the 29 managers who've bossed three or more Premier League clubs?
GUIDE Premier League live stream best VPN: how to watch every game from anywhere in the world
New features you'll love on FourFourTwo.com
Thank you for reading 5 articles this month* Join now for unlimited access
Enjoy your first month for just £1 / $1 / €1
*Read 5 free articles per month without a subscription
Join now for unlimited access
Try your first month for just £1 / $1 / €1
Richard Jolly also writes for the National, the Guardian, the Observer, the Straits Times, the Independent, Sporting Life, Football 365 and the Blizzard. He has written for the FourFourTwo website since 2018 and for the magazine in the 1990s and the 2020s, but not in between. He has covered 1500+ games and remembers a disturbing number of the 0-0 draws.
Quizzes, features and footballing fun
Get the best features, fun and footballing frolics straight to your inbox every week.
Thank you for signing up to Four Four Two. You will receive a verification email shortly.
There was a problem. Please refresh the page and try again.