Lucescu's band of Brazilians aim to bring down Man United
By Mark Gilbey published
Mark Gilbey on Shakhtar's long-serving manager and the growing influence of Brazilian players in Donetsk.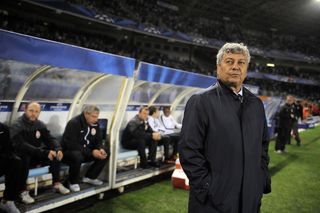 By rights, he probably shouldn't even be here at all, let alone still with Shakhtar Donetsk. Mircea Lucescu has, after all, survived an earthquake, Nicolae Ceausescu's communist regime, a heart attack and, last year, a car crash, not to mention the whim of billionaire owner Rinat Akhmetov.
In his first eight years as president, eight different managers passed through the club. Lucescu himself had been something of an itinerant wanderer before arriving in eastern Ukraine in May 2004, having hopped through clubs in Romania, Italy and Turkey.
But here he is, now 68, seven league titles, five Ukrainian cups, and a UEFA Cup later, ready to face Manchester United as the club's longest-serving manager. Last week he eclipsed the 3,416-day record set by Oleg Oshenkov, the legendary Russian coach who first led Shakhtar to prominence during the sixties by winning the Soviet cup back-to-back at the beginning of the decade.

A dashing outside-right in his day, Lucescu won the Romanian championship six times with hometown club Dinamo Bucharest. He made 70 appearances for the national team and, aged 25, captained Romania at the 1970 World Cup; swapping shirts with Pelé after a 3-2 defeat to Brazil in the group stages only served to fuel his obsession with South American football.
LUCESCU HONOURS
Romanian Second League: 1980
Romanian Cup: 1986, 1990
Romanian League: 1990
Serie B: 1992
Romanian Cup: 1998
Romanian League: 1999
UEFA Super Cup: 2000
Turkish Super League: 2002
Turkish Super League: 2003
Ukrainian League: 2005, 2006, 2008, 2010, 2011, 2012, 2013
Ukrainian Cup: 2004, 2008, 2011, 2012, 2013
Ukrainian Super Cup: 2005, 2008, 2010, 2012, 2013
UEFA Cup: 2009
Just a couple of years earlier Lucescu was part of the Romanian team which spent over a month touring Brazil from south to north, Porto Alegre to Fortaleza. For a young man in his early twenties from behind the Iron Curtain, the trip had a profound effect.
What struck the 22-year-old most was the passion of the country's fans and the unique atmosphere inside the stadiums. Were it not for the communist party forbidding footballers from moving overseas, then he could well have accepted an offer from Flamengo. Lucescu also returned a year after the World Cup, this time with Dinamo.
Born in Bucharest on 29 July 1945, both his parents worked in a local hospital and life was far from easy growing up, but Lucescu nevertheless had a happy upbringing. His introduction to football wasn't entirely un-Brazilian, either.
Like so many children in those days he spent his time on the streets of the Romanian capital, kicking a ball fashioned from a sock stuffed with rubbish, barefoot until dark.

Although hardly the quickest, Lucescu was blessed with great technical ability and had an unerring knack of delivering pinpoint crosses but he was rejected by both Steaua Bucharest, the team he supports, and Rapid Bucharest, on account of being too small.

An articulate and erudite man with a degree in economics who is regarded as a something of a workaholic, it was as a student at the Faculty of Foreign Trade that Lucescu gained an education in football.
Back then, state television only broadcast for a couple of hours a day and such was the country's debt that Ceausescu banned the importation of foreign newspapers but his peers were dotted about the globe in various embassies and would often send parcels back containing the likes of World Soccer, France Football, Marca, Guerin Sportivo and El Gráfico.
Aside from learning about the game, Lucescu was also able to master several languages. He's fluent in six and has a good grasp of two more.
Lucescu the coach
His move into coaching came by way of the devastating earthquake in 1977. That March a quake measuring 7.2 on the Richter scale hit Bucharest, killing almost 1,500 people and flattening countless buildings.
Lucescu's wife, Nelly, a radio worker whom he has been married to for 46 years, wanted to move to the countryside so he took a job as player-coach of Corvinul Hunedoara, a third-tier club based in Transylvania.
It was there that he cut his teeth in management and instilled the attacking football seen at Shakhtar today.

He took Romania to the 1984 European Championship and then returned to Dinamo where Lucescu developed his brand of exciting style further with a team centred around young and hungry players. He deems them better motivated and able to play without fear.
But once again Lucescu found himself up against Ceausescu's communist regime. Dinamo, of course, were the team of the Securitate, Romania's secret police and Steaua, sponsored by the army, had been controlled by Ceausescu's son Valentin. They met in the 1988 cup final and with the game tied at 1-1 Steaua scored, only for the goal to be disallowed. An enraged Valentin hauled his team off.

Dinamo thought they had won by default and went off with the trophy, only for the disputed goal to be awarded the next day and Steaua deemed the winners. "They couldn't admit to losing," Lucescu later said. "They were afraid that losing a soccer match would be interpreted as political defeat."

Dinamo won the double in 1990, a year after Ceausescu and his wife Elena were executed by firing squad on Christmas Day. With the fall of communism, however, there was an exodus of Romanian talent overseas.
Lucescu himself went to Italy, where he spent time with Pisa, Brescia, Inter Milan and Reggiana, before a spell in Turkey with Galatasaray and Besiktas.
Shakhtar had been after Lucescu for some time, but finally got their man in 2004.
The Brazilian influence
The first Brazilian arrived in Ukraine eight years earlier. Just as players in the Soviet Union could not move overseas, nor could its clubs freely recruit from abroad until after the fall of communism.
Émerson, not to be confused with the former Roma, Juventus, Real Madrid and AC Milan midfielder, or the one-time Middlesbrough player of the same name, was the first. He joined Dnipro Dnipropetrovsk in 1996 and was nicknamed "Mercedes" by the fans on account of foreign players being considered something of a luxury for Ukrainian clubs at the time.
Emerson actually made his debut against Shakhtar but didn't last long in Ukraine.

Nowadays, foreign players, or "legionnaires" to use eastern European football parlance, are the norm. As are Brazilians. There are currently 37 Brazilian footballers (39 if you include Metalist's Edmar who has represented the Ukrainian national team and Shakhtar's Eduardo of Croatia) registered with top-flight clubs and only Vorskla Poltava of its 16 teams do not have one on their books.

Shakhtar's first Brazilian, the centre-forward Brandão, went to Ukraine two years before Lucescu did. But it was the signing of midfielder Matuzalém in 2004 that proved a seminal moment. "The Matuzalém transfer became a turning point for Shakhtar," said Lucescu, "as we started to create the new team around this player, who immediately became its true leader."
He prefers the attacking positions of his simple 4-2-3-1 formation to be staffed with Brazilians, with hard-working and determined Eastern Europeans occupying the defensive roles, although in recent times that has been somewhat blurred with Armenian Henrikh Mkhitaryan, now at Borussia Dortmund, occupying the role vacated by Jádson behind the central striker and the Brazilian left-back Ismaily replacing West Ham United's summer signing Răzvan Raţ.

Brazilians have played in the most positions over the years, although Shakhtar have never had one in goal. At least not a proper one. Shakhtar have always attempted to keep the two centre-backs and goalkeeper Ukrainian, but in a cup game nine years ago against Borysfen Boryspil, Jan Lastuvka was sent off and midfielder Batista played the final 19 minutes in goal and managed to keep a clean sheet.

The aim is to get these Brazilians at a young age, mainly before they have developed any bad habits. At Shakhtar, who have the Portuguese Luís Gonçalves heading their scouting department, they attempt to create a favourable environment for their players to adapt by prohibiting interviews and introducing them gradually.

A large Brazilian group also helps of course. An avuncular figure know affectionately as "Mister" by his players, Lucescu has even learned Portuguese in a bid to help his young signings assimilate.

Twenty-three Brazilians have passed through Shakhtar to date; 26 if you include Damián Rodríguez (who represented Uruguay), Marcelo Moreno (Bolivia) and Eduardo. Some have been hits, others misses who have left in acrimonious circumstances. Broadly speaking, though, it's a policy that has served Shakhtar well. Quite how it serves Ukrainian football is another matter.
Impact on Ukrainian football
Clubs must field a minimum of four Ukrainians in the Premier League, but in recent times the talk has been of Taison obtaining Ukrainian citizenship, likewise Luiz Adriano in the past, which would bypass those rules (and make them eligible for the Ukrainian national team, although both have been met with mixed reactions).

Famously, Jádson scored the winner against Werder Bremen in the 2009 UEFA Cup final. That summer Lucescu suffered a heart attack, but was soon back to work and Shakhtar have won the last four league titles.

This is a period of transition, though. Earlier in the year Shakhtar lost Willian to Anzhi, and over the summer Fernandinho went to Manchester City and Mkhitaryan to Dortmund, earning the club the best part of £80m.
Last season they were comfortably Ukraine's best side. Shakhtar won the league at a canter, losing only once and averaging almost three goals per game, while in the Champions League they progressed from their group at Chelsea's expense.
Domestically, they made a clean sweep of awards, too. Lucescu was coach of the season for a seventh time, Mkhitaryan the league's best player (and top scorer) and their promising left-back, Eduard Sobol, won young player of the season.

Lucescu bought the Brazilian forward Taison from Metalist Kharkiv for £13m to compensate for Willian's exit, but now faces the daunting challenge of replacing Fernandinho's dynamism and Mkhitaryan's goals.
The prolific Armenian, a summer target for Liverpool, scored a league-record 25 times playing just off Luiz Adriano, having himself only just filled the void left by pintsized playmaker Jádson. They will both be missed.
Shakhtar's Brazilian boys - new and old
Lucescu has spent around £50m on the gifted young Brazilian quartet of Fernando from Grêmio, Internacional's Fred, Wellington Nem from Fluminese and Atlético Mineiro' Bernard, plus Vélez Sarsfield centre-forward Facundo Ferreyra for £6m – but these are young players and will need time to adapt.
Taison's arrival proved to be relatively seamless. For one, he had been in Ukraine since 2010 with Metalist so Lucescu knew the 25-year-old represented something of a risk-free purchase in that sense. Fred is 20 (and has brought his mother to live with him in Donetsk), and Wellington Nem, Bernard and Fernando are all 21. Ferreyra is 22.

They will all require a 'bedding-in' period as they adapt to a new life and a new style of football thousands of miles from home. The only issue, in Lucescu's eyes, is the influence of agents and the climate.
A shrewd move has been appointing Luiz Adriano as vice-captain to Darijo Srna. The striker, who inherits the role from Fernandinho, is the longest-serving of Shakhtar's current Brazilians, having joined six years ago from Internacional and remains a respected figure among his fellow countrymen at the club. Recently, however, the club's CEO, Serhiy Palkin, took to Facebook to defend the 26-year-old from fans' criticism.
He spearheads the attack, and behind him will most likely play Alex Teixeira. The 23-year-old was signed at the same time as Douglas Costa in early 2010 for around the same fee – a little over £5m – albeit to considerably less fanfare, but arguably it is he who has proved to be a far more important member of this Shakhtar side.
Although initially playing wide right, Lucescu has experimented with using him in a deeper role at the back of midfield on occasion, yet he scored both goals in a 2-0 win against Real Sociedad playing off Luiz Adriano and may occupy the same position, with Fernando alongside Czech international Tomás Hübschman.
The loss of three key players has, however, been acutely felt - and Manchester United can take advantage.
Thank you for reading 5 articles this month* Join now for unlimited access
Enjoy your first month for just £1 / $1 / €1
*Read 5 free articles per month without a subscription
Join now for unlimited access
Try first month for just £1 / $1 / €1