Manchester City have become the Millwall of the media – but when will it end?
City fan Stephen Tudor shines a light on the media's portrayal of his club as the bad guys of football since their multi-million pound takeover in 2008…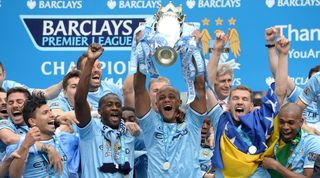 Leicester's recent trip to Manchester United afforded us all the perfect opportunity to fully contrast the Foxes' remarkable achievements this season with the big-spending behemoths who have trailed in their wake.
The starting lineup that took to the Old Trafford pitch on May 1 with the unlikeliest of titles up for grabs totted up to the bargain sum of £22m. This paled significantly to their illustrious opponents that Sunday lunchtime, whose exorbitant spending had produced nothing but an abject campaign that had seen them sleepwalk through much of it and all to the backdrop of supporter unrest.
The Premier League's most expensive starting XI and arguably most famous football club in world football, versus the shoestring miracle-makers. For those who like that sort of thing, it couldn't have been more illuminating.
Easy target
Yet the BBC – for reasons that will soon become clear – chose not to go with a pertinent and timely like-for-like. Instead they held up Manchester City as the ultimate example of financial disparity, a club that, like their arch rivals, had invested hundreds of millions on talent in their quest for silverware but in this particular instance had as much to do with the conversation as a bowl of custard.
Even reducing it to basic mathematics, their team was a less stark comparison to that of Leicester's opponents, and furthermore they were 200 miles away at the time preparing for a league fixture against Southampton that preceded a Champions League semi-final.
City supporters railed at the perceived trolling by an organisation that should be above such behaviour, but there was little surprise accompanying the indignation: since their takeover in 2008 the Blues have become used to seeing their club portrayed as the epitome of all that is wrong with modern football, and often at the expense of other clubs equally or more deserving of it.
Both on and off the pitch, City supporters have seen their club's fortunes transformed beyond their wildest dreams in recent times, but unquestionably it has been tempered by the persistent soundtrack of cheap jibes, lies and, in some cases, open vitriol. The media have swiftly realised how unpopular their rise had been received by the general public and much larger fanbases of their rivals, and pandered accordingly to that.
Where the bone of contention sticks out is to what extent. Doesn't every supporter believe their beloved gets a raw deal in the media? Certainly Arsenal and Chelsea can claim to have suffered similar negative press, particularly since the proliferation of sites that all seem to boast 'lad', 'banter' or 'bible' in their name.
There's also an undeniable degree of prickliness to factor in from a group who are simply not yet used to the arrows and slingshots reserved for the higher-profile clubs.
Negative narrative
Wherever the truth lies, it swiftly became a divisive issue within the Blue ranks and led to vociferous bickering in-house on whether the sustained sniping was a purposeful agenda or simply, as the more pragmatic suggested, a result of City being the new boys on the block and there to be shot down.
Then again there is criticism, constructive, destructive, fair or biased, and there is unreserved maliciousness as witnessed in this bizarre tirade (below) unleashed by the press pack on Sky's Sunday Supplement in 2010. It's worth noting that the charge levelled at City for having Roberto Mancini in the stands during Mark Hughes's final game was later proven to be entirely false and a reluctant apology followed.
While Sky clearly regarded City's emergence as a threat to their United cash cow, the tabloids were just as fierce. A headline in the Daily Mirror referred to the club as being 'the whore of world football' simply for having the temerity to sign Yaya Toure for £24m from Barcelona, a coup that, by anyone's calculation, can only be considered a highly astute piece of business.
Steven Howard in TheSun, meanwhile, opened his match report of Manchester United's 3-2 victory over City in the 2011 Community Shield with these words: "This was a result to make football itself stand up and cheer and not just because the Bad Guys took a punch on the nose from the Good Guys."
Quite why the blue half of Manchester was cast so conclusively as the villains is unclear. For their part they had simply turned up for the fixture having recently won their first trophy in 35 years.
We can add to these a multitude of petty digs that amount to a constant dripping tap of negativity for a narrative that could easily be turned on its head to be construed as an incredible lottery win for supporters who had previously endured years of misery.
Little change
But that was then. What about now? Surely having established themselves among the elite, the negative coverage has subsided? Evidently not judging by this season.
Compare and contrast the vastly different reporting of Raheem Sterling's transfer to City, and Anthony Martial joining United. For showing exactly the same ambition as Luke Shaw, Michael Carrick and Wayne Rooney, the former has been widely vilified with his fee exaggerated to the point where the errant figure is now viewed as a half-truth.
The latter, meanwhile, reduced Sky's Martin Tyler to hysterical hyperbole after scoring his first goal and – in media terms – enjoyed instant superstardom at the 'Theatre of Dreams'. It is a blunt dichotomy that evokes the chalk and cheese portrayals of the respective failures of Jack Rodwell and Wilfried Zaha when each moved to Manchester.
Rodwell's lack of games prompted widespread hand-wringing on the evil Manchester City ruining English football. For Zaha – well, it just didn't work out for the lad.
When the obsessive mocking of the 'Emptyhad' is factored in along with BT Sport's abhorrent coverage of City's Champions League campaign that was so sour and dismissive it even brought complaints from baffled neutrals, it all stacks up to the unfortunate notion that Manchester City have been designated the role of bad guy in the drama we call football.
From once being favourably patronised for their amiable underachievement, they have now become the Millwall of the media. How long will they be beaten with a money stick? How long is forever?
Quizzes, features and footballing fun
Get the best features, fun and footballing frolics straight to your inbox every week.
Thank you for signing up to Four Four Two. You will receive a verification email shortly.
There was a problem. Please refresh the page and try again.