The man who sold Liverpool and bid for Chelsea reveals the extent of the Premier League's financial dominance
The Premier League already is the European Super League - and footballers want one thing now, Sir Martin Broughton. tells FourFourTwo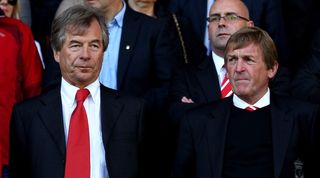 (Image credit: Getty Images)
Not many people have been involved in the takeover of football clubs as Sir Martin Broughton has.
The lifelong Chelsea fan and former British Airways chairman successfully oversaw the sale of Liverpool Football Club in 2010, having been appointed as temporary chairman by the Royal Bank of Scotland as the Reds teetered on the brink of administration under Tom Hicks and George Gillett's ownership in 2010.
Then, in 2022, the businessman led a consortium that included Sebastien Coe, Lewis Hamilton and Serena Williams in an attempt to buy Chelsea, eventually being outbid by Todd Boehly for the London club.
Broughton is uniquely positioned to comment on the finances of the Premier League, which, he explains is somewhat like a European Super League already.
"If you go back to the first decade of the Premier League, I think for nine years it was won by either Manchester United or Arsenal," recalls Broughton in an exclusive interview with FourFourTwo.
"It was a bit like Scotland. Then [Roman] Abramovich came in and made it three [clubs], then [Sheikh] Mansour came in [at Manchester City] and made it four. Then Fenway took Liverpool back up there to make it five.
"And now you've got the Saudis coming in to Newcastle, which will make it six and Tottenham are always sort of on the fringe.
"So one of the great attractions of Premier League is that you've got titans playing each other every week and no certainty as to who's going to win the league.
"In Germany, [the question is] is Bayern going to win the league? In France it's PSG or PSG or PSG, so they don't get the same media exposure. So the Premier League has become more and more kind of like the European Super League in many ways.
"It's [the Super League] here in many ways, which attracts more buyers."
Broughton explains how football agent Rafaela Pimenta, whose clients include the likes of Erling Haaland, Paul Pogba and Marco Veratti since the death of super agent Mino Raiola, demonstrated the dominance of the Premier League above all others at the recent Business of Football Summit:
"[Pimenta] said that in the past people [players] might say, 'I'd like to go and join…' - and they would quote a club, it may be a Premier League club. It was more likely to be Barcelona.
"Now it's people [players] saying 'I want to play in the Premier League' - because that's now the target base to play. I put that in that context because what makes it so exciting watching Premier League is the best players want to come here."
The Premier League being the most competitive league in Europe, effectively a European Super League, is nice for the Premier League itself, but even Broughton admits that as a fan it could make it tricky for supporters of teams eager for silverware.
"There are too many other teams out there who are very good now," he admits. "It just makes it harder to win it. The Premier League got a tougher place over time."
Newcastle taking the 'Liverpool approach' – and Financial Fair Play needed
So how does Newcastle's takeover affect the Premier League and what does Broughton know about their approach to entering the competition for trophies?
"My own sense from speaking with Amanda Staveley in Newcastle is they see the Liverpool process of sensible data analytical acquisition as the right way forward," he explains. "Not the kind of [Todd] Boehly [at Chelsea] splash out huge amounts of money for players."
So how do we stop clubs from spending their way to success?
"I think what we should all be looking for is good - better than we've had - financial fair play rules which bring a sensible deliverable process," says Sir Martin.
"It's fair to say at the moment Manchester City are above everybody else in terms of performance over the last five years. And what we don't want is to have one team continually winning it [the Premier League].
"Obviously there are questions as to the integrity of that process, but the Premier League's a stronger place for having Manchester City in it.
"But we do want to see going forward is proper deliverable financial fair play, which makes everybody play within a kind of sensible set of goals and then it's who can deliver best within those rules and who can just splash out more money.
"And I think that that's the way forward. And I think we'll get there. It might take a year or two before we get there, or three. But I think that's that's the way forward.
"I think not paying silly money but being very careful but willing to invest at the same time. You're bringing in one or two new players each year is good. Bringing in 14 just to put numbers up makes it very difficult actually."
For an owner like John Henry at Liverpool, or any other club not backed by a nation state, stronger implementation of financial fair play rules cannot come soon enough.
Sir Martin's book, Whenever I Hear That Song, is out now, published by Nine Elm Books.
Thank you for reading 5 articles this month* Join now for unlimited access
Enjoy your first month for just £1 / $1 / €1
*Read 5 free articles per month without a subscription
Join now for unlimited access
Try first month for just £1 / $1 / €1
Get FourFourTwo Newsletter
The best features, fun and footballing quizzes, straight to your inbox every week.
Matt Ladson is the co-founder and editor of This Is Anfield, the independent Liverpool news and comment website, and covers all areas of the Reds for FourFourTwo – including transfer analysis, interviews, title wins and European trophies. As well as writing about Liverpool for FourFourTwo he also contributes to other titles including Yahoo and Bleacher Report. He is a lifelong fan of the Reds.