Meet Lyon's latest wonderkid causing an international dispute
Andrew Gibney on Nabil Fekir, the brilliant creative chased by Algeria and France...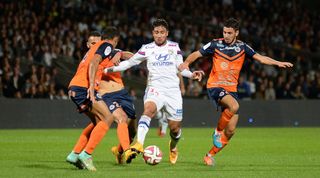 The 60 second story
Fact file
Date of birth July 18, 1993
Place of birth Lyon, France
Height 5ft 8in
Position Attacker
Current club Lyon (18 apps, 5 goals)
International France U21 (1 cap)
In the footsteps of Karim Benzema, Hatem Ben Arfa and Alexandre Lacazette, Nabil Fekir is the latest exciting youngster to step off the Olympique Lyonnais production line.
Lyon have fallen on hard times since their extremely successful period at the turn of the millennium, but under new boss Hubert Fournier things are starting to look up, helped by players like Fekir. After making his debut last season, the 21-year-old has become a first-team regular this term, scoring four goals in just seven games.
Eligible to play for France by birth and Algeria by heritage, Fekir was called up for France Under-21s' Euro 2015 play-off against Sweden this month. He may have only played the final 15 minutes as Les Espoirs lost 4-3 on aggregate, but there is already talk of a giving him a senior cap – if only to stop the possibility of Algeria stealing him away before this winter's Africa Cup of Nations.
Why you need to know him
Lyon started this season by winning their opening game against Rennes, but went on to lose the next three league matches, not to mention being knocked out of the Europa League by FC Astra at the qualification stage. It was the worst run in the club's history.
All three defeats came after Fekir was injured in the 2-0 win over Rennes. Played at the head of Fournier's midfield diamond, the 21-year-old had looked like the most dangerous player on the pitch that day, and his presence was definitely missed.
Fekir made his return to the first team in the 2-1 win over Monaco and Lyon haven't lost a game since, including the 1-1 draw with Paris Saint-Germain at the Parc des Princes.
Just 20 minutes into his return against Monaco, Fekir linked up with both Lacazette and Steed Malbranque, beat the Monegasque offside trap and calmly placed his shot past Danijel Subasic.
It is only a matter of time before clubs around Europe start to get wind of this talented playmaker. Plenty of scouts will be making their way to watch his team-mate Lacazette; they may leave raving about Fekir instead.
SEE ALSO Everything you need to know about... Alexandre Lacazette
Strengths
Having returned to the Lyon team after the shoulder injury, Fekir has gone about transforming the fortunes of this one-time Ligue 1 powerhouse. Against Lorient in week seven, the midfielder scored twice from perfectly timed runs into the box. The first was a right-footed shot back across goal, the second a wonderfully taken left-foot volley – and it's this versatility that could take him to the top.
Fekir was given a chance in this Lyon side with both Clement Grenier and Yoan Gourcuff out injured: he was deemed the next in line to play at the head of the diamond. However, with Gourcuff returning and Malbranque often preferred to add experience, Fekir has stepped forward and joined Lacazette up front to create a wonderfully exciting attack.
It seems that wherever Fournier wants to play the youngster he is going to inflict damage. You can't call him a midfielder as he is too good in attack, but at 5ft 8in he's far from a traditional forward. You just have to make sure wherever he plays you give him the ball.
Before the international break in October, Lille arrived at the Stade Gerland with the best defensive record in the league, but Fekir showed René Girard's team absolutely no respect.
He dazzled and bewildered centre-backs Simon Kjaer and Marko Basa for the 70 minutes he was on the pitch. Blessed with blistering acceleration, beautiful balance and the ability to beat his man on both sides, Fekir asked the LOSC backline questions they simply couldn't answer. His performance helped Lacazette pick up his first-ever hat-trick for the club, and doubled the amount of goals Lille had conceded this season.
Weaknesses
At this point in his career it's hard to see anything that needs instant attention. However, if he is genuinely going to play as a No.10 or a creative inspiration for others, he needs to translate great play into assists.
He may already have four goals to his name, but his only assist of the season came in the 3-0 win over Lille. In the big wins over both Lorient and Montpellier he was looking more to get on the end of chances, missing some excellent opportunities to set up his team-mates.
However, he has only played 18 games for Lyon's first team. Judging by the way he sets about slicing through Ligue 1 defences, the assists will come.
It's important at this stage that he is allowed to express himself and blossom all over the pitch. The other teams in Ligue 1 can't put shackles on him; there is no reason for Fournier to help them.
They said…
Fekir's performance in the 5-1 win over Montpellier prompted Bernard Lacombe – a legendary former Lyon player and manager now upstairs at OL – to compare him to Leo Messi and Arjen Robben. "There is no other player in France that can play this position. Passers, other players, don't have his range of tricks. There's something special, particularly about left-footed players, like Messi, like Robben."
Praise indeed for the youngster, but while those are big names to be compared to, Lacombe has a point.
Did you know?
Two weeks before his debut for the France Under-21 side, Fekir's father declared that Nabil had decided to play for Algeria: "My son Nabil has made his decision, he will only play for the Algerian team. He chose his country out of conviction and he will be very proud to make his debut."
The next day, Fekir was called up by Pierre Mankowski for the Euro 2015 play-offs. When questioned about his future, Fekir didn't exactly nail his colours to the mast: "For now, let's enjoy the present moment." Les Bleus will do well to make his future French.
TALENTSPOTTER RATINGS
Shooting 7
Heading 5
Passing 7
Tackling 5
Pace 9
Dribbling 8
Creativity 8
Work-rate 7
What happens next?
Hubert Fournier will hope that Fekir continues in his current vein of form, but with success comes attention. Lyon will always be monitored for the next superstar coming through the ranks; scouts flocking to watch Lacazette – who has eight goals in 10 games – won't be able to ignore his talented sidekick.
Meanwhile, France need to give Fekir his first cap as soon as possible. Didier Deschamps is slowly building his squad for the 2016 European Championships, and if the youngster continues to develop, he could be the natural replacement to Mathieu Valbuena, who's now the wrong side of 30.
Thank you for reading 5 articles this month* Join now for unlimited access
Enjoy your first month for just £1 / $1 / €1
*Read 5 free articles per month without a subscription
Join now for unlimited access
Try first month for just £1 / $1 / €1