Meet Spurs' Serbian opponents in crisis - but with an academy to envy
Vladimir Novak runs the rule over Tottenham's Europa League opponents, Partizan...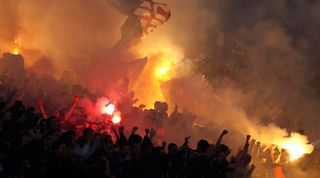 When Serbia and France played a friendly in Belgrade recently, the online edition of French sports daily L'Equipe made a big mistake. In their live report they wrote that the match was played in the Red Star Stadium, but the venue was actually the Partizan Stadium. That error was not by chance; outside Serbia, Red Star are still considered the most successful club in the country.
But that's not the case. In the last decade it's been Tottenham's upcoming opponent who have dominated Serbian football, and have a far better record in Europe. Partizan have played twice in the Champions League; Red Star never. And with six campaigns (Red Star boast only two) in the Europa League group stage (earlier the UEFA Cup), Partizan are regular participants in Europe.
However, in most of those continental adventures they struggled to overcome the first hurdle. In the 2012/13 Europa League they played in a group with Inter, Rubin Kazan and Neftci Baku, won three points and finished third. In the 2010/11 Champions League, Partizan faced Arsenal, Shakhtar and Braga and lost all six games.
The biggest European success in the history of the club (founded in 1945) came back in 1966, when Partizan played in the European Cup final and lost 2-1 to Real Madrid. Times have changed, though, and nowadays such an achievement is a utopia. Serbian club football is in constant decline and its role in European football has been reduced to delivering talented teenagers.
In and out
Partizan is the biggest talent factory. Matija Nastasic, Stevan Jovetic (both Manchester City), Adem Ljajic (AS Roma), Miralem Sulejmani (Benfica), Zoran Tosic (CSKA Moscow), Stefan Savic (Fiorentina), Milos Jojic (Borussia Dortmund), Aleksandar Mitrovic (Anderlecht) and Lazar Markovic (Liverpool) all came from Partizan's famous youth academy and none of them played more than a couple of seasons in the first team.
They had to be sold, because income from transfer fees is the only serious money the club can earn in order to sustain normal functioning (their annual budget is around €10 million). The incomes from TV rights, ticket sales, sponsors and merchandising are rather insignificant, so clubs have no other choice but to sell players.
This summer's transfer window, however, was quiet. There were rumours that both of their best youngsters could be sold, but eventually Andrija Zivkovic (18) and Danilo Pantic (17) stayed with Partizan. The club reportedly sold the rights for Zivkovic to Pini Zahavi's agency.
In the last few months Partizan have faced serious financial problems. In late August there was even a strike, when the players refused to train for a day after they hadn't received wages for several months.
Club president Dragan Djuric has legal issues with his private business; this year he was twice arrested, and it seems that his days in charge of the club are numbered. One of the loudest chants of Partizan's fans in recent home games was "Management Out". Many fans have simply chosen to stay away: only 3,000 turned up for the last league game on Sunday (a 4-2 win against Cukaricki Belgrade).
The capacity of the Partizan Stadium is around 33,000. Yet even in their Europa League play-off match (a 3-2 victory over Neftci Baku) the stands were half empty. The stadium, built back in the late 1940s, is in poor shape and the state of the pitch is bad.
After the France game, Southampton's Dusan Tadic tsaid club team-mate Morgan Schneiderlin couldn't believe Serbia played on such a poor surface. For new coach Dick Advocaat it was an unpleasant surprise.
Kids and journeymen
As for Partizan's current performances, things don't look much better. It's true that they're top of the table with five wins from five games, and that they were also unbeaten in this summer's Champions League and Europa League qualifiers (they went out in the Champions League against Ludogorets Razgrad on away goals, 2-2 on aggregate), but some of their early performances were far from impressive.
The current team is a mixture of experienced players who were already abroad, came back and hoped to sign again for a foreign club, and youngsters who have yet to make the grade but will be eventually sold.
Key players are central midfielder Nikola Drincic (30), who spent most of his career in the Russian Premier League, and striker Danko Lazovic (31), a former Serbia international (43 caps, 11 goals) and once a big prospect who didn't quite live up to high expectations. Still, with his skills and experience – he played with Feyenoord, Bayer Leverkusen, Vitesse, PSV and Zenit – he is always good for a goal.
A couple of years ago a story on Partizan wouldn't be complete without mentioning club legend Sasa Ilic, but now the 36-year-old playmaker barely has enough power for 20 minutes.
Bright spots
Partizan's strengths are their unpredictability in attack and the hunger of newcomers Zivkovic, a highly gifted left-footed winger, and Pantic, an attacking midfielder with fine technique and good vision. Weak points are a rather shaky defence and the fact that they can't go a high tempo over 90 minutes.
Against Spurs they will handicapped by the suspension of striker Petar Skuletic, who started this season with four goals in the league and five in Europe. Also out is midfielder Darko Brasanac, a Serbia Under-21 international sidelined with a rib injury. Zivkovic is also a question mark because of a hamstring problem.
Although Spurs are favourites, the hosts will play for the win. In 11 games this season (six in Europe, five in the league) they scored 31 goals, so will stick to their 4-4-2 formation and attacking approach.
However, at the same time head coach Marko Nikolic will insist on more careful play in defence, because already in two European home games this season Partizan's back-line looked too exposed and conceded goals easily. In the return leg against Ludogorets they were 2-0 behind after 21 minutes (final score 2-2), and against Neftci Baku they conceded two quick goals to go two down inside 17 minutes (final score 3-2).
Partizan legends
Partizan doesn't have just one legend, but several. The biggest are Stjepan Bobek (a Croatian striker from the 1940s and 50s who scored over 400 goals), Milan Galic (a striker from the 1950s and 60s who passed away last Saturday aged 76), Milutin Soskic (one of the world's finest goalkeepers in the 1960s), Vladica Kovacevic (60s striker), Velibor Vasovic (central defender in the 60s who later captained Ajax to their first European Cup), Mustafa Hasanagic (winger in the 1960s), Dragan Mance (prolific centre-forward in the early 1980s who tragically lost his life in a car crash aged only 22), Momcilo Vukotic (attacking midfielder in the 1970s who played over 700 matches for Partizan) and current captain Sasa Ilic (688 games, 228 goals).
Memorable moments
3-0 vs Real Madrid. Back in 1955/56, in the inaugural European Cup, the Belgrade black and whites first eliminated Sporting Lisbon (3-3 in Lisbon, 5-2 in Belgrade) and then faced Real Madrid (with Di Stefano and Gento) in the quarter-finals. The first leg in Madrid ended with a clear 4-0 win for Real, but in the return leg, on a snow-covered pitch, Partizan battled to a 3-0 victory.
European Cup final vs Real Madrid. On May 11 1966 in Brussels, Partizan played against Real Madrid again, and took the lead before eventually succumbing 2-1. In the semi-final they saw off Manchester United (2-0 in Belgrade, 1-0 at Old Trafford).
4-0 vs QPR. In the second round of UEFA Cup in 1984/85, Partizan lost the first leg in London 6-2, but turned things around with a resounding 4-0 win in Belgrade in front of 50,000 fans.
The Thriller at Park Head. In the first round of the European Cup Winners' Cup, Partizan beat Celtic 2-1 (due to a fine by UEFA, they were forced to play the game in Mostar, today Bosnia and Herzegovina). In a dramatic return leg in Glasgow, Partizan lost 5-4 and reached the next round. Centre-forward Sladjan Scepovic, the father of new Celtic striker Stefan Scepovic, scored the decisive winner in the 89th minute.
Thank you for reading 5 articles this month* Join now for unlimited access
Enjoy your first month for just £1 / $1 / €1
*Read 5 free articles per month without a subscription
Join now for unlimited access
Try first month for just £1 / $1 / €1