Memphis Express: Next stop Premier League for deadly Depay
Rising to prominence in the World Cup, the young flyer has taken PSV to the top in Holland – and, says Elko Born, he could well be en route to England...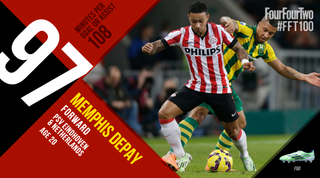 There was Robin van Persie, who was seemingly able to float when he scored his wondergoal during the Netherlands' 5-1 demolition of Spain, and there was Arjen Robben, who was arguably the best attacking player in the team, storming up and down the pitch delivering goals and assists.
Both the Manchester United man and the Bayern Munich star performed as was expected of them. But scouts around Europe will have had their eyes on another member of the Dutch team; one significantly younger and less well known than the aforementioned superstars: Memphis Depay.
Louis van Gaal, still in his role as manager of the Dutch national team, played Depay for many more minutes than predicted. Apparently, he saw something in the kid who had broken through from PSV's youth academy the previous season. Usually deployed on the left flank, so that he can cut inside to use his powerful right foot, Depay was often used when the Dutch played in a 4-3-3 formation.
On more than one occasion, Depay's presence proved decisive. During the Netherlands' second group game, against Australia, the winger came on in the second half, when the Dutch were behind 2-1. Following Van Persie's equaliser, he scored the winning goal shortly before the final whistle. In the Netherlands' third group game, against Chile, Depay made another second-half appearance, this time scoring the 2-0 after a fantastic bit of team-play with Arjen Robben.
Cue the rumours
No wonder rumours appeared linking Depay with various Premier League clubs. But as things turned out, Depay stayed put in the Netherlands. There was a general feeling he needed one more year of development in the Eredivisie. What's more, PSV didn't want to lose their star man: chasing after their first Dutch title in six years, the Eindhoven-based club relied on Depay for goals.
How right they were to do so. So far this season, Depay has scored seven in nine matches for his club, and had he not been out injured for a good part of a month earlier this season, this figure could have easily been higher. In most matches, it looks like Depay could almost single-handedly guide his club to the Eredivisie title. Consequently, PSV are currently top of the Dutch league – and if Depay keeps performing the way he's performing at the moment, they may well stay there.
It truly looks like the World Cup allowed Depay to develop from a promising youngster into a top-class player. Training under Van Gaal and together with players like Robben and Van Persie, the whole experience has sharpened his skills. Now, Depay seems ready for the next step. Having outgrown the Eredivisie, he might just be ready to set his sights on the bigger leagues in Europe, the Premier League included.
A link with Manchester United is easy to make. At the World Cup, it was clear Depay and Van Gaal have a good working relationship, and no one was surprised to hear the PSV youngster praise his boss in the Dutch media multiple times after the tournament. Additionally, Van Gaal has a reputation for working with youngsters. Maybe the United boss has what it takes to make Depay an even better player.
It's likely, however, that other clubs might chase Depay as well. Tottenham Hotspur have had their eyes on the Eredivisie for a while now, signing players like Jan Vertonghen and Christian Eriksen from Ajax. Undeniably, Depay would be a great addition. Then there's Arsenal, whose manager Arsene Wenger has never shied away from adding Europe's highly-rated youngsters to his squad.
With the January transfer window approaching, rumours linking Depay to a Premier League club might soon flare up again. It's not hard to see why: currently ravaging the Dutch top flight, the flamboyant winger seems ready for the next step in his career. Maybe last summer was too early, and maybe he'll stay put this winter. Next summer, however, all bets may well be off: by the next FFT100, he could be playing for a different club and higher up the list.
Quizzes, features and footballing fun
Get the best features, fun and footballing frolics straight to your inbox every week.
Thank you for signing up to Four Four Two. You will receive a verification email shortly.
There was a problem. Please refresh the page and try again.