A survivor's guide to MLS Soccer Sunday
All 20 teams playing in an 11-hour window to start the MLS season? In this piece for FourFourTwo USA, Jason Davis has some advice on how not to go insane while watching Week 1 on Sunday...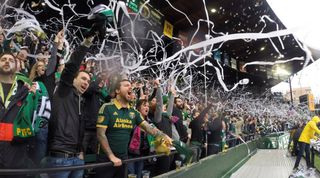 The 2016 MLS season gets underway on Sunday with an explosion of soccer, right in your face. In addition to recommending that you secure face protection, we here at FourFourTwo have put together a plan of action to help you navigate what is sure to be a long - but fulfilling - day of watching the greatest sport in the world happen across the United States and Canada.
So let's start with your morning:
8:00 AM ET
The first task of any day is waking up and getting your lazy self out of bed. Yes, it's Sunday, but you're a soccer fan - you chose a life of dedication to the sport and you cannot shirk that responsibility. Who's going to camp out in front of 62 inches of HD magnificence and watch grown men kick a ball around hour after hour if you don't do it? Many others, probably, but get up anyway.
MUST-READ
8:30 AM ET -- Avoid the Premier League menace
Around this time, you'll find yourself tempted to flip on the television and watch the English Premier League when Crystal Palace hosts Liverpool. DO NOT FALL INTO THE ENGLISH TRAP. Save your energy. Eat some breakfast.
11:30 AM ET -- Gather your supplies
With a spot of breakfast, you're nearly ready to tackle the 2016 MLS season with two feet. But before you spend 10-plus hours consuming the best American soccer has to offer, you need to stock up on the necessities. It's pretty simple: If you like beer, get a lot of beer. If you like other things, get those things. If you like coconut stuff, yuck, coconut stuff is gross. Don't get coconut.
1:30 PM ET -- KICKOFF: New York Red Bulls v. Toronto FC
FINALLY. THE MLS SEASON HAS ARRIVED. Jurgen Klinsmann is totally right, the offseason is way too long. How did we even make it through all of those winter weekends with no soccer in the afternoons? Leonardo DiCaprio had it easier in that epically long movie he did with the wild animal. You know, Wolf of Wallstreet.
You'll need MLS Live or Direct Kick for this one, but you probably have it already because that's how you roll.
As for the game, this is a good one to start the marathon. The defending Supporters Shield winners against 2015 MLS MVP Sebastian Giovinco and Toronto FC? How do you say "WOO DOGGY" in Canadian? It's just too bad Jozy Altidore is out with a hamstring pull.
For TFC, the goal in 2016 is to limit opponent scoring with a rebuilt back line and a commitment to team defense. In addition to Giovinco, Michael Bradley, and TFC's attacking corps, keep an eye on the flanks, where a battle will take place between TFC's reconstituted defense and New York's excellent pair of wingers.
SEASON PREVIEWSNew York Red Bulls | Toronto FC
2:00 PM ET -- KICKOFF: Orlando City SC v. Real Salt Lake AND Chicago Fire v. NYCFC
Here's where things get tricky. With simultaneous kickoffs in Orlando and Chicago coming deep into the first half of Red Bulls v. TFC, you're going to need to stay calm. Don't panic. Panic is the soccer glutton's enemy and leads to things like acid reflux and cleat-and-mouth disease. Trust us, you don't want that.
So slowly put on the game from Orlando. The Lions should be an intriguing watch this year, in part because their offseason was so wacky. In 2016 we'll find out if Cyle Larin is the real deal, and whether Brek Shea's hair remains questionable. As for RSL, they showed pretty well in the CONCACAF Champions League and could be a surprise package out west.
SEASON PREVIEWSOrlando City | Real Salt Lake | Chicago | New York City FC
You wouldn't normally think that a Fire-NYCFC matchup would be all that intriguing, what with Chicago finishing at the bottom of the conference last year and NYCFC not doing much better. But this game is the MLS debut for both Veljko Paunovic and Patrick Vieira; that alone makes it worth a watch.
RECOMMENDEDWhy Paunovic can resurrect struggling Fire
3:00 PM ET -- KICKOFF:
FC Dallas v. Philadelphia Union
AND Houston Dynamo v. New England Revolution
AND San Jose Earthquakes v. Colorado Rapids
RECOMMENDED
Okay, look. There's just no way you can watch all of the happening at this moment (there are five MLS games) at once. We mean that in both the the literal sense - it's impossible to bring up more than three games with MLS Live at any one time - and in the figurative sense - your brain will probably reject your body as host if you attempt to subject it to so much soccer at once.
So, pick your games wisely. If you feel it important to finish out the games you started earlier, do that and then add in an in-progress game as warranted. FC Dallas has high expectations and a young core of stars and should handle in-transition Philadelphia. Houston begins the post-Brad Davis era against the always interest (but Jermaine Jones-less) Revs. San Jose has perked up some ears and need to make sure of three points at home against the Rapids, who just took Jones off of New England's hands. And who are probably still bad.
You, being a soccer connoisseur, might also consider the U.S. women playing France - No. 1 vs. No. 3 in the world - which kicks off at 3 p.m. ET on ESPN3. But you probably don't have enough computer screens for all these games. Yes, the soccer scheduling gods hate you.
SEASON PREVIEWSFC Dallas | Union | Houston | Revolution | Earthquakes | Rapids
4:00 PM ET
Breathe.
4:30 PM ET -- KICKOFF: Portland Timbers v. Columbus Crew SC (ESPN)
We've now reached the nationally televised portion of the schedule, though you'll need your streams for a couple hours more. With three games still ongoing, you can finish out the 3 p.m. matches via the computer while you tune your TV to the MLS Cup final rematch on ESPN.
Though it's probably true Crew SC wants "revenge" for last year's final defeat (at home in front of their own people), it's pretty ridiculous to think they can get it in a season-opener. That doesn't mean the game won't be fun, though. Columbus returns...well, everybody, while Portland will be debuting a new left flank combination.
SEASON PREVIEWSPortland Timbers | Columbus Crew
5:30 PM ET -- KICKOFF: Vancouver Whitecaps v. Montreal Impact
This all-Canadian affair is on national TV...in Canada. If you're not in Canada, you'll need MLS Live again. If your feed is good enough, you'll probably be able to see that the Impact won't be playing with Didier Drogba, who just came down with a case of fake-grass-itis. The 'Caps are an MLS Cup contender who got stronger with the addition of Christian Bolanos.
Since there are just two games happening at the moment, now would be a good time to maybe use the restroom or speak to your family.
SEASON PREVIEWSVancouver Whitecaps | Montreal Impact
7:00 PM ET -- KICKOFF: Seattle Sounders v. Sporting Kansas City (Fox Sports 1)
Time for your 16th wind - this is the homestretch. Benny Feilhaber and Sporting head to Seattle to take on Clint Dempsey and the Sounders at CenturyLink Field. You know what that means! The biggest crowd of the day. As the Sounders enter their eighth season, let's just take a moment to note how remarkable it is that they not only have the insane home support, but that it has grown over the years.
Anyway, the game. Jordan Morris makes his MLS debut (probably)! Sporting arrives with a number of U.S. internationals, but not Feilhaber, because...Klinsmann. Should be a good one.
SEASON PREVIEWSSeattle Sounders | Sporting Kansas City
9:00 PM ET
Stop. Realize there is no soccer on at the moment. Sob gently. It will be okay.
10:00 PM ET KICKOFF: LA Galaxy v. D.C. United (Univision)
LA and their famous old guys take on D.C. United and their not-so-famous old guys, after both clubs crashed out of the CONCACAF Champions League this week. United needs to figure out how to score some goals, while LA has the look of the league's biggest bullies with Jelle Van Damme and Nigel de Jong in the team.
No one quite knows what to expect from either, which, hey, is kind of the point of opening day.
SEASON PREVIEWSLA Galaxy | D.C. United
12:00 AM ET
Oh. It's over. We're not really sure what to recommend now. That queasy empty feeling you have in your stomach will go away, promise. Maybe get some rest? You probably have work tomorrow.
Quizzes, features and footballing fun
Get the best features, fun and footballing frolics straight to your inbox every week.
Thank you for signing up to Four Four Two. You will receive a verification email shortly.
There was a problem. Please refresh the page and try again.