Paul Parker's Premier League Predictions
We're right in the thick of the busy Christmas period and about to make the turn into 2016. So we asked former Manchester United defender Paul Parker for his predictions – who will win the league, who will get relegated and who takes out the Golden Boot? Read on...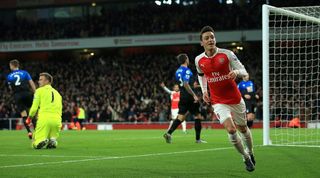 2015/16 EPL WINNER
If you had to pick a winner right now, I'd go with the best of the rest in Arsenal. Even though they just had a slip-up against Southampton, they quickly bounced back against Bournemouth and they've beaten the big teams. They generally don't beat the big teams.
They beat City at home, deservedly so, despite the fact that Arsene Wenger was missing some key players in his squad, especially Alexis Sanchez. They've also beaten top-four contenders Manchester United and Leicester City so far.
The fact Mesut Ozil is now starting to play on a more consistent basis gives them an edge.
I also said at the start of the season that bringing in Petr Cech will make a big difference and he has made a big difference already. Arsenal are winning bigger games.
Even though they've been under pressure in games, they now have a goalkeeper they can trust, which they haven't had since David Seaman.
THIS YEAR'S TOP FOUR
So obviously Arsenal would be one of them and then the other three aren't easy to choose right now. Looking at it at the moment, I'd be looking at Spurs, Manchester City and Leicester – and I think that might worry a few sponsors.
Spurs just aren't giving away goals defensively, so you have to go with them at the moment.
I don't think Leicester's ever going to be a big-city team, given where they're situated as well, but it's great for Leicester City.
They're an old-fashioned first division team that have had a few famous players that played for them, none more so than Gary Lineker in the early part of his career.
They were known as a typical English first division team. As a Premier League side, we all deemed it was always going to be a battle every year.
But credit to them, this year it isn't going to be a battle. They're virtually a win away from safety. Yet they still can't afford to take their foot off the gas. They're in a position now where it's easy to fall down if players suddenly think they've achieved everything.
The hardest part is to stay at the top and that's a test for them.
As for Manchester City, they just have too much talent. You could say the same about Chelsea, but City are very fortunate that they have a manager that I think a lot of the players respect.
I do still think they have issues they need to sort out, however, because they should be walking in this league at the moment and that's certainly not happening.
RELEGATION
You have to put Aston Villa in there. They really just need a massive shake-up. From there, it's not easy. I still think Sunderland are in a fair bit of trouble. Sunderland and Newcastle really are two very bad teams.
Newcastle are a flash in the pan, because they've shown they can beat a Liverpool and they can go and beat a Tottenham away, but I think those results are anomalies for them. Bournemouth are another side I feel will be in trouble come season's end.
If I had to settle on my final three for relegation, it would be Aston Villa, Sunderland and if I had to pick one between Bournemouth and Newcastle, I'd want Newcastle to go down.
GOLDEN BOOT
I think you'd have to look at Harry Kane at this point in time. He had a slow start to the season, obviously, but he's hitting form now. I'm going to go with Kane. He'll probably end up with around 24 or 25 Premier League goals.
PLAYER OF THE YEAR
If you're talking about who has been the best player of the season so far, you have to go with Jamie Vardy. He's come from nowhere, a bit like Leicester City themselves, and proven the gap between the divisions isn't necessarily as big as people like to believe.
He's an Englishman that's come into the Premier League with raw talent and a lot of hard work and he's showing if you want to make it happen, you can make it happen.
Paul Parker is Technical Director for JSSL Arsenal, Singapore's No.1 Youth Soccer Club – www.jssl-singapore.com
Quizzes, features and footballing fun
Get the best features, fun and footballing frolics straight to your inbox every week.
Thank you for signing up to Four Four Two. You will receive a verification email shortly.
There was a problem. Please refresh the page and try again.