The Player: What happens to footballers when the money comes
Our dressing room mole explains what it's like to get your first pay packet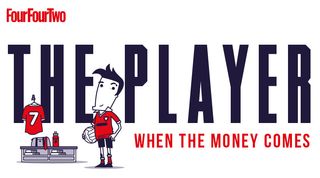 The Player has spent 15 years across all four divisions. He's played in the Premier League and for his country. (Illustration by Spencer Wilson.)
Each week we'll bring you a column from our mole...
It's a truly great feeling when you make it as a top-flight footballer, the best buzz of your life. The reality of your new situation is brought home when you open your pay packet, which is usually handed out by the first-team coach.
I made my first-team debut when I was on £60 a week. I used public transport and was always skint; I'd walk past the clothes shop where the first-team lads shopped and dream of just one pair of jeans.
Then everything changed. The money rocketed and I was taken aback by how much the bonuses were, on top of my £60 basic deal. There was £3,000 for a first-team appearance; then, for my second game I got that and an £8,000 bonus because it was a cup game and the players were on 25% of the gate receipts.
I suddenly had £10,000 to spend on whatever I wanted. Within weeks, the manager called me in and told me that I was now a first-team player and should have a first-team contract. That gave me four years of stability on money I wouldn't have been able to dream of.
Splashing the cash
Within months of making my debut I had £5-10,000 a week to spend on whatever I liked, and the amount in my bank account went up and up. I was soon in the fancy clothes shop, where I didn't just buy the jeans I wanted, but bought them in four different colours.
It was easy to get carried away, like buying a yellow Versace waistcoat with a Mickey Mouse print on the front. I wore it once and was rightly slaughtered. Young footballers can became arrogant because they think they're better than other people, invincible even. It was up to a good manager to knock such traits out of them.
Most footballers of my age did three things when the money started rolling in, though. They bought a BMW convertible, a Rolex and a boob job for their girlfriend – who was usually delighted that her partner was now earning a fortune.
As the money comes in, it's sensible to buy a house and pay the mortgage off as quickly as possible. Then invest the rest wisely: buy properties, shares and try to get financial advisors who don't rip you off. That's harder than it sounds.
Easy to overspend
The reality is often very different and the money goes to many a young player's head. One lad took himself off to St Tropez at the earliest opportunity and saw a bright orange Lamborghini glistening in the sun. He thought it looked like the coolest thing ever and bought the same car when he returned to England. What looked cool in the south of France in June looked ridiculous in northern England in November, and he was ribbed mercilessly for it.
Another lad, who had a reputation for drink driving to the extent that the police had a word with the club about it, bought a private number plate for his fancy new car. That attracted even more attention and he was arrested weeks later, charged with drink driving.
Despite the size of the sums involved, it can be spent very easily if you're not careful. I know a young lad on £15,000 a week (though wages are now paid monthly, I don't know why the media say 'per week'). He'll see half that after tax and agent commissions. He pays £2,000 rent on a very fancy apartment, spends over a grand on a car and some ridiculous finance/insurance deal he's tied himself to. So he's not left with a huge amount. I can already see the hangers-on eyeing up the rest.
Cars, clubs and Cristal
Cars are a great weakness. Footballers change them far too often, and if the total amount of depreciation of Premier League footballers' cars was added up, I swear it would match the debt of several countries.
I went to one club recently and there were 14 cars with an average value of £80,000 each. One belonged to the young lad, who has been known to blow £20,000 on a five-day holiday to Vegas, flying first class, staying in a suite and drinking bottles of Cristal champagne. He's 20.
I saw another player come into the money and change badly. We went to a club and he fancied a girl who had a boyfriend. He told the bouncers that the boyfriend was pestering the players and the boyfriend was ejected, when he'd done nothing wrong.
The girlfriend knew nothing of this, she just couldn't find her boyfriend and stayed with her friends. The footballer moved in to chat her up by offering her champagne. How can a normal lad compete with that? Then again, why would anyone want to compete with such idiotic behaviour?
Thank you for reading 5 articles this month* Join now for unlimited access
Enjoy your first month for just £1 / $1 / €1
*Read 5 free articles per month without a subscription
Join now for unlimited access
Try first month for just £1 / $1 / €1