10 players who scored on their international debuts – then went on to greatness
Callum Hudson-Odoi and Declan Rice are the uncapped hopefuls in Gareth Southgate's England squad this week – and will be hoping to emulate this lot...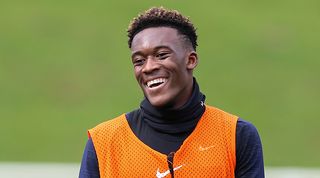 The list of footballers who scored on their international debuts and then failed to do much more is uncomfortably long: Francis Jeffers, Rickie Lambert, David Nugent and Kieran Richardson are all relatively recent victims of such a fate (and that's just England).
These, however, were the strikes that ushered in international stars of the future...
Zinedine Zidane (France, 1994)
In August 1994, France were 2-0 down to the Czech Republic in a friendly that was turning out to be rather forgettable. Good thing they had a solid option on the bench to change all of that, then. The 22-year-old Zizou came on for his first full cap and proceeded to score an outrageous goal, running through the Czech defence with ease before slamming home from long distance. Then he headed in from a corner – quite brilliantly, we're sure you'll agree – to complete his brace and France's comeback.
That bullet header was a sign of things to come. Four years later, Zidane nodded in twice as hosts France beat Brazil 3-0 in the 1998 World Cup Final. Of course, his bonce would later get him in trouble in 2006, when he was sent off for sinking his noggin into Marco Materazzi.
Yet overall, the midfielder's international career of 108 caps, 31 goals, one World Cup victory and a European Championship triumph can probably be considered fairly successful. It's just a shame that great players don't become great manag- oh.
Bobby Charlton (England, 1958)
Goal at 1.35
Few international debut goals were followed by a more stellar career than that of Sir Bobby Charlton. The then-20-year-old attacking midfielder created England's first goal in a 4-0 win over Scotland in 1958, lifting a delicate free-kick into the six-yard box for Bryan Douglas to head home.
Charlton received a taste of his own delicious medicine in the second half as Tom Finney put in a well-timed cross, met by Charlton's sweetly struck right-foot volley. That finish proved to be his first of 49 goals in an England shirt – a record only beaten by Wayne Rooney. Oh, and he won the 1966 World Cup, which is a nice touch.
Pele (Brazil, 1957)
He was the greatest goalscorer of his era, so it's little surprise that Pele scored on his Brazil debut. Yet the 16-year-old had to suffer disappointment, as his strike came in a 2-1 defeat at home to rivals Argentina in 1957. Still, it did kick-start an international career of 77 goals in 92 appearances across 14 years of service. Not bad going.
Pele was the key figure in helping his national team to win three World Cups, spanning four tournaments from 1958 to 1970. Much like Lionel Messi vs Cristiano Ronaldo, whether Pele was better than Diego Maradona is a debate that football fans still seemingly never tire of. Either way, Pele scored on his international debut - and probably no one better did.
Miroslav Klose (Germany, 2001)
Two minutes in...
He might not have been the most prolific goalscorer at club level – and particularly struggled during a four-year spell at Bayern Munich – but Klose always came alive on the international stage. He's the top goalscorer in World Cup history with 16 goals (one ahead of the Brazilian Ronaldo), after all.
But before all that, the Poland-born striker made his dramatic debut for Germany in 2001. Die Mannschaft were drawing 1-1 with Albania in a World Cup qualifier when Klose was brought off the bench. With two minutes left on the clock, the 22-year-old popped up with the most needless diving header of all time (seriously, the ball is so low - just kick it, Miroslav) to win the game 2-1.
It was the first of 71 goals in 137 games for Germany, in a career which involved two World Cup final appearances - including a triumphant one in 2014.
Just Fontaine (France, 1953)
Never mind scoring a goal to calm the nerves on your debut, the 20-year-old Fontaine won over the French fans in 1953 with a hat-trick. Mind you, it did come in an 8-0 win over a poor Luxembourg side - but they all count.
Fontaine knew this lesson better than most, as he had the most prolific World Cup any player has ever experienced. It took Fontaine just one World Cup, in 1958, to score 13 goals for France in six matches (four of them against defending champions West Germany). With an incredible ratio of 30 goals in only 21 outings for Les Bleus, 'Justo' suffered a career-ending injury in 1962 at the age of 28.
Faas Wilkes (Holland, 1946)
Bear with us. Poor old Luxembourg were the victims of another debut drubbing, seven years before Fontaine's hat-trick. In 1946, it was Johan Cruyff's idol Faas Wilkes who scored not three, but four goals on his international debut for Holland against Luxembourg.
The 22-year-old forward grabbed 35 goals in 38 games for his country and held the record of all-time top scorer from 1959 to 1998, until Dennis Bergkamp broke it. Charlton Athletic attempted to sign Wilkes in the late 1940s, but the Dutch FA were having none of it, stating that their players were amateurs, not professionals. In 1949, however, Wilkes wanted to further his ambitions and successfully signed for Inter Milan. The Dutch FA weren't thrilled (and presumably, neither were Charlton).
Alan Shearer (England, 1992)
Another player who scored on debut for club and country, Shearer's first for the Three Lions came in a 2-0 win over France in a 1992 friendly.
Left unmarked inside the six-yard box, the 21-year-old Geordie forward took the ball under control with his back to goal, swivelled on the spot, then smashed home the first of his 30 goals in an England shirt.
Shearer went on to score 260 Premier League goals, a top-flight record in the post-1992 Prem era. His best spell in an England shirt came in 1996, with five goals in as many games as he top-scored in a home European Championship – which ended in the inevitable semi-final shoot-out loss to Germany.
Diego Forlan (Uruguay, 2002)
While he infamously struggled to make a long-term impact at Manchester United, the Uruguayan had greater success in La Liga - and always seemed to play superbly for his country. That culminated in the 2010 World Cup, where Uruguay got to the semi-finals and Forlan deservedly won the Golden Ball as the tournament's best player.
However, his first national team goal came in his debut game: a 3-2 win over Saudi Arabia, when Forlan was 22. He went on to nab 32 in 116 games for La Celeste, including a joint-high five at World Cup 2010. Was he Uruguay's best modern-day striker? With Luis Suarez around, perhaps not, but has Forlan cleared a ball off the line with his hand or tried to eat an opponent?
Neymar (Brazil, 2010)
The icon of Brazil's 2014 home World Cup, Neymar didn't take long to announce himself on the international stage – he scored on debut inside 28 minutes at the age of 18 with a tidy header against the USA, before falling to his knees in celebration.
Much was expected of the boy from Brazil at the 2014 World Cup, and four goals suggests he delivered. Who knows what might have happened had he not picked up an injury in the 2-1 quarter-final win over Colombia? Germany might only have won 7-2 in the semi-final.
Still, the world's most expensive player already has a remarkable 60 international goals at the age of just 27. Pele's all-time Brazil record (77) is well within his sights.
Mark Hughes (Wales, 1984)
Just 20 seconds in…
Mark Hughes ticked off his first goal when, 17 minutes into his Welsh international career, the 20-year-old forward scored a header against an England side that had exuded confidence pre-match. The game finished in a 1-0 victory for the Dragons.
After that spectacular debut, Hughes was able to earn a further 71 caps for Wales and score another 15 goals. The now-Stoke manager also had a five-year spell as manager from 1999.
However, the pinnacle of his playing career was spent at Manchester United, where the Welshman racked up 163 goals and a host of major trophies across two spells at the club.
QUIZ! Can you name the national team from their badge? (opens in new tab)
Thank you for reading 5 articles this month* Join now for unlimited access
Enjoy your first month for just £1 / $1 / €1
*Read 5 free articles per month without a subscription
Join now for unlimited access
Try first month for just £1 / $1 / €1